As we mentioned earlier this week in our latest launch blog post, we are thrilled to announce a slew of new wireless access points (APs) and antennas that will be orderable and will begin shipping February 13th, 2018. Let's dig a little deeper into the details and use cases of each.
Indoor access points with external antennas
In the wireless world, one-sized coverage does not fit all indoor scenarios. Although our access points easily satisfy the coverage needs of many — if not most — indoor wireless deployments, they come with built-in omni-directional antennas that can't always satisfy the requirements of specific situations: high-density auditoriums or stadiums, focused coverage down long hallways, or warehouses with high, 25-foot-and-beyond ceilings, for example. For these situations, indoor APs with specialized antennas are required.
With this in mind, we're thrilled to announce the addition of two new, indoor access points that support external antennas to the Meraki MR portfolio: the MR53E and MR42E.
The MR53E (left) and the MR42E (right) wireless access points.
Both are 802.11ac Wave 2 access points leveraging the traditional Meraki quad-radio architecture: a 2.4 GHz radio, a 5 GHz radio, a dedicated dual-band radio for security scanning and automatic RF optimization, and a dedicated Bluetooth Low Energy (BLE) radio. The MR53E delivers a 4×4:4-stream MU-MIMO architecture and support for multigigabit — with dual-aggregate radio speeds up to 2.5 Gbps. The MR42E has a 3×3:3-stream architecture with a dual-aggregate radio speeds up to 1.9 Gbps.
The MR53E is ideal for high-density deployments that require the utmost levels of performance or that are mission critical in nature. Think: critical care hospitals, stadiums, lecture halls, auditoriums. The MR53E will deliver the highest quality indoor RF coverage because its extra radio chain offers better signal strength, resulting in higher throughput and message integrity. The MR53E also offers extra flexibility and future-proofing with multigigabit support for the highest throughput over existing cabling — which saves money and time in the long run.
The MR42E is ideal for more average-density, general-purpose wireless installations that require focused coverage (e.g. down long hallways) or the flexibility of external antennas, which allow an AP to be repurposed for different wireless scenarios since you can purchase the right antennas for the new coverage map you are deploying.
Smart antennas
To support these APs, we've designed six new antenna families, most of which have smart technology allowing the MR53Es and MR42Es to automatically detect and classify the antennas — eliminating the need for manual configuration and guaranteeing the automatic selection of compliant transmit (Tx) power. Depending on the family, there may be options to buy packs of one, five, or six antennas — or else to purchase antennas with either five or six connectors.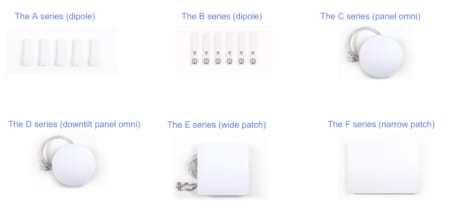 New Meraki antennas for the MR53E and MR42E access points.
The new antenna options include:
Straight and bendable dipole antennas for omnidirectional coverage

Panel omnidirectional antennas for low-ceiling installations where aesthetics matter

Panel downtilt omnidirectional for higher (25 feet or above) ceilings and medium-density deployments

Wide patch antennas for wide angles of coverage in medium-density scenarios

Narrow patch antennas for very high-density environments like stadiums and auditoriums or for deployments requiring narrowly-focused coverage (i.e., down hallways).
Basic indoor wireless and rapid outdoor deployments
Some installations require wireless coverage for a small number of devices, where there are no plans to leverage location-aware services that require mobile app integrations and Bluetooth. For these customers, we're excited to announce two new access points, the MR70 and MR20.
The MR70 (left) and the MR20 (right) wireless access points.
These APs are designed for lower density deployments, and have neither the dedicated third scanning/security radio nor the dedicated Bluetooth Low Energy (BLE) radio found in our other APs. This means that security and RF scanning are opportunistic — i.e., when the AP is not communicating with clients, and there is no support for BLE-based app integration. However, both the MR70 and the MR20 support Meraki's built-in wireless Location Analytics.
The MR70 sports a 2×2:2-stream MU-MIMO architecture designed for those looking to rapidly deploy ruggedized wireless outdoors. Thanks to its integrated omnidirectional antennas (it does not support external antennas), the MR70 can be deployed quickly in the field. The MR70 supports Meraki's self-healing, automatic mesh capability and is IP67-rated for dust, moisture, shock, and vibration.
The MR20 is an indoor model designed for basic, very low-density wireless coverage. It also sports a 2×2:2-stream MU-MIMO architecture, and, like the MR70, supports only opportunistic security and RF scanning. It's ideal for SOHO and ultra-small business networks which service around twenty or fewer clients and that want the visibility and control of the Meraki dashboard, but are interested primarily in basic wireless coverage.
These new APs and antennas round out our robust portfolio of wireless access points, and enable IT administrators to make smart hardware decisions that fit the needs of specific deployments — whether entry-level or extremely challenging. Please check out our wireless webinars or visit us at meraki.cisco.com for more information. As always, we're keen to hear your thoughts and feedback, so please drop us a line on social media or leave a comment in our Meraki Community.