Celebrating diversity at Meraki
To celebrate Pride Month here in San Francisco — and the enormous progress made on LGBTQ rights since the momentous ruling on California's Proposition 8 nearly a decade ago — we were thrilled to throw open our doors to the public for an in-house, private screening of The Campaign, a documentary about the fight against Prop 8 and the battle to defend same-sex marriage statewide.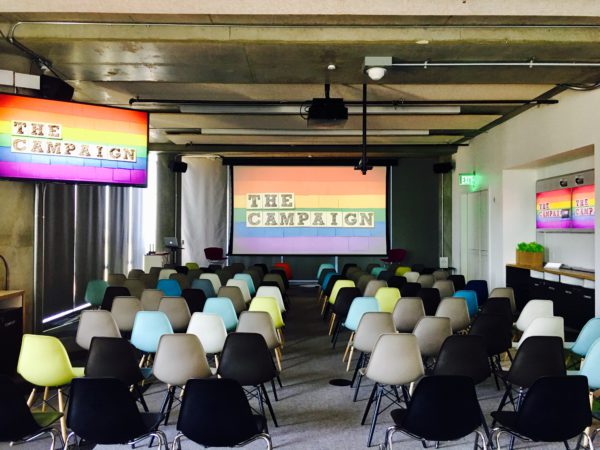 Meraki's main cafe transformed into a screening room, complete with surround sound.
Award-winning filmmaker, Christie Herring, who directed and produced The Campaign, was onsite to take questions and speak about the relevance of the film in today's context. Christie's strong interest in documenting issues pertaining to social justice and current events (she also produced and edited the film, Code: Debugging the Gender Gap, exploring the reasons and repercussions of the gender and minority gap in software engineering), has given her a front-row seat to historical occurrences like Prop 8 — so we thoroughly enjoyed hearing her perspective about what happened during that campaign.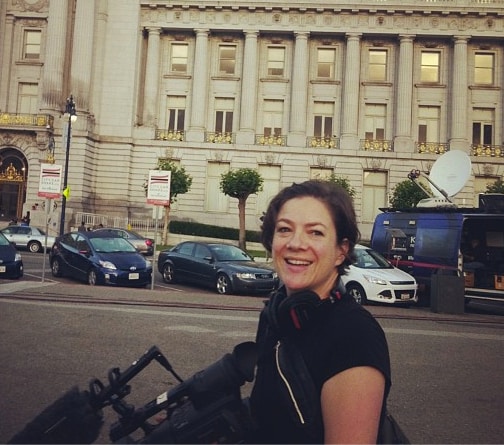 Christie Herring's editing and producing credits include work with PBS, National Geographic, A&E, as well as nonprofit and corporate clients.
Ultimately, Pride month is an opportunity for all of us to celebrate our differences, our similarities, and what binds us together: our humanity. At Meraki, a core value is inclusion — and every day we learn from each other that there is more uniting us than dividing us, and that from our different experiences, opinions, and ideas spring a collective creativity we could not have harnessed otherwise.
Diversity, quite simply, is necessary to our success.
So, from all of us to all of you — no matter what race, religion, gender, sexual orientation, height, hair color, political affiliation, or professed sports team lover — you happen to be, we wish you a very Happy Pride, and celebrate that you are here today to contribute your unique points of view to the world.
We thank Meraki's QFAM (Queers and Friends at Meraki) Club and our Software and Engineering team for co-sponsoring such a fun and fabulous event. To close, here are a few memories from the evening: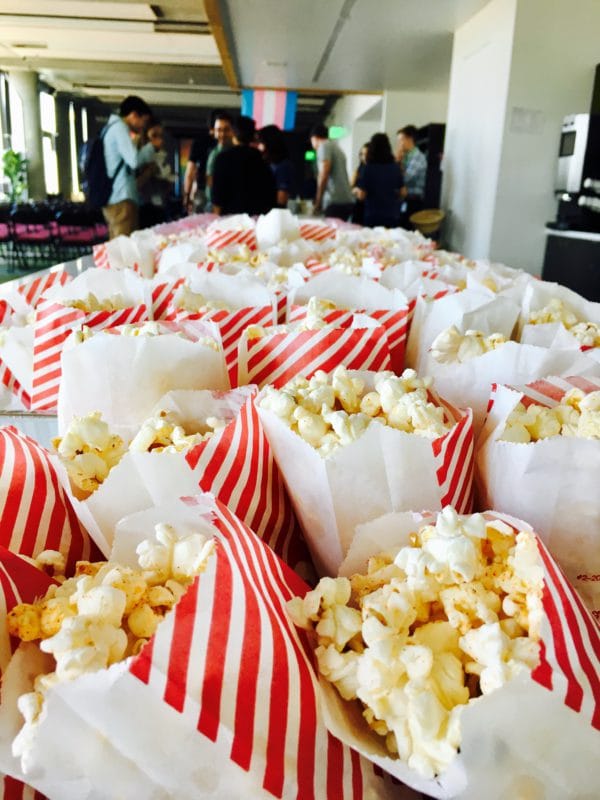 Getting into the movie-watching mood.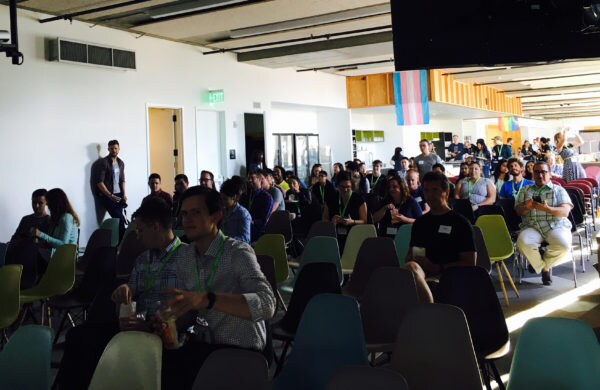 Some of the roughly 100 attendees who came to toast Pride with us.
A few of our wonderful Meraki volunteers, wearing our fabulous Pride 2017 shirt.