The Cisco Meraki Dashboard is now available in Korean and Simplified Chinese
Back in November we announced that the Meraki Dashboard would be getting some international flavor in the form of French, German, Japanese, and Spanish language options. That first foray into offering our interface in languages other than English was a huge step for us and for many of our customers all over the world, and we're excited to announce that we've made further progress in making our dashboard accessible to a broader range of IT administrators with two new languages: Korean and Simplified Chinese.


These new options are available via the Preferred Language selector on the user profile page in the dashboard.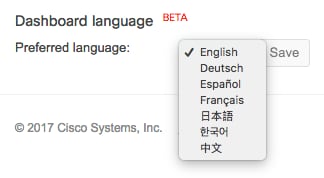 These certainly aren't the last languages we'll be adding, so stay tuned for future updates!