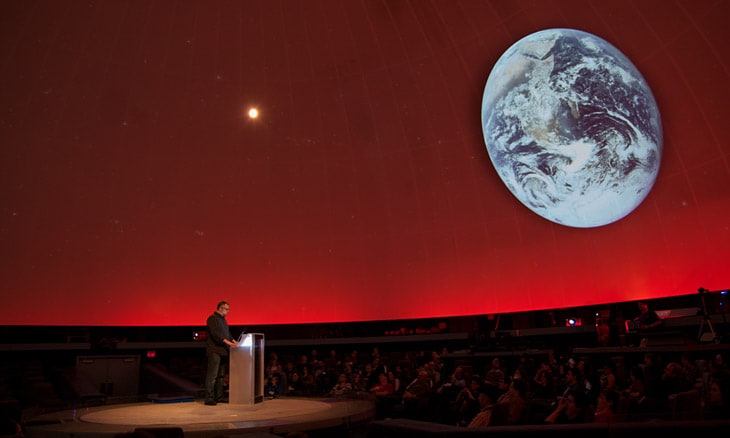 TELUS World of Science – Edmonton is a non-profit organization in Edmonton, Canada, focused on bringing science education to their community. The center houses one of the largest IMAX theaters in all of Canada, as well as a planetarium theater (pictured above) for lectures, events, and science presentations.
The growing organization is dedicated to its mission of fostering wonder and excitement for children and adults around science and technology in ways that advance and strengthen the community. Yet, as a non-profit, funding and costs are spread quite thin across the entire organization. When it comes to IT infrastructure, Robert Litchfield, Director of IT, leads a lean team of 2, including himself.
On March 1, 2017 at 11AM PT, Litchfield joined us in a live webinar to share some of the greatest challenges managing and monitoring the TELUS network, and how Cisco Meraki has helped advance their organizational mission, cut costs, and create opportunities for additional revenue.
Litchfield shared:
How his lean team manages everything from Wi-Fi, desktop support, server maintenance, data security, and application and network management

How the center has supported a network of hundreds of guests and devices each day, before and after Meraki

What the rip and replacement looked like, as well as the deployment of Meraki switches

Some of the unique use cases, challenges, and needs a science center faces, and how a solid network infrastructure plays a part in its success
Register today for the chance to hear directly from Litchfield on how TELUS World of Science overcame their networking challenges with Meraki to continue educating and inspiring their community.
The webinar recording can be viewed here.