Our newest AP and switches offer a robust platform for next-generation hospitality deployments
The hospitality sector is growing, and there is every indication that it will continue to do so throughout 2017 — driving hotels to find new, innovative ways to differentiate themselves and their services. To offer more unique, personalized guest experiences at scale, a robust technology platform is needed.
Enter Cisco Meraki. Our recently announced wall plate access point (AP), the MR30H, offers the latest wireless technology for in-room deployments. The MR30H's built-in 4-port gigabit switch can be used to easily service nearby IP-enabled devices (like IPTVs). We've designed the MR30H to be sleek and discreet; for example, the LED has been engineered to shine through the front body plate, emitting a significantly softer glow that is less disturbing to guests' sleep.
Like every piece of Meraki gear, the MR30H is viewable and manageable via our web-based dashboard — an intuitive, graphical interface that enables global control over devices and that displays digestible metrics about clients, applications, access points, and client behavior.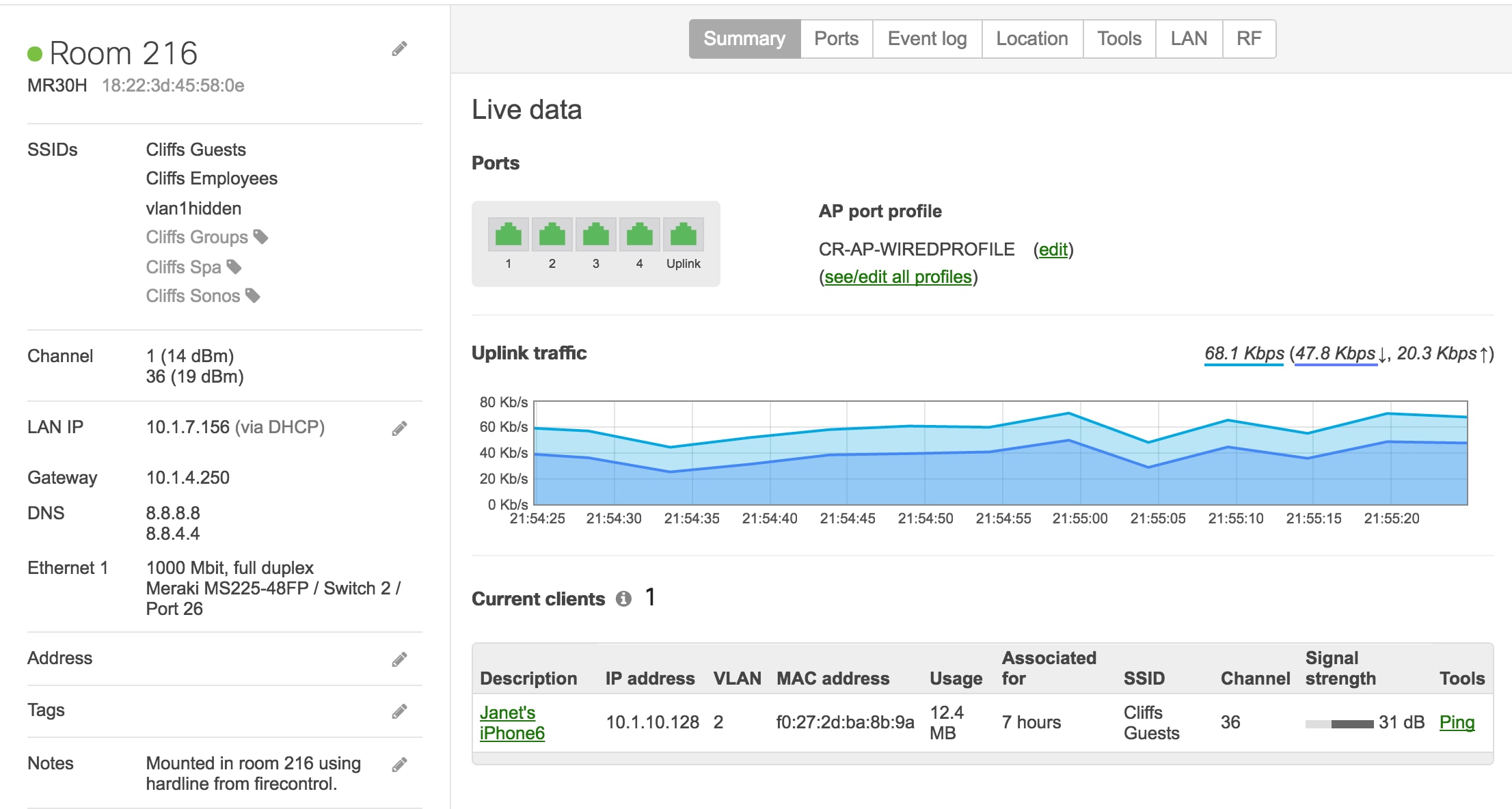 An example dashboard view of the MR30H.

In addition, our completely refreshed MS225 line of access switches are the perfect complement — providing reliable connectivity and Power-over-Ethernet (PoE+) for up to 48 rooms per switch. This, along with the MS switches' built-in network topology feature, port isolation and security, power scheduling, and expansive troubleshooting capabilities make for a complete IT solution that is unrivalled in capabilities and usability.

Going beyond guest wireless

When you combine guest wireless with location analytics, Bluetooth beacons, and mobile applications, you get powerful options for creating memorable guest experiences. All Meraki MR access points provide out-of-the-box location analytics at no additional charge — and the MR30H sports an integrated Bluetooth Low Energy (BLE) radio that provides both beaconing and scanning functionality, enabling seamless integration with location-aware mobile applications.
This means, for example, that you can upload floor plans of your hotel into the Meraki dashboard and easily visualize trends in guest foot traffic over time to make better staffing decisions in hotspot areas like lobbies, front desks, pools, and gyms. You can even use it to determine where you might want to place your next access point, given client density!
See trends in guest density over time with integrated heat maps and floor plan views.

You can also use our built-in location analytics to see how many guests use your spa facilities, or how many in-house diners spent longer than one hour in your restaurant, or whether certain guests come back to the same property frequently. And best of all, you can compare all of this data across networks, properties, or even down to the individual access point level (using AP tagging).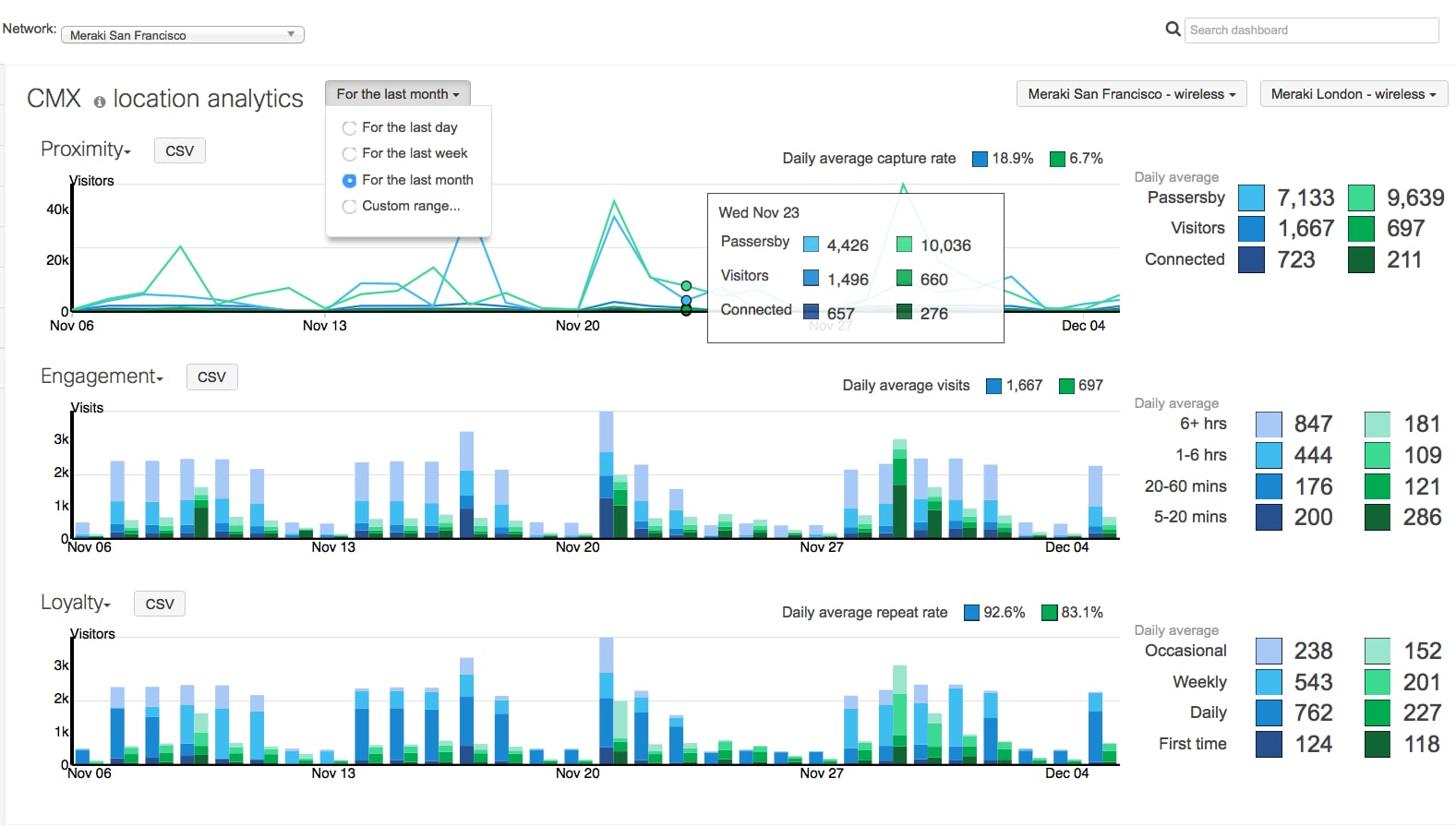 Comparing foot traffic between our San Francisco and London sites over the past month.
When you combine these out-of-the-box features with the power of Bluetooth BLE, the possibilities for personalized guest experiences grow even more. If you have a mobile app to help promote guest loyalty that responds to BLE beacons, you can generate context- and location-aware events using guests' mobile phones: for example, offering special promotions on your house wine if they are near the lobby bar, or a VIP pass to a fitness center yoga class if they have visited your gym facilities at least twice in the past week. We partner with a wide array of vendors to help make these use cases easy to realize and frictionless to deploy.
You can even drive adoption of your mobile app directly from your Meraki guest wireless deployment by taking advantage of our hosted splash page functionality, or even promote your organization's Facebook page by allowing guests to sign-on with their Facebook credentials and check into your property.
These are only a few of the use cases that Meraki APs, combined with Meraki switches, make possible. To learn more, please check out our solutions for hospitality page and join us for one of our upcoming product launch webinars (where we will dive into these new products in greater detail): Dec. 13th at 8am PST, Dec. 13th at 11am PST, or Dec. 13th at 5PM PST.