Introducing Call Groups and Announcements for the Meraki phone.
Our approach to product development ensures we bring new Meraki hardware to market rapidly, once the essential feature set is ready to roll. This formula has worked well for us, and anyone who has followed Meraki over the years will know all about our legendary Feature Velocity. Shipping hardware is just the beginning of an exciting life cycle for each product. From day one we're listening to feedback, planning and building new features to ensure our customers experience increasing value for their investment over time.
Since its launch in May we've been delighted by the response to our Communications line and its first product, MC74. This was a bold move by Meraki, entering an established and mature market, but we knew we had something fresh to offer. It simply made sense to take our experience in building cloud-managed networking products and apply it to other areas of technology, and the voice world was ripe for a simplified approach to deployment. By eliminating the traditional PBX, and integrating the PSTN service provider component directly into the dashboard, we've delivered on the promise of IT made simple.
Almost since the day of the launch we've seen one consistent feature request: what the industry generally refers to as Hunt Groups, or Work Groups. These are essentially a way to relay an incoming call around a configured group of phones until the call is answered, with the ultimate goal of improving customer experience.
Our engineers have been hard at work coding a solution, and today we're delighted to announce the introduction of 'Call Groups' for Meraki phones. Here's how setting up a Call Group looks in dashboard: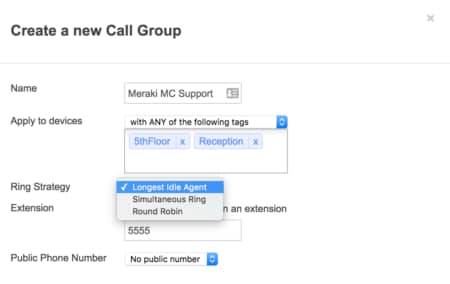 Setting up a call group is as simple as our customers have come to expect from Meraki. Name the call group, determine which phones should ring (phones can be tagged, or all phones in the network can be included), determine a ringing strategy, numbers for the group, and that's it. The ringing strategy can be based on which phone has been idle the longest, a round robin (one after the other with equal treatment for each) or simply ringing all the phones simultaneously. In each case the duration of ringing for each phone is set on the phone itself, and the admin can configure a total time for which the caller will be passed around the group before the call goes to voicemail.
Next on today's list of much requested features is Announcements. It's now possible to grant specific phones the privilege of making announcements to a predetermined group of receiving phones. When an announcement is initiated, the speakers on the receiving phones will be enabled and the phones will be muted to prevent feedback. Here's how it looks on the announcing phone: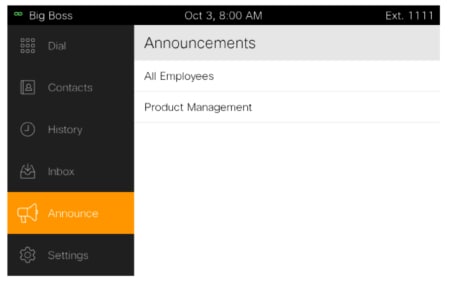 The blog title hinted at three things, and we do have one more thing to share today: an enhancement to our Service Provider integration into the Phone Numbers configuration screen. Integrating the Service Provider component directly into dashboard smooths the workflow for IT administrators, eliminating the need to work separately with the provider to purchase public numbers, which can be a potentially lengthy process. The dashboard already provides searching for and purchasing new numbers. We're now adding the ability to 'port', or transfer existing numbers from a third party, all handled within the dashboard.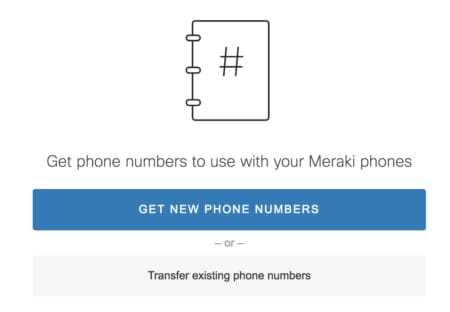 IT administrators who work with Meraki are familiar with our Feature Velocity. It's a fundamental benefit of moving to a cloud-based architecture, where so much more can be achieved in software, free of the constraints of an expensive box. The Product Management team is already cooking up the next batch of features for the Meraki phone, as well as for the other products in our broadening portfolio, and this blog is the place to be to stay on top of it all. We hope you're enjoying the ride as much as we are.
Click here to learn more about Meraki MC and attend a webinar.