Simplified security cameras join the Meraki product line up
Meraki MV security cameras have arrived, and they remove much of the hassle IT administrators and security camera specialists have dealt with for decades. With high write endurance, solid state storage on each camera, the MV family has turned the network video recorder (NVR) and standalone video management software (VMS) into relics of the past. Management through the beloved browser-based Meraki dashboard allows users to view video from anywhere, saving time and money. MV cameras, available in both an indoor and outdoor model, have been designed from beginning to end with simplicity in mind.
Why security cameras? Hot on the heels of the Meraki Communications MC74 launch in May, Meraki is continuing to expand its mission of simplifying not just networking, but IT as a whole. The team has become adept in identifying areas of IT that are particularly outdated or unnecessarily complicated—think PBX and WLAN controllers. With this in mind, adding cloud managed security cameras to the Meraki line up was a no-brainer.
Security cameras are necessary to keep every business, big or small, safe and operating smoothly. While consumers have begun to take note of some cloud-based security camera solutions, the reality in the enterprise world is that these plug-and-play solutions do not exist, and the consumer-focused solutions have significant bandwidth limitations of their own.
Today's enterprise security solutions rely on on-premise hardware, the NVR, to store video footage. On top of the hardware and operating costs associated with these on-prem solutions, the NVR can cause major headaches when administrators need to retrieve video after an event has occurred. Because of the high costs associated with installing up-to-date surveillance solutions, many businesses continue, even in 2016, to operate using NVRs in conjunction with DVDs, thumb drives, and VHS in some cases. The brand new MV family removes all of these pain points and streamlines the entire security camera interaction, from installation to management to software updates, in typical Meraki fashion.
MV utilizes 128GB of industrial grade, high write endurance, solid state storage on every camera to eliminate the NVR. At launch, each camera will be able to store up to 20 days of 24/7, 720p footage on the edge. With continuous software optimizations and updates (scheduled by administrators and pushed automatically from the cloud, as with the rest of the Meraki full stack), this 20 day figure will only increase over time.
Two models will be available to ship mid-October: the MV21 indoor model features a simplified industrial design, cutting down significantly on installation and maintenance time, while the MV71 outdoor model is IP66 weather rated and IK10 impact rated to withstand demanding environments. Both models feature infrared illumination for nighttime vision, so users won't be left in the dark.
Best of all, MV is managed through the Meraki dashboard, right alongside our wireless, switching, network security, mobility management, and communications solutions. Users can create video walls in a snap to group video streams and view them from anywhere in the world with any Internet connection. Of course, this begs the very important question—how does this affect a user's bandwidth consumption? The Meraki dashboard is intelligent enough to automatically detect whether the viewing computer is in the same network as the cameras and will stream video locally over the LAN if possible, saving bandwidth on local monitoring.
What about when the user is remote? The dashboard will proxy video through the cloud to the viewer. All MV communications, both management and video delivery are encrypted. It is not possible to configure the system to deliver video over an un-encrypted protocol. In order to minimize WAN bandwidth usage in this use case and to improve the overall user experience of MV, Meraki engineers have worked hard to build some powerful, and very cool features: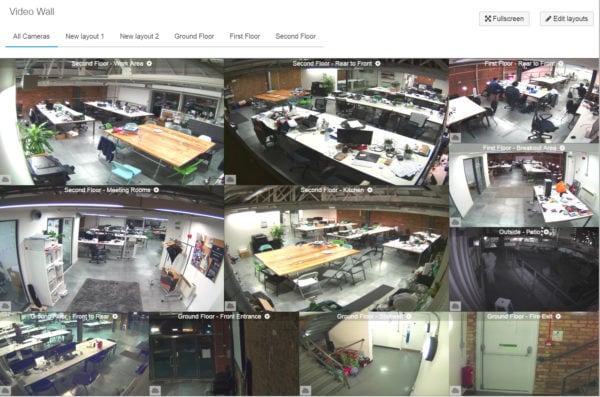 Motion Search
Laptop gone missing? With the built in motion search tool, the IT admin can retroactively select an area of interest in a video stream and see the motion events that happened in that area. Drag a box to select the desk, the chair, or the windowsill where the laptop might have been last, and the dashboard will return a list of video clips showing motion within that area. Motion search allows users to view only what's important, eliminating the need to stream hours or even days of footage just to identify key events.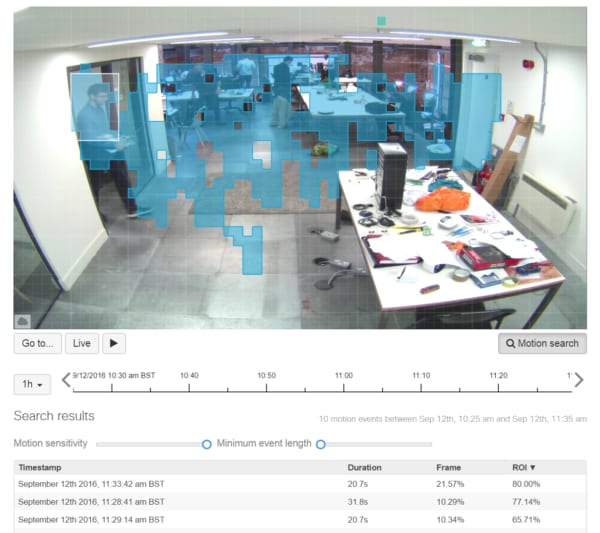 Export Video Clips
Once the culprit has been identified, instead of reaching for those recording devices of yesteryear—those DVDs, thumb drives, and VHS tapes—simply click "Export" and the dashboard will generate a shareable mp4 link that can be sent to law enforcement or downloaded to a computer.
Granular Access Controls
Because privacy is such an important consideration when deploying a video security system, Meraki engineers built in very granular access controls. Pick who can see video streams based on individual camera names or group tags. Choose who can view live and historical video. Set restrictions on who is allowed to export video clips. All of this can be done through the dashboard in just a couple of clicks.

We're incredibly excited to get MV into our customers' hands. Learn more by getting in contact with a Meraki rep, joining a webinar, or downloading the data sheet!