Becoming a Meraki support team expert.
The first few weeks at a new job can be intimidating, to say the least. You're in a new environment, interacting with new people, and often times in a new city altogether. On top of that, if you're on the Technical Support team, you're working with completely new products as well. Not only are you faced with the question of "What do these products do?", but also, "What do you do when these products don't do what they're supposed to do?!"
For the bright-eyed new hires of the Meraki Technical Support team, technical training is their introductory course on becoming an all-things-Meraki expert. Technical training for new Network Support Engineers is a two-week process, led by trainer Zakariya Alcodray. The first week is designed to get new hires as much hands-on experience with the products as possible. Imagine learning and engaging with all things security, switching, wireless, EMM, and communications for the first time, in just two weeks! The first few days cover product demonstrations and hands-on labs (ending with a break and fix lab, designed to provide first-hand troubleshooting experience). The second half of the week consists of one-on-one case management training, where new hires begin handling their first email cases. During the second week, each individual moves at his or her own pace while transitioning from email cases to live phone cases. By the end of that Friday, every new hire will handle one phone case on his or her own.
Zak began leading these training sessions in November of 2015, and since then has tailored the training to focus on learning to provide Meraki-grade customer support by meeting five important goals:
Comfort navigating the Meraki dashboard

Feature familiarity

Utilization of the troubleshooting toolkit

Understanding of job process fundamentals

Soft skill development: communication, overcoming hurdles, professional development
Overall, new Support Merakians are provided with the tools and support needed to develop and improve their case management, interpersonal, and team building skills.
Below is an interview with the man himself, Zakariya Alcodray:
---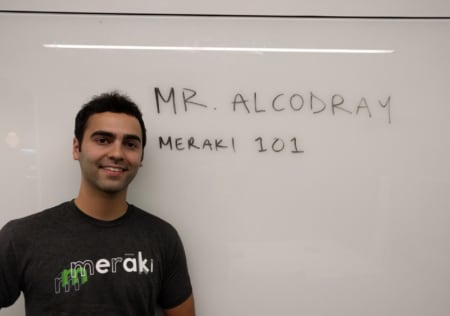 In your opinion, why is training so important?
Our support team is very diverse in terms of geographic and academic backgrounds, but we have achieved something very special here: no matter where we hail from, our support team consists of good-natured, hard-working individuals who treat each other like family, as opposed to merely coworkers. This creates a dynamic, collaborative environment, allowing us to provide world-class support to our customers. It is important that we maintain this standard, and our training program allows us to do so.
What are three pieces of advice you have for those just starting training?
Don't expect to know everything right away. That's what the team is there for
Be ready to think outside the box
What is your favorite part about training?
As I sat through my own training last year, a sense of joy was building up inside of me over the course of the two weeks, unlike anything I had experienced before. The amount of knowledge presented was overwhelming; the proposed challenges I would face became increasingly daunting. Regardless, I couldn't help looking past it because of how proud I was to be part of the Meraki team. I became Support's technical trainer because I wanted to ensure that each new hire had the opportunity to feel the exact same way I did as they worked to become a member of the Meraki family. My favorite thing about training is being the person who welcomes Support's new hires and prepares them for hard work and hard play.