Meraki presents an 'Intro to Cloud Managed IT' webinar with a musical twist.
Cisco Meraki, the makers of cloud managed IT, are proud to present "Webinar the Musical". Come one, come all — experience the sights and sounds of Meraki in an exhilarating, one-hour extravaganza!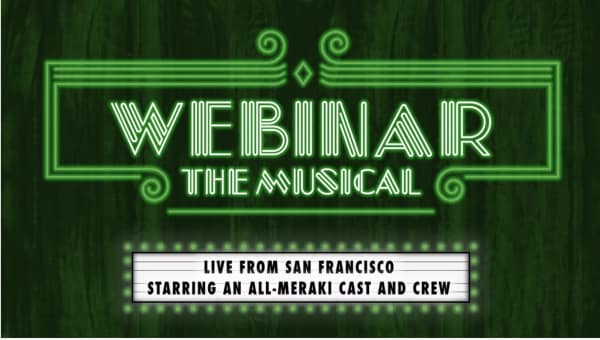 We've spent the last few months adapting the lyrics of 4 popular songs to highlight the advantages of Meraki cloud managed wireless, switching, security, and mobility management. Supported by the vocal and instrumental talents of our in-house employees, we think this is a show-stopping webinar you'll really enjoy.
Debuting on July 19th at 11:00 AM Pacific Time, this will be an Introduction to Cloud Managed IT webinar with musical tributes to each product family (along with our standard demo of the Meraki dashboard). As usual, eligible attendees are will receive a free Meraki Access Point for attending the webinar.
Sign up here.
See you at the theatre! And don't worry, the musical will be recorded and available on our YouTube channel for folks outside the Pacific Time Zone.