Our first post-launch features are already available for the Meraki phone!
At Meraki we're extremely proud of what we call 'feature velocity'. By having all our engineers working out of one collaborative building in San Francisco we're able to rapidly innovate new capabilities for our products. Some of these are features we think are cool, others are created in response to the feedback our customers send us every day, often through the 'make-a-wish' box.
It's not even two months since the launch of the MC74, and we've already got a few new capabilities and features to share. Let's get straight to it.
Dashboard
First, to really underscore the concept of 'single pane of glass' management, network admins will now see Phones listed alongside their Meraki wireless, switching, security appliances and MDM. This is nothing short of the promised land of network management, and we're not done yet!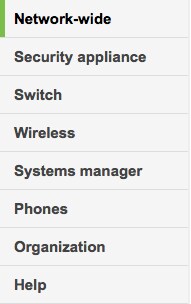 Voicemail to email
Once an email address has been configured on the phone for User Portal access, this email address will also receive notice of new voicemails. These can then be conveniently listened to right in the browser, with no need for special software and without having to call a voicemail service.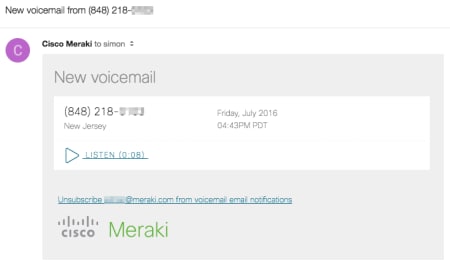 Voice VLAN
We now support a data and voice VLAN on MC74. This means that when a PC is connected to the 1GbE passthrough port on the back of the phone its traffic can be logically segregated into a separate VLAN from the voice traffic generated by the phone. While not a requirement from a performance perspective, separating voice and data traffic is common practice and now available on Meraki MC.
Meraki Cloud Connectivity
In the early days of telephony, a dial tone indicated a connection to the rest of the world and readiness to place a call. With modern IP based voice this is no longer a requirement, so like a smartphone, MC does not use a dialtone. Instead, to demonstrate that the phone is connected to the cloud and ready to place calls we've added a small indicator on the phone display. Green is good.
Missed Call and Voicemail LED Indication
As well as receiving notifications for missed calls and voicemails on both the phone display and in the User Portal, we now make use of the multicolor LED on the phone to indicate a missed call or voicemail. Pulsing red for a missed call. Pulsing green for voicemail. This means that when the phone is in its standby state, showing the date and time, there is still a clear visual indication that a call came in.
We've been truly delighted with the response the Meraki phone has been having in the less than two months it's been available. MC provides the same simple management experience as the rest of the network, so it's no surprise that customers all over the world are asking when they will be able to get their hands on one. Rest assured we're working on that just as fast as we can.
In the meantime, these new capabilities are early evidence of our intent for Meraki MC: innovate, and innovate rapidly. It's the Meraki way. Stay tuned for more, coming soon.