From cloud-managed networking to cloud-managed IT with our most exciting product launch yet!
For the past 10 years the team at Meraki has been pioneering a shift towards a cloud model for the management of network infrastructure. This all began with a research project our founders undertook as students at MIT in the early 2000s. By eliminating the need for a physical wireless LAN controller and drastically simplifying the management experience, Meraki has delivered an efficient, scalable ecosystem which significantly reduces costs for our customers. The potential of this architectural approach extends well beyond our initial wireless offerings, and we've added security, switching and mobility management along the way, bringing much needed simplicity to more and more networks.
This month we're delighted to be bringing yet another game-changing product launch to market: our third in just six months! Our focus this time around has been in two areas, providing best-in-class performance in both our wired and wireless lines, and broadening our portfolio to extend the benefits of our cloud-managed approach to other areas of IT.
Let's begin with performance. We're announcing our first multigigabit products: a new flagship AP and access layer switch, which together eliminate the performance bottleneck of a single ethernet cable by squeezing more performance out of existing cabling. The MR53 and MS350-24X complement one another beautifully, providing unprecedented performance to the most demanding customers. Cloud managed networking as fast as anything from traditional players in the market? Take them for a spin and see.

The MS350-24X switch doesn't stop at providing best-in-class performance. Every one of its 24 ports is also capable of supplying Universal PoE (UPoE), which pushes the power limit per port up to a whopping 60W! It's now possible to use a Meraki switch to power more hungry technology, including virtual desktop terminals, IP trading turrets, medical equipment, even lighting!
Finally on switching, a refresh of our 10Gb/s aggregation switches adds better performance, 40Gb/s uplinks and stacking. The MS425 is available in 16 and 32 port configurations. We'll be back to talk about multigigabit technology and the new AP models (yes, there are two) very soon.
It would be understandable to think that was enough for one product launch, but we couldn't resist adding one more thing. Insert drumroll here….
We're incredibly excited to be bringing the Meraki experience to the desktop with the launch of our first Voice over IP phone, the MC74. This breakthrough device has been incubating at our headquarters for quite some time, going through multiple revisions until we finished refining both the physical design and the user experience, both of which make a distinct statement that is typical Meraki: Simple and delightful to use.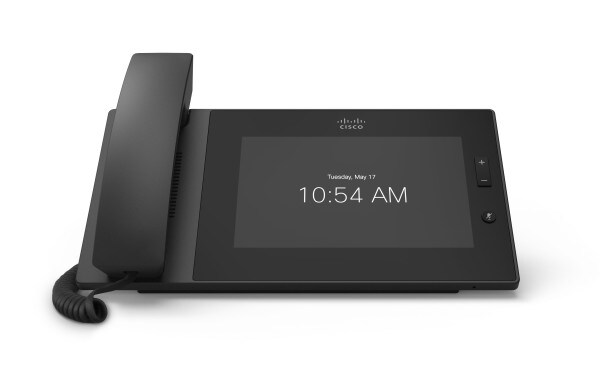 Just as with every other product in the Meraki family, the MC74 is a breeze to deploy. It can be entirely set up via the familiar dashboard and shipped to the end user who then simply plugs it into any network that can reach the Internet. Where's the PBX? It's simple, there IS no PBX. Control for calls and features are all provided from the established and proven Meraki cloud.
Every phone needs a number, and one of the primary areas of focus during the development of the MC74 was the service provider onboarding experience, for access to the public telephone network (PSTN). With just a few clicks in the Meraki dashboard a customer can get set up with a service provider and have public numbers allocated. No need to go to the service provider website. No need to make a call. Within minutes numbers can be purchased and allocated for immediate use. We know this will be revelatory for many who've worked with business telephony and waited weeks for numbers.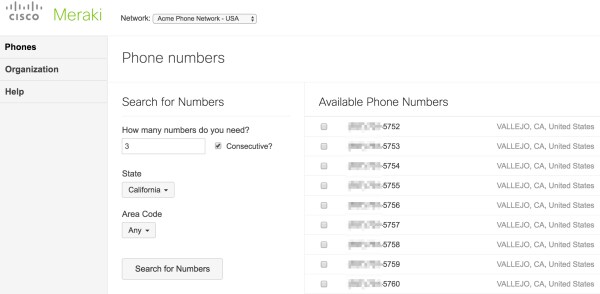 A quick note to our international customers. The MC74 is dependent on a third party service provider for access to the PSTN. Meraki is working diligently with regulatory authorities and service providers around the world to enable us to expand support. At the time of writing the MC74 is only available to customers in the United States.
User experience is everything with a phone, and with Meraki MC this doesn't end with the phone itself. Sometimes it's convenient to be able to access call logs and voicemails when on the road, and Meraki makes it simple with a dedicated end user portal which can be accessed via a web browser from anywhere. There's also the option to toggle call forwarding on or off, just in case this was forgotten before leaving the office. Click-to-call makes life easier for those who spend all day on the phone, providing the option to copy and paste a number into the portal and have it place the call on the phone. There's even a browser plugin which will highlight any phone number on a web page for clicking to call.

There's so much more to say about everything we're announcing this month, in what might just be our most exciting product launch to-date. Stay tuned to the blog for more to details in the coming days and weeks. Subscribing is the best way to ensure nothing gets missed.