A quick announcement about the latest addition to our documentation library
It is with great pleasure that we announce the publication of a new guide focused on the wired networking world. Our new Campus Access Deployment Guide is designed to help customers who are in the process of designing larger networks. There's much to consider: security, redundant network architectures, power, Quality of Service, troubleshooting, traffic analysis, the list goes on.
Meraki switching is designed to be easy to configure, deploy and troubleshoot and there are many ways in which these attributes manifest themselves, like our helpful remote packet capture and cable testing tools, and our recently announced switch templates. Even with this simplicity, the design of a highly available, fast performing and well understood network is no trivial task, requiring a degree of skill. Our aspiration for the Campus Access Deployment Guide is to assist in the process and serve as a checklist for the network engineer.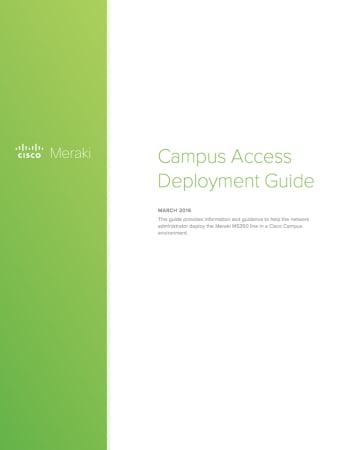 We do hope the document proves useful, and as ever, please send your feedback so we can continue to improve its value.
Happy reading!