A special visit to Meraki HQ shone a light on a noble use case for Meraki technology
Last Wednesday was a day with a difference at Meraki HQ as we played host to the Cisco Tactical Operations team, affectionately known as TacOps. This inspiring group within Cisco responds to some of the world's most challenging disasters, both natural and man-made, bringing communications capabilities to the unconnected.
The Meraki team are very proud of their contribution to this group. With its fast time to deploy, Meraki technology is perfectly suited to a role like this, making it possible to bring up a complete wired and wireless network within minutes.
To give those of us working at HQ a chance to see this work up close, and talk to those directly involved on the ground, the TacOps team brought one of their Network Emergency Response Vehicles (NERV) to the office for tours and discussion. A beautifully sunny March day encouraged members of the team to head outside to tour the NERV, which was operating just as it would in the field, providing data and voice communications via a dedicated satellite link.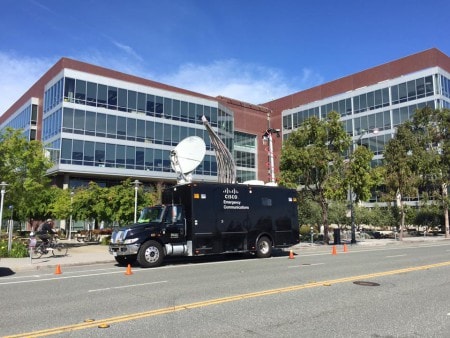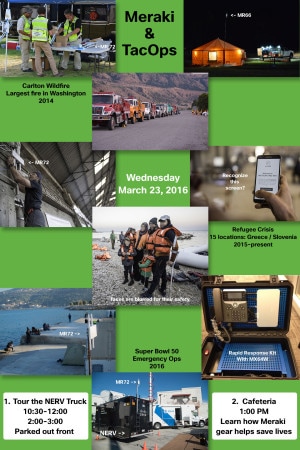 For Merakians interested in learning more from the team, a presentation went through some of the emergencies the team has previously responded to, including the earthquake in Haiti and the Syrian refugee crisis on the borders of Europe. In every case, re-establishing communications is vital – even life-saving – to those affected or displaced by these terrible tragedies. There's always more that can be done, so the TacOps team shared some ways in which Cisco employees can contribute today.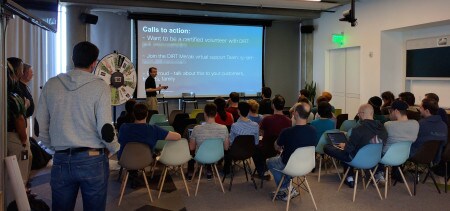 It's hard to overstate the importance of this work. TacOps updates can be found on Twitter and Facebook.