Read on to see how Girls in Tech and Meraki teamed up to host an empowering night of discussion around building valuable skills and diversity in the workplace.
Finish the sentence: "I'm empowered to…".
Some of the responses we received from last week's Meraki and Girls in Tech's' Empower the Change' event were: "Push the boundaries!!!" "Thrive on everyone's success." "Be the change I want to see in the world."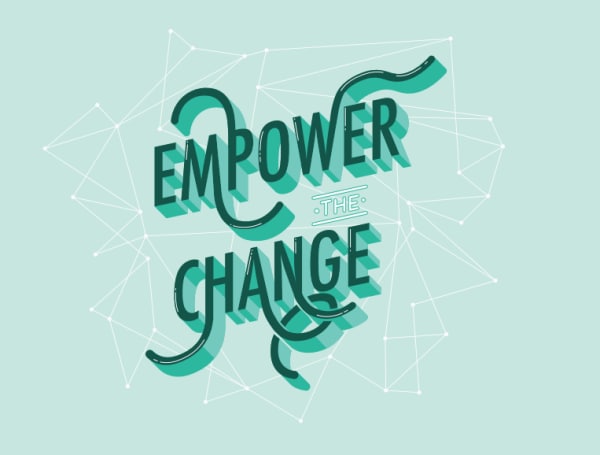 Girls in Tech is a global nonprofit that emphasizes the importance of empowerment, engagement, and education of women who are passionate about technology. At Meraki, we also emphasize those values and actively work to enable diversity across all of our teams, and to eliminate negative stigmas and mindsets.
We partnered with Girls in Tech to inspire everyone to be the best version of themselves and to continue to build valuable skills throughout their careers. On this particular occasion, Meraki hosted the San Francisco chapter of Girls in Tech for a night of motivational panels and discussions. With 80 Girls in Tech guests and over 50 Merakians in attendance, we're pleased to report that the night was a smashing success.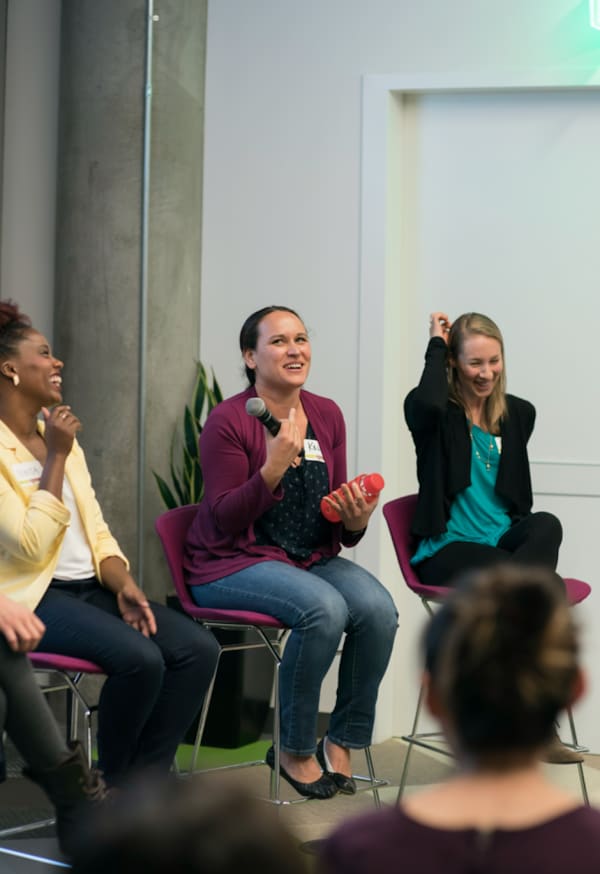 Meraki's own Kelly Koskelin and Meghan Gaudet enjoying themselves on the panel while answering important questions for the audience.
The five featured panelists were Kelly Koskelin, Backend Infrastructure Team Lead at Meraki; Meghan Gaudet, Product UI Team Lead at Meraki; Moriel Schottlender, Software Engineer on Wikimedia's Collaboration Team; Nikita Mitchell, Senior Manager in Strategy and Planning at Cisco; and Sarah Harrison, Consultant, UX instructor & Design Strategist, Previously UX Lead at TaskRabbit. These inspiring women covered topics such as pivotal points in their career that influenced their path to tech, skills they recommend working on (and that they themselves are actively building), who to ask for help when changing careers, and steps to obtain the next leadership position.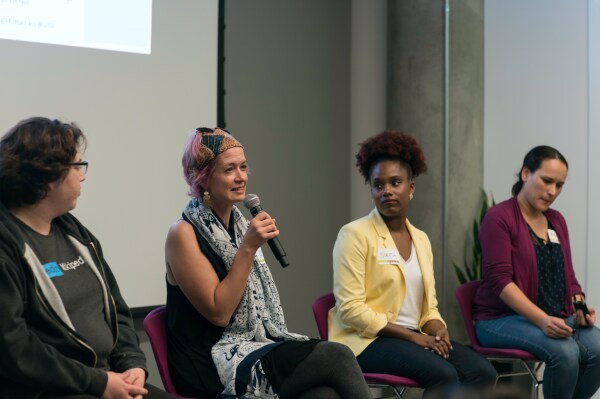 Sarah Harrison giving advice on how to negotiate your salary when accepting a new job offer.
We were moved by the stories and advice shared by speakers and attendees, and look forward to hosting more events like this in the future. We want everyone to proudly contribute their unique ideas and personalities to the tech space, regardless of ethnicity, race, or gender.
Let's try this again: Finish the sentence, "I'm empowered to…"