The latest addition to the Meraki switch line brings exciting new capabilities to the aggregation layer
Creating networks for small offices is a piece of cake. Connect all the desktop computers, wireless access points, phones and printers to your switch, add an uplink connection to the Internet Service Provider and that's it. Deployments like these are typically very undemanding and trade high performance and redundancy for low cost.
With the wired network forming the central nervous system of any organization, as the network size grows, often so too does the need for greater speed, broadcast domain segregation and reliability. Suddenly a whole host of new features and troubleshooting tools are required: VLANs, DHCP, user or device authentication, Quality of Service, security filtering, port mirroring, the list goes on.
At the physical layer, growing a network means adding switch ports and switches, but what happens when those switches can no longer reach the central data center, or where the number of connections back to that data center exceeds available cabling? This is perhaps the most common driver towards some form of distribution or aggregation switch, and in a physically larger environment this is usually a fiber-based switch.
To meet these requirements, Meraki customers have been able to deploy our MS420 switch for some time. This premium model spares no expense when it comes to performance. Capable of a switching capacity approaching 1Tb/s and with up to 48 x SFP+ interfaces, the MS420 provides some serious horsepower for demanding enterprise networks.
Now there's a new option for customers focused on fiber aggregation to scale their networks, without necessarily requiring the data-center class performance offered by the MS420. MS410 comes in two configurations, 16 and 32 SFP interfaces, with 2 and 4 SFP+ uplink ports respectively. There's also the redundant, hot-swappable power supplies and fans required of a switch built for redundant network designs.

New for the aggregation switch line are dedicated stacking ports which enable a stack of up to 8 MS410s. These high speed ports provide for a stack bandwidth of 160Gbps with spatial reuse, making optimal use of stacking connections by removing packets from the stack ring once the switch in the stack containing the packet destination. Link aggregates of up to 8 connections can be made, and these can even operate across multiple switches at either the aggregation or access layers, reducing still further the single points of failure in the network design.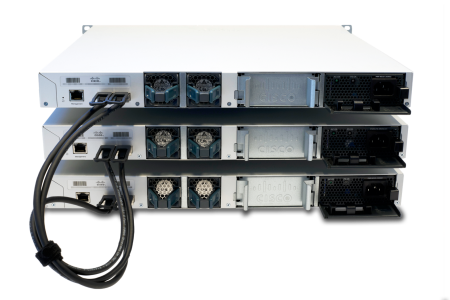 Finally, we have one piece of good news for customers of the premium MS420 switch. Whilst this model does not come with dedicated stacking connections, we are adding stacking support in software, enabling a stack of MS420s to be built using the regular SFP+ ports, all via a free software update, coming soon.
We're serious about providing the building blocks required by a modern enterprise network. The new MS410 will enable scale for more of our customers and more dependable network architectures for mission critical deployments. As with all Meraki products, MS410 is available for a trial, during which we'll be happy to provide support from our dedicated trials team. In the meantime, please take a look at our newly revised MS400 Series datasheet for our aggregation switch line. We're looking forward to seeing how these new switches get put to use.