We have a new webinar page and are providing you with some new offerings – 'tis the season!
As we grow, we're constantly looking for ways to make it easier for our customers to take advantage of our educational webinar programs to discover how they can further benefit from the Meraki portfolio.
From Saudi Arabia to Japan, from Portugal to Mexico, from the USA to the Netherlands and beyond,, we're spreading the word about Meraki cloud managed networking. To do this, we've launched webinars on a variety of topics in more than 10 different languages (and counting)!
To facilitate this growth, make it easier for you to locate webinars in your language, and simplify the topic selection, we completely redesigned our webinar page. Now you can search for that perfect webinar by language, region, product family, industry, or solution!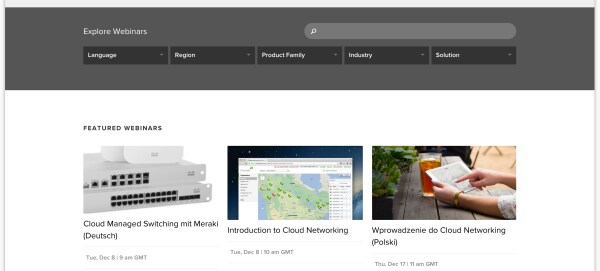 Keep an eye on the page too, as we're constantly releasing new webinar topics – a select few even have exciting offers like free switches! Some of the latest topics include "Designing and Deploying High Performance Meraki Wireless", "Get Wired with Meraki Switching and Security", "Systems Manager Teacher's Assistant", and "Going #fullstack".
Intrigued? Head on over to the webinar page and find one that excites you!