The holiday season could be a great time to update your network infrastructure, without losing out on any merriment.
With employees and customers taking vacation over the holidays, those quieter hours could be perfect for taking a few network refresh projects off the back-burner. The best part? With any Meraki products, you can complete these tasks without taking time away from your own holiday.
Plug and (go) Play
Replacing old hardware? Setting up a new branch location? Forget hours and hours of configuration and on-site fiddling; built with multi-site management in mind from the beginning, Meraki products enable convenient zero-touch provisioning. Simply enter the serial number of any Meraki device into your dashboard, apply the settings you wish with just a few clicks, and the device will automatically download the correct settings from the cloud when it's plugged in.
One of the perks of cloud management is that this quick deployment process can be done from anywhere in the world. After you are securely logged into your Meraki dashboard through either a browser or our mobile app, it's easy to monitor, configure, and troubleshoot all your devices through a single pane of glass. You can make sure that the replacement access point you shipped to a branch location has been plugged into the correct switch port, has downloaded its proper configuration, and that people are successfully connecting – all while basting your turkey and watching your favorite seasonal flicks.

Add new devices in seconds from the centralized dashboard
Easy to manage remotely
Meraki makes it easy to keep your existing networks healthy without active maintenance or cumbersome travel on your part. The network overview page, that greets users upon logging in, displays the health of all network devices in clear color codes. Drill down into any site, device, or user traffic from the comfort of your own home.
Automatic alerts can be configured to let you know when any issues arise, allowing you to sit back with ease. Built-in intrusion detection and prevention on wireless access points, intelligent topology mapping on switches, automatic failover on security appliances, and dynamic group policies through mobile device management are just a few examples of how every Meraki product line is designed not only for reliable deployments, but also with powerful simplicity in mind.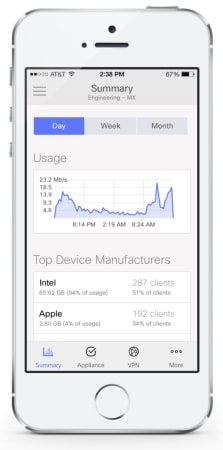 Granular visibility in the palm of your hand
Troubleshooting? No trouble at all
If alerts do come in, your holiday time need not be interrupted for long. The granular visibility and live tools built into the Meraki dashboard enable our customers to proactively resolve issues before they spread. With a few clicks, Meraki customers can run remote packet captures, trace routes, pings, and even reboot specific devices all through the management dashboard. Extensive visibility into devices, applications, and clients make it easy to pinpoint the root of an issue and enact a speedy resolution.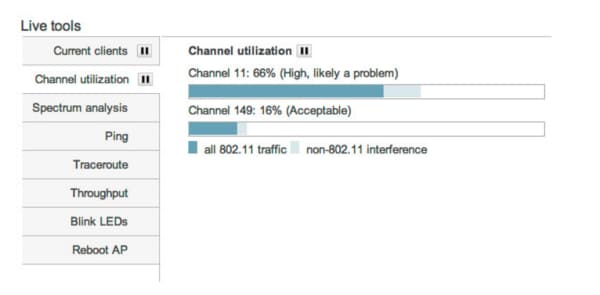 A sampling of the live tools built into the Meraki dashboard
One of our favorite customer stories tells of an IT admin hiking on vacation, when he suddenly received a phone call from his boss who had accidentally left his company iPad in a plane seat pocket. Pausing for a brief moment at the top of a mountain peak, the IT admin logged into his Meraki dashboard and wiped the misplaced device. In under a minute, the issue was resolved and vacation continued. All involved parties pleased, no festive parties abandoned.
These high-level use cases are just the icing on top of the deep empowerment Meraki provides; check out other blog posts, our product pages, and our interactive webinars for more information. One of the most consistent pieces of feedback we get from our users is how Meraki has allowed them to expand their IT capabilities while saving time and money. With all the extra capabilities you'll have, you can keep that holiday cheer going all year round!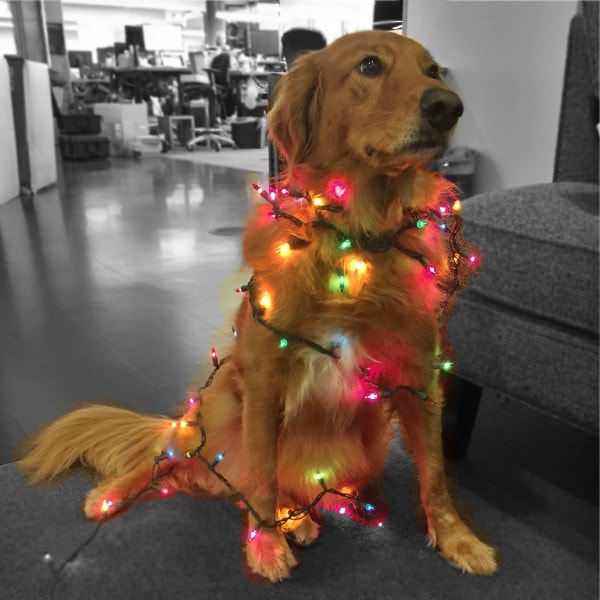 Happy holidays from Penny, a beloved Meraki pup