Taking customer feedback onboard, we've refreshed a few popular dashboard pages
At Meraki we pride ourselves on having the cleanest, most intuitive management interface in the data networking industry. From the very early days of the company, almost 10 years ago now, the emphasis has been on a management experience like no other, which focuses engineers on what they're trying to achieve, rather than how they get there.
We know the dashboard is the instrument panel that drivers of Meraki equipment rely on every day, and it's important to us that the interface continues to meet or exceed the needs of those drivers. There's always room for improvement, and we've recently adopted a few of the suggestions we've received and re-modelled the relevant pages. Let's take a quick look.
Firstly, the MX security appliances. Auto VPN remains one of our most popular flagship features. Our customers love the ability to configure and bring-up site-to-site IPSEC VPNs in less than 30 seconds. There's simply nothing else quite like it, all made possible by the centralization of management in the cloud.
One area we were asked to take a look at was the VPN Status page. Once VPNs are configured, especially when many are in use, it's extremely helpful to be able to visualize those connections and learn more about them. Our MX product marketing manager, Joe, is writing a more comprehensive blog post on this particular change, so for now here's a quick sneak peak of one of the new graphics we've included on the new page. For more details, please swing by the blog again later in the week, or better yet, subscribe to receive new posts by email.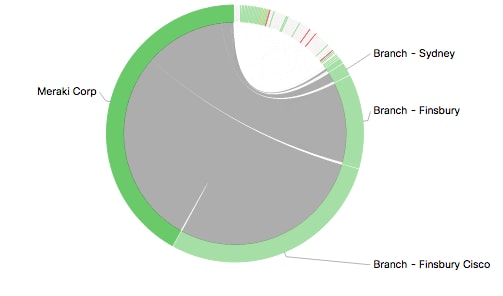 Next we turn to WiFi. One of the challenges of keeping a user interface clean is how to provide all desired functionality and information without cluttering the screen. Many have tried and many have failed. At Meraki we're fortunate to have a world class design team who obsess over the details and keep our engineers on the straight and narrow when it comes to the UI. The updates to our AP list and details pages are a great example of this attention to detail at work.
The 'old' version of the AP detail page was trying to display all configuration, monitoring and troubleshooting on one page. This design served us well for many years, but with more tools being added the page became increasingly cluttered, requiring the network admin to scroll up and down the page to access everything.
The new version addresses this challenge by adopting a tabbed design. It's now easy to hop between tabs to access different views and settings. We've also taken the opportunity of a redesign to add a contextual event log, showing events related only to the AP currently being viewed.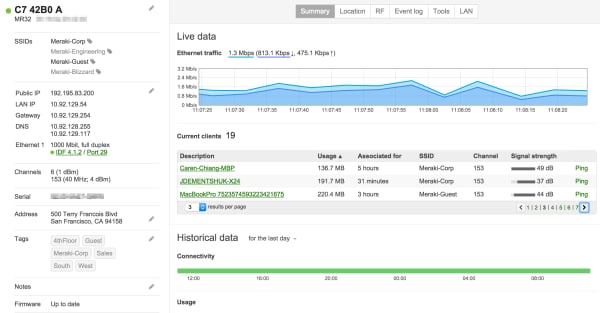 The good news is that any Meraki customer can try this new version out today. Just look for the banner at the top of the dashboard page, inviting you to try it for yourself. Further underlining our commitment to customer feedback, when electing to revert to the 'old' version we'll present a popup asking for comments about the new design. We'll be listening carefully before this becomes the default view for all customers.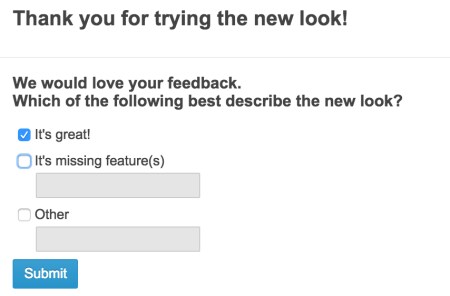 We've got one more example to share today. Our hugely popular MDM product, Systems Manager has also been maturing and expanding its feature set significantly, presenting us with similar UI challenges. In this case we've reworked the managed device settings page to provide an easy-to-navigate menu of options. Here's a look at the new, cleaner page, replete with beautiful new icons: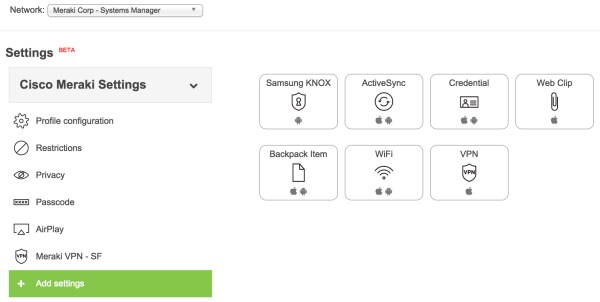 Once again, this new version is optional while we're gathering feedback so we can ensure it's ready before it becomes the default.
At Meraki we understand the importance of good design. It's no wonder we receive such consistently great feedback and accolades from the industry, for both our beautiful hardware, and the software our customers interact with every day. Good design, especially in the technology world where features are forever evolving and being invented, is a journey rather than a destination. Thanks to the continued feedback from all our customers joining us on that journey, we hope to remain the industry's favourite network management interface.