This week marks the start of Wireless Field Day 8 (#WFD8), part of the Tech Field Day series of events. For those less familiar with Tech Field Day, it brings together IT vendors and industry bloggers, speakers, podcasters and writers for engaging technology discussions.
A fantastic feature of this coming together of industry experts is the comprehensive live streaming and video replays of the sessions that allow anyone to participate. Cisco will be participating in #WFD8 with presentations starting on October 1, 2015 at 9:30 am PT, with the live stream available from the Wireless Field Day 8 website.
As part of the Cisco sessions at #WFD8 there will be a segment on Meraki Systems Manager and the Sentry features that offer simple automatic security that is context aware. Meraki has featured at past Wireless Field Days and you can catch up by searching Meraki and Wireless Field Day on YouTube. In the video below from WFD7, Raj Krishna, Wireless Product Manager, discusses and demonstrates the Cisco Meraki traffic analytics capabilities.
With Systems Manager Sentry, a number of complex security features can be very easily deployed because of the native integration offered by the Meraki cloud. Meraki network components and Systems Manager Enterprise Mobility Management are connected to the cloud and share data. This means the network can make highly informed decisions on how it should treat end devices.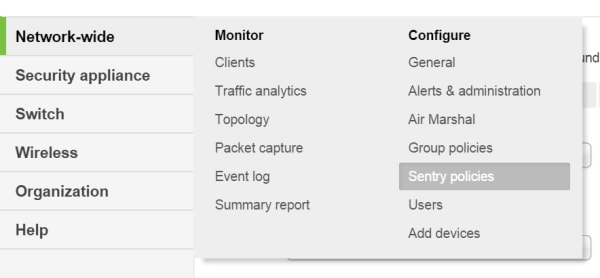 One of the Sentry features that highlights the benefit of this integration is Sentry policies. Sentry policies allow any network group policy available on Meraki networking equipment to be dynamically applied based on device posture. This posture is determined by Systems Manager and is highly granular. For example, we can detect whether the antivirus software has been uninstalled and who the device belongs to. The network can then implement appropriate firewall or security rules.

To learn more, please attend one of our specialist webinars that cover Sentry in more detail, or better yet, watch the Cisco #WFD8 session live from 9:30AM PT onwards on October the 1st.