Did you ever google your own name to see what comes up?
One of the most rewarding aspects of life at Meraki is the feedback we receive every day from our customers and fans, which we do our very best to stay on top of. There are many ways in which we listen. Firstly, there's the ever–popular 'make–a–wish' box which enables existing customers to provide direct feedback on our management tool, the dashboard, to the very people who write the code that makes it work.
Then there's that crazy, wild and opinionated place we all know and love, the Internet. We know that satisfying every customer is challenging, especially in the fast–paced world of technology and this era of instant gratification, but doing so remains our guiding star. The feedback we receive online, unsolicited and unfiltered, is an invaluable source of inspiration and we welcome it all.
With summer upon us here in sunny California, we couldn't resist taking a few moments to sit back and bask in some of the comments we've seen lately. We hope you'll allow us the indulgence of sharing some of our favorites with you.

"Troubleshooting in an organization with Meraki across the board is a dream" – via Reddit

"We have 15-16 hats we have to wear any given day. One of the hats we absolutely don't have is the RF Engineer hat. Now, with the dashboard, we can look at the channel utilization and interference on each channel for each AP." – Museum running Meraki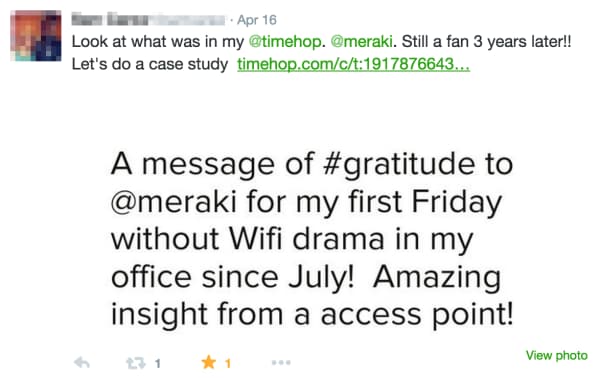 One for our French speaking friends…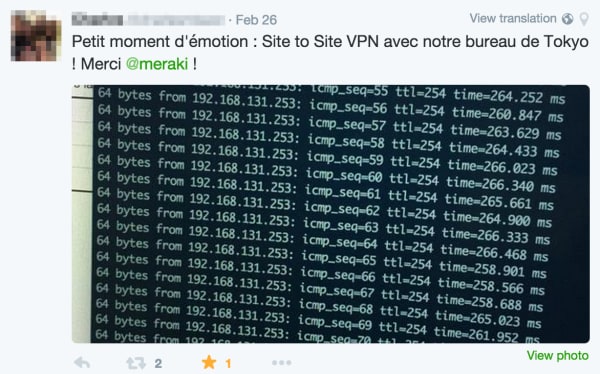 "With Meraki, you're gonna get the visibility, you're gonna get the reliability, you're gonna get a solid product." Car dealership chain IT Manager
"I'm a triple CCIE and I gave up the CLI for Meraki" Diehard command line junkie
…and finally, one last classic from the archives…

We're a deeply passionate team, as our name suggests…

…so it's a constant source of delight for us when we see kind words like these written online.
Please keep the feedback coming and help us remain your favorite networking vendor. We're easy to talk to via the dashboard and through our Contacts page. We're also listening on our social channels: Twitter, Facebook, Google+, YouTube, Instagram, Reddit and others.