Full stack, full speed, fully loaded – find out what makes this auto group such a happy full-stack Meraki customer.
Clint Newell Auto Group in Roseburg, Oregon is truly a one-stop shop for the community's automotive needs. The group offers competitive pricing on a large inventory of Toyota, Chevrolet, GMC, and Buick cars, while also hosting a service center, collision center, loans and lease department, parts department, and rental services on-site.
With company devices, visiting contractors, customers, and others coming in and out of the auto group, Clint Newell depends on the Cisco Meraki cloud-managed solution to support their robust networking needs. The 3-person IT team is led by Ryan Parker, who will be hosting a live webinar with Meraki next Thursday, May 28th at 11:00 AM PT to divulge more details about their Meraki experience.
A sneak peek into their deployment shows a fleet of Meraki MR34 802.11ac Access Points, MS320 and 220 Switches, MX400 Security Appliances, and Systems Manager mobile device management. Ryan and the IT team went with the Meraki full stack, as they believe that "with Meraki, you're going to get the visibility, you're going to get the reliability, you're going to get a solid product" (Ryan Parker, Clint Newell IT Manager).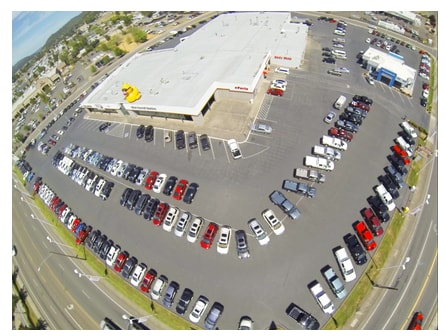 The Clint Newell Auto Group in Roseburg, Oregon
The team benefits from Meraki features such as bandwidth throttling for guest WiFi, auto VPN to securely connect their 3 buildings, topology to automatically create intelligent network maps, easy cable testing and troubleshooting, device location tracking, and more. IT is able to remotely configure and push settings to devices, monitor all traffic passing through the network, and proactively identify and solve any issues.
With a reliable network, the sales team can roam the property with their iPads and easily guide customers through virtual showrooms and technical specs for new and used vehicles. Employees and contractors can securely access internal resources from any building within the auto group, and "the devices we have become the devices we need" with regular firmware and feature updates built into the Meraki cloud model.
Register for next week's webinar to hear the full story and see how Meraki has made network management simple for Clint Newell. A recording of the presentation will also be available on our webinars page after the webinar. Hope to see you there!