The right security solution not only protects students, staff, and resources, but is easy to deploy, reduces network complexity, and improves with age.
Educational institutions can easily find themselves between a rock and a hard place: there's the mandate to deploy greater technology in classrooms, yet the complexity involved—managing mobile devices, licensing, CIPA compliance, and security—can be daunting for schools with lean IT staff, limited time, and several locations to manage.
Deciding which equipment to purchase often boils down to things like appliance cost or which device claims the most features. But these metrics fail to account for intangible expenses that can quickly pile up: lengthy deployment times; the additional costs of complex licensing and support; the time spent configuring, maintaining, and troubleshooting equipment; the cost of erroneous configuration that might expose your network's flank to attack.
The Cisco Meraki MX security appliance was designed from the ground up to provide a secure, scalable, intuitive solution for protecting a given network, but it also addresses the intangible costs just described. In this post, we'll highlight a few of the many ways the MX does this.
Rock-solid security that's easy to deploy
Complex deployment is a security issue. Why? Because if security is hard to install, it's less likely to get implemented in a timely fashion—and less likely to be configured correctly. Pilot error is no joke; security is hard and usually response times need to be rapid. If you can't get your security appliance up and running when you need to, it's like having no security at all.
We took this into consideration: deploying an MX is so simple, you don't even need to be on-site. If you must quickly configure several MXs to deploy a baseline level of security across campuses, that's also easy with templates that enable settings to be applied once and then propagated out to all your appliances. You can also securely connect your schools using VPN in mere minutes. Furthermore, MXs do the hard work of keeping themselves running the latest firmware and features, automatically pulling updates from the cloud.
Just because the MX is easy to install, it doesn't mean it's lacking powerful security. In fact, the Meraki MX sports a stateful, next-gen firewall, CIPA-compliant content filtering, Safe Search and YouTube for Schools integration to protect students, malware/anti-phishing scanning, and market-leading intrusion prevention (IPS) from Sourcefire, the makers of SNORT. Not only is intrusion prevention updated daily to protect against the latest threats, but these updates are automatic—no need to manually download or patch your IPS, or worry about a misconfiguration.
Reduce network complexity
Once your security solution is deployed across your campus, you want it to be easy to manage and maintain. Being able to view security threats, bandwidth abuse, BYOD devices—and then push out tailored policies to address these—is paramount.
With the Meraki dashboard, you can centrally manage all networks, devices, and clients from any Internet-accessible device. It only takes a quick search to discover which devices, operating systems, and users are accessing network resources: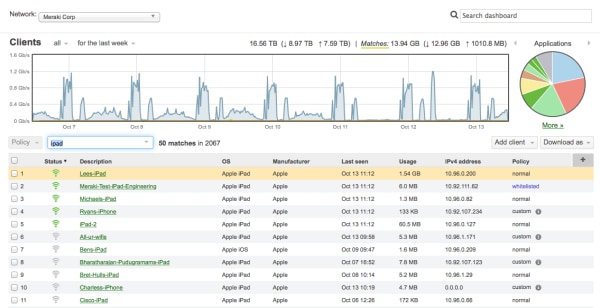 With this visibility, you can push out group-based policies from your MX to block, prioritize, or throttle specific applications, whitelist or blacklist devices, apply specific firewall or content filtering rules, and more.
Speaking of visibility and control: if your school is moving forward with 1:1 initiatives, the MX integrates seamlessly with our mobile device management product, Systems Manager, so you can manage your network and mobile devices from a single, intuitive pane of glass!
In addition to being easy to deploy and maintain, the MX's integrated IPS offers easily-digested security reports so network admins can see in real time where attacks are coming from, which clients are implicated, and how best to mitigate—no need to parse through complex logs.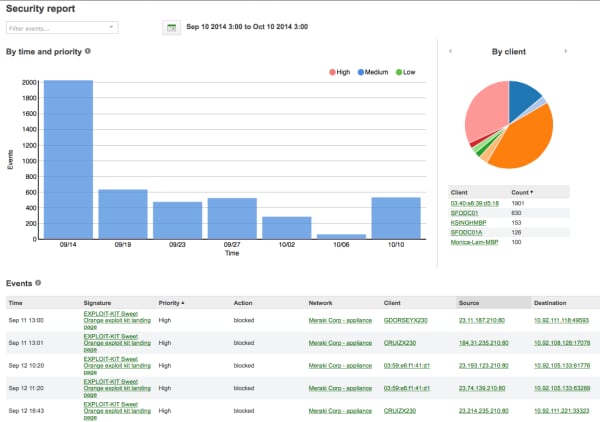 Visibility and control comprise only one aspect of reducing network complexity. The MX also simplifies traditional licensing and support paradigms, so security features can be deployed without a lot of fuss. In fact, there are only two MX licensing options: Enterprise and Advanced Security. All technical support and feature/firmware updates are included with each license so you never need to worry about per-user overages or whether you'll have the right support tier to get a problem solved.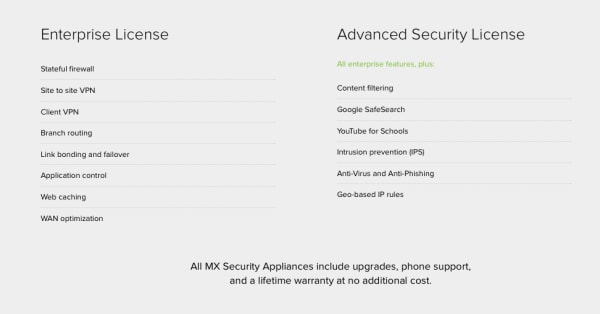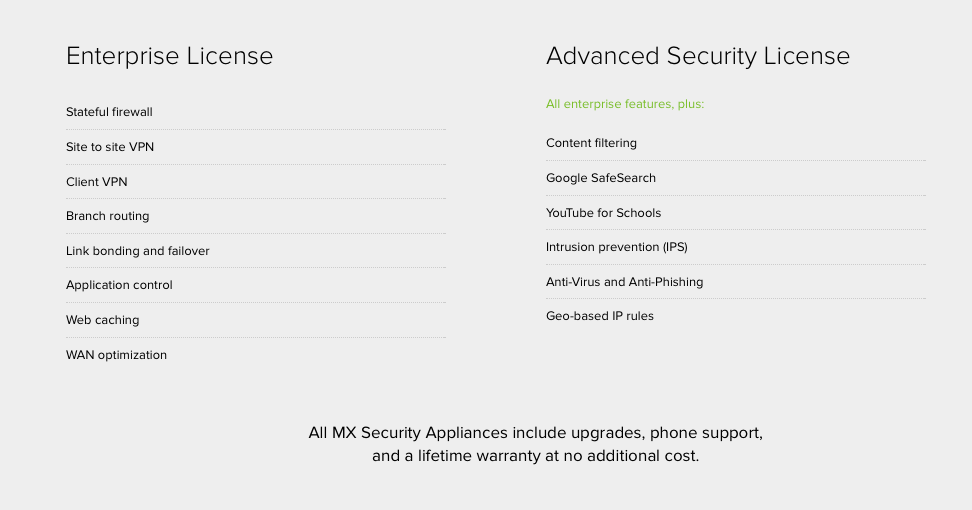 Meraki MX licensing options: Enterprise or Advanced Security.
Improves with age
Here is a point worth highlighting: every Meraki MX investment is future-proofed. Roughly each quarter, new features are released and seamlessly pulled by the MX from the cloud. Most recently, MX customers woke up to discover they had geo-based IP firewall rules, HA warm spare failover, and datacenter failover, among other things, for no additional charge. So when you consider the feature velocity built into every MX, you can rest easy that your security appliance investment will continue to pay off for years to come.

Highlights of the past year's feature updates for the MX security appliance.
So there you have it: a rock-solid security solution that is easy to deploy and maintain, reduces complexity, and gets better with age! Keep these characteristics in mind as you search for security solutions, and remember that difficult-to-deploy, complex security is itself a hazard.
For additional information on how the MX addresses challenges in the K-12 and educational space, see our MX for Education solution guide and here, and here.