We simply had to draw attention to this excellent new partner onboarding guide
In every way, we seek to make the experience of selling Meraki as simple and enjoyable as possible. These aren't just words, and today we'd like to share this shining example of our philosophy being put into practice.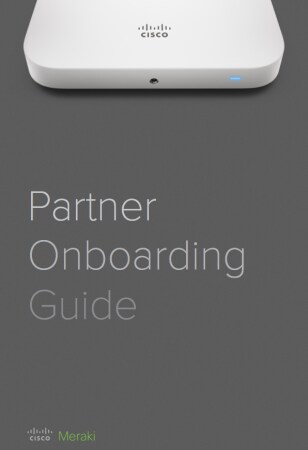 The Cisco Meraki Partner Onboarding Guide is designed to provide a comprehensive introduction to our hugely successful suite of products and software, and answer the most common questions on the minds of those new to our portfolio. For example, do you know how to explain what happens if a network built with Meraki temporarily loses connection the cloud? Do you know how to identify potential customers? How are apps deployed to managed devices using Systems Manager?
You'll find help with conversation starters, objection handling, positioning within the broader Cisco portfolio, and lead generation tools. There's also a list of the many useful resources to help deepen your knowledge and become a standout partner.
You can find this great document by logging on to our partner portal, clicking on the Collateral tab and then to the second link under Program Details.
Happy reading.