Exploring the mixed experiences of hotel guests around the world
What's your top priority when staying at a hotel? A plush mattress topper? A fabulous breakfast? Proximity to your business meeting? For many, the first thing they'll do when getting to their room will be to connect to the hotel's WiFi service and get online. Whatever your own priority, it's clear that hotel WiFi is considered an essential service, particularly if travelling abroad when mobile roaming charges can be prohibitively expensive.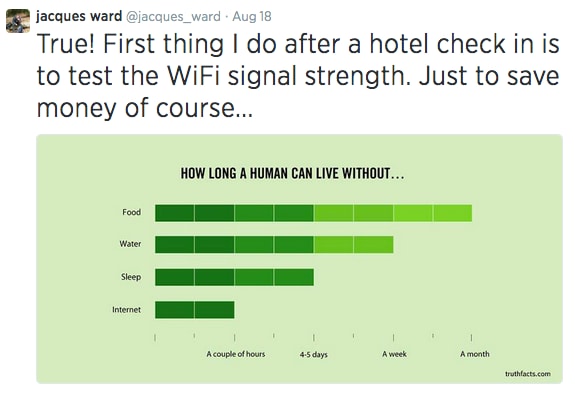 We hear many stories about people's experiences with hotel HiFi, both from our own staff when they're travelling and through various social media. Many people like to tweet about their experience and a quick search for "hotel wifi" on Twitter soon illustrates this. That link may warrant a parental advisory – in other words, it would be fair to say that the hotel WiFi experience isn't always a satisfying one.
As if to underscore the point, we recently discovered a website providing hotel guests a way to share feedback on their wireless experience in a more structured way. The site's About page is particularly illuminating, confirming our belief that WiFi is now a fundamental element of a hotel visit and can really transform the experience just as easily as all the traditional measures do.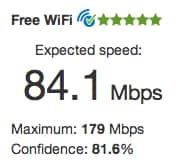 Cisco Meraki wireless is deployed in a broad range of organizations, and the hospitality sector is particularly well represented. For example, the world's largest cloud-managed wireless network is run by Accor's Motel 6 chain in the United States, comprising almost 10,000 802.11n access points.
For clubbers, the island of Ibiza in Europe is one of the top global venues, hosting the world's largest night club. One of the most famous club franchises on the island is Pacha, which runs its own resort and hotel complex, Destino. With almost 3000 people a night using the Meraki wireless there, it's a true test of high density network design, and this case study demonstrates how we deliver satisfaction to so many.
No matter how glamorous the place you choose to rest your head, we know wireless connectivity is now one of the largest contributors to a successful stay. Our engineers and deployment partners have the experience to deliver an exceptional WiFi experience. Add to this centralized management, captive portal functionality and best-in-class analytics to assist with tuning deployed networks, and it's easy to see why Meraki is such a popular choice for hospitality.
Do you feel as passionately about this as we do? We'd love to hear your experiences with, and thoughts on, hotel WiFi. Why not tweet a comment using the hashtag #mhotelwifi or join the discussion in the Cisco Meraki Community.