A speedy network for a recent race event in the US.
The Chevrolet Detroit Belle Isle Grand Prix is an exciting weekend of racing with its origins dating back to the 1980s when Detroit was on the Formula 1 World Championship circuit. Today the Raceway on Belle Isle Park is a regular fixture on the United States Verizon IndyCar Series and TUDOR United Sportscar Championship series schedules. The event has become hugely successful, drawing crowds from far and wide to Motor City, as Detroit is affectionately known.

Credit http://www.latphotousa.com/
As with any event of this nature, there is always a large contingent of media personnel in attendance and generating huge quantities of data, particularly high resolution photos and video which must be transmitted back to multiple media organizations. For many years, Cisco has been providing the network for this event, so we were super excited when it was decided to go with a cloud managed Cisco Meraki network for the 2014 race weekend, which took place May 30 – June 1.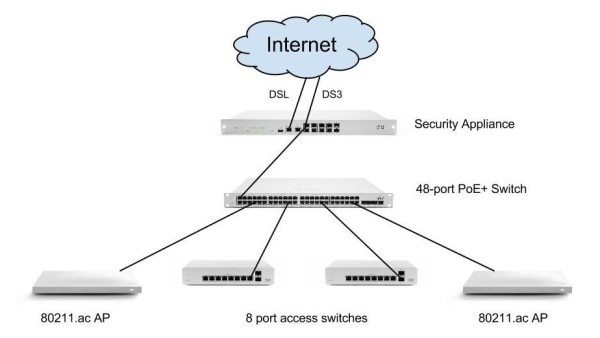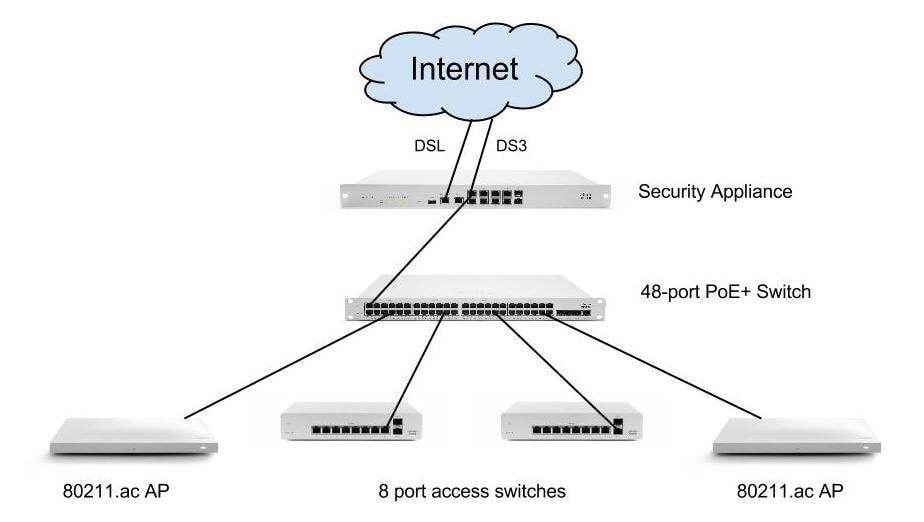 The network was built on the two floors of the historic, 107 year old Casino Building on Belle Isle, which was dedicated to media personnel during the race weekend. A simple design started with a 45Mb/s Internet connection with a backup DSL connection, feeding into a Meraki MX100 Security Appliance and then relayed out to an array of strategically placed switches and wireless access points. Here's a quick look at part of the media center during the event. Can you spot the AP?
One of the primary reasons for choosing Meraki was the excellent application and client visibility available in the dashboard. A summary report for the peak usage days of the event showed that almost 2 terabytes of data was transferred across the network, with an approximate 50/50 split between uploaded and downloaded data, and with peak throughput approaching 240Mb/s. Here's the clients view for the period:
Client device connections were evenly split between wired and wireless via multiple device types. For the wireless clients, the dashboard's Location Heatmap view was able to show where the main concentrations of clients were to be found. This information can be extremely useful for more permanent networks, helping to ensure real world client density in a given spot is adequately catered for by the available access points. In a retail deployment it can also provide the retailer with an indication as to the popularity of different areas. The green icons in this heatmap indicate healthy access points, and the numbers shown within each is the number of associated clients at the moment this snapshot was taken.
Our location analytics also provided valuable data, covering numbers of clients, the number of repeat visits over the duration of the event, and how long they were connected each day, as seen in this example:
Meraki cloud networking is the perfect solution for events like these. In the case of the Chevrolet Detroit Belle Isle Grand Prix the network was put together in half a day by the team from Penske IT, who had never worked with the equipment before. We've always been proud of how quickly network engineers can adapt to and deploy Cisco Meraki equipment, and of course this translates to greater efficiency and reduced operational cost for our customers.
Our free trial program is designed to demonstrate the ease of setup and powerful monitoring capability in real-world settings, so why not supercharge your network administration and sign-up today.