How Meraki 802.11ac APs provide high-density WiFi for simultaneous online testing.
The goal at Cisco Meraki is to make products that provide solutions to our customers' challenges in a way that's intuitive, simple, and reliable. We recently had the opportunity to chat with Northern California's Oakland Unified School District and discuss how the rapid deployment of Meraki products facilitated the launching of a new, state-wide learning initiative.
The 2013-2014 school year marked the first implementation of the new Common Core testing standards in California. Common Core is a state-mandated online learning and testing initiative which sets standards for mathematics and English.
The switch from a traditional testing model to an online testing model has numerous benefits, including standardized learning across states and a higher level of thinking where students must defend their answers. However, there are several elements needed in order to support hundreds of students testing online simultaneously. Many schools have opted to perform testing on school-issued mobile devices, but for this to work, schools need a robust and reliable wireless infrastructure in place.
Oakland USD's Chief Technology Officer John Krull began working with the district in August 2013 and needed to quickly find a solution for how the district was going to execute Common Core testing in April 2014.
About Oakland Unified School District
Oakland USD provides educational services to over 37,000 students annually and is comprised of more than 120 K-12 schools and child development centers. When Krull joined the district, he discovered that while the previous network was functional, it was only meant to support the laptop of the occasional roaming teacher. Its intended use was not for classrooms of students using mobile devices for collaboration and certainly not for supporting hundreds of students accessing online tests all at once.
Each of the district's sites generally lacked both consistency in mobile device offerings and the ability to support them. "There was inequality across the sites when facing online testing," Krull explained. "We had 10,000 computers to use for testing, but the computers were all different makes and models. The network had the same problem." Students and staff had been using an aging computer system to integrate technology into the classroom, but it was not robust enough to meet the new education requirements.
New technology and an upgraded network
With only 5 of 34 IT staff dedicated to network operation, Krull's mantra of "equitable, supportable, and standardized" is crucial to maintaining daily operations. A recent award in federal funding helped fulfill this philosophy by financing the initial purchase of Meraki 802.11ac APs, as well as 10,000 new Chromebooks. Conforming all school sites to a model of mobile Chromebooks carts with a Meraki AP attached provided the equality and standardization Krull desired.
Oakland USD's network architecture
All of the sites are connected in a hub and spoke architecture via a metropolitan WAN which routes all traffic back to a main data center, running alongside a redundant backup. The data center houses district services including storage, servers, firewall, and security. Depending on location size, the network connection comes in to Cisco switches in the main wiring closet which are then connected to smaller wiring closets as needed. Krull explained that simplification of the network is critical in a district the size of Oakland USD, "and even though the Cisco Catalyst 3k switches that we use can be complex, the integration with Meraki wireless helps make them easy."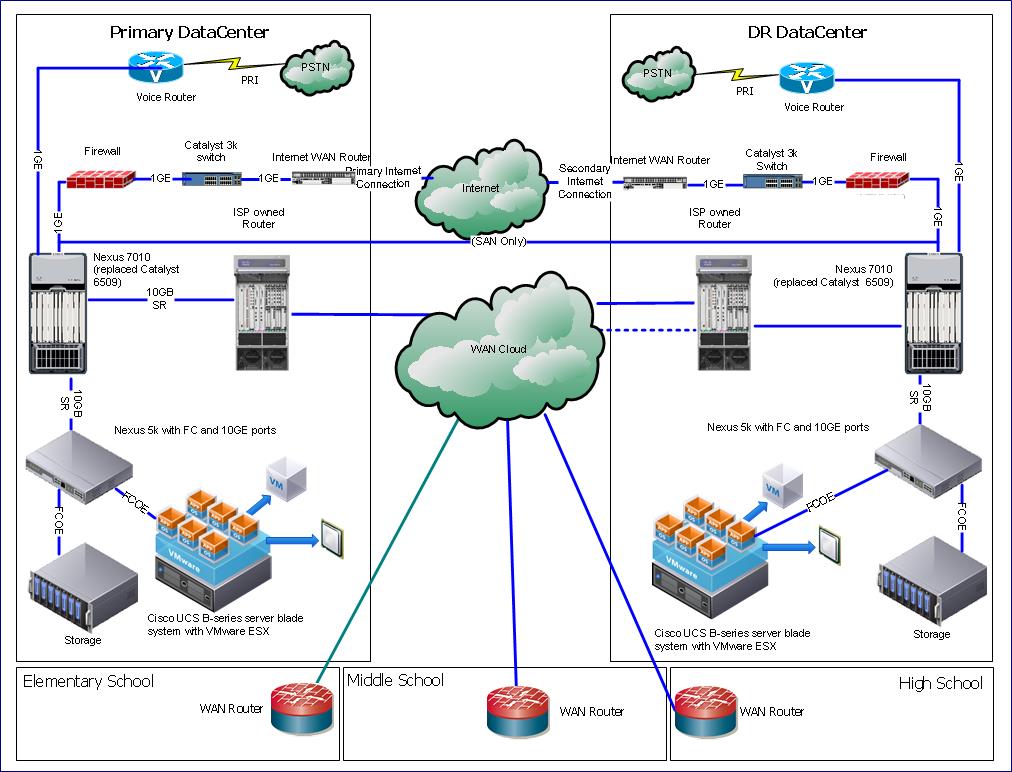 Oakland USD datacenter and network architecture
The IT team created the initial AP configuration in the Meraki dashboard and once the Meraki APs were plugged in on the Chromebook carts, they downloaded their configurations. Along with the Meraki 802.11ac AP mounted on each Chromebook cart, the plan is to also place a Meraki AP in every classroom and workspace. APs on carts will be dedicated to testing and intensive online use, complete with their own Chromebook SSID with Meraki DHCP enabled, allowing students to authenticate via 802.1X with Meraki RADIUS. Meanwhile, APs in classrooms will broadcast a different SSID and will be used for daily classroom activity, including research, collaboration, and application usage. "We want to have the high density coverage on Chromebook carts for those that are testing and another set of APs for non-testing, broadcasting a different SSID," Krull explained. "We want a highly engaging, blended learning environment where we can stream video, while also online testing."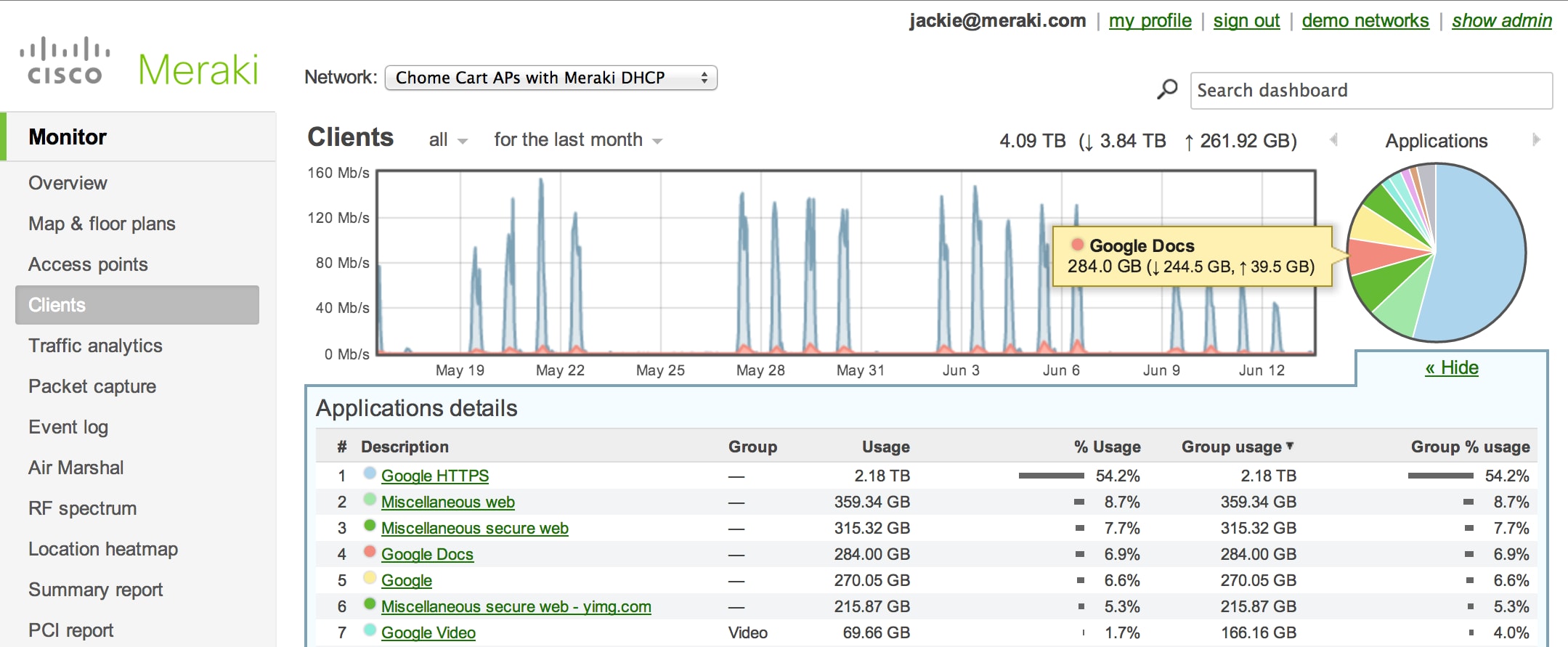 The results of deployment
Upgrading to Meraki wireless has had a massive impact on the network, empowering network engineers and technicians to efficiently troubleshoot issues, as well as optimize the network space between the WAN and the end user. Before the Meraki deployment, visibility into the network consisted of merely being able to see whether a device was online or not; now network engineers are providing first and second tier help desk techs with read-only access and tools to diagnose many of the network issues. The Cisco Meraki dashboard is also providing insight into Oakland USD's downstream issues, including lost packets and misconfigured DNS servers.
"It's so easy to use," Krull said. "In a few weeks we added 10,000 devices to the network and 300 Meraki APs, roughly doubling the end user computing devices and significantly adding to the wireless — all without hiring a single extra person," said Krull.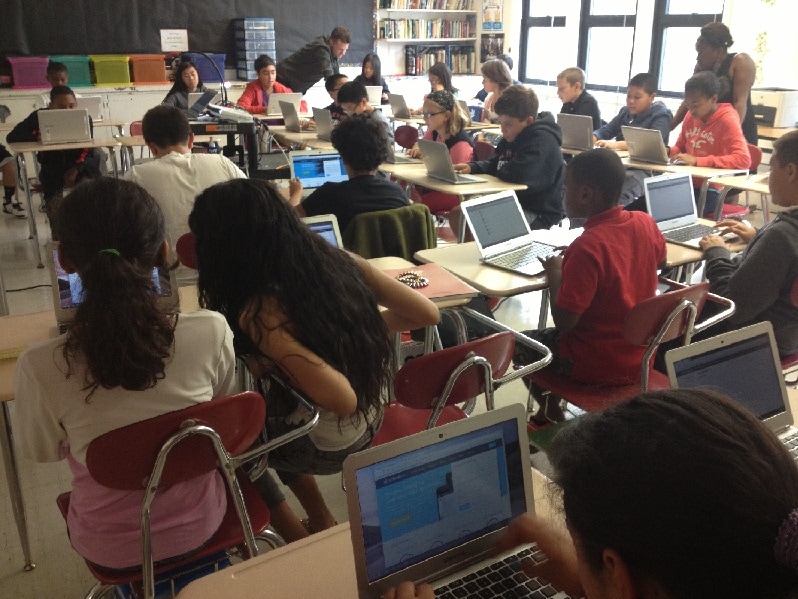 Oakland USD students using Chromebooks via http://www.blendmylearning.com/2013/09/09/back-to-school-2-0/
Shortly after the first round of Common Core testing, California's state superintendent of public instruction held a conference with Oakland USD focused on the effectiveness of the testing standards, ease of use, and overall thoughts. But there were only a few brief minutes spent talking about the wireless. "It was incredible. Here is the person who decided to do online testing in the state and we weren't talking about bad bandwidth, computers breaking, or slowness," explained Krull. "Instead we were talking about kids being engaged in the testing. The fact that the network worked flawlessly during testing was an impromptu measure of success."
Curious to hear more about how Oakland USD is supporting the high density demands of Common Core testing? Check out the webinar where we walked through their deployment, including providing a live demo of their network.