Extolling the virtues of Cisco Meraki Application Visibility and Control
Our guest post this month comes from Brandon Froehlich, an IT Project Manager at Integrity Computer Service in North Carolina. We encounter plenty of enthusiasm for our intuitive cloud managed networking, from the customers using our networks to the partners who help deliver Meraki products to their markets, bringing the cloud's rich functionality to life. Today we have a shining example of this, and as you'll see, there was clearly no holding Brandon back:
I've been using Meraki products for two years now, and I absolutely love their approach to management. It all started with the free wireless access point and free mobile device management. After getting used to the dashboard and seeing how easy it was to configure settings, I became hooked. At my previous employer, I had the opportunity to deploy the full Meraki stack (security appliance, managed switches, access points, and MDM) and they are still running smoothly and loving their Meraki network. I have since joined an MSP and we are laser-focused on integrating the Meraki stack into our business model.
 The best part about the Meraki dashboard is the Layer 7 visibility you get with all of their networking products. This is one of the many features that adds tremendous value to businesses. Gaining this type of visibility historically meant running expensive on-premise software which was a large barrier for many small businesses. This visibility became critical in helping us track down a virus at a customer site.
We installed an MX60 for a customer of ours that had been experiencing slow Internet performance. As a company that relies on various SaaS solutions, it is critical that their applications are readily available and not bogged–down by people watching YouTube or downloading torrents. They had been using another vendor's product, but it gave us very little room to work with in throttling application specific traffic. All we could see was aggregate application usage and it wasn't helpful in identifying individual bandwidth offenders. Shortly after installing the MX60, we found such an individual and investigated further. As you can see below, this user was sending a large amount of data to a remote server named secondfatman.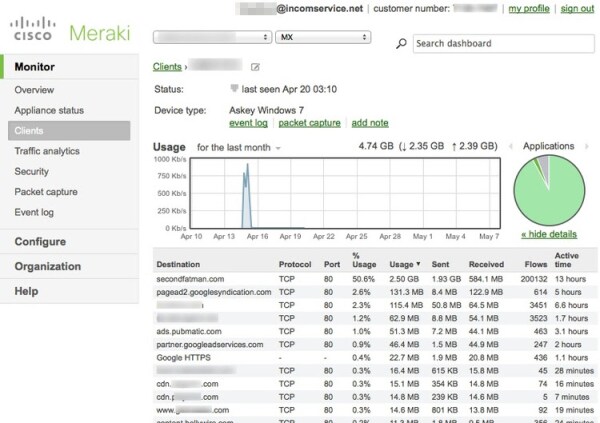 A quick Google search turned up this article from Microsoft that tells us this is the behavior of a Trojan virus. Armed with this knowledge, we were able to quickly and easily block this device from accessing the Internet with just a few clicks.
To further enhance the security of this particular network, we implemented HIPAA compliant policies using the Dashboard and it couldn't have been easier! Setting up group policies and content filtering was a breeze thanks to the user friendly management interface.
In summary, Meraki has delivered once again and added value to a business that was suffering from slow network performance. We were able to identify and address the issue almost immediately and with little administrative effort. With the Meraki Dashboard, we were also able to help this company achieve and maintain HIPAA compliance by fine-tuning policies on their firewall. We are now implementing a program internally to replace all the other vendor's security appliances we have out in the wild with Meraki's!
 Thanks to all at Meraki for such a wonderful product portfolio and service offering!
We loved the raw energy in this piece. From the feedback we receive we know our application visibility and control is helping solve real–world issues like the one Brandon set out every day. Do you know what's on your network? If you're not already using Cisco Meraki then why not give it a try and see for yourself.
 A t–shirt is on its way to Brandon. If you'd like to submit your own Meraki story, check out this blog post where we introduced the guest post program we're running through the summer.