A look at highlights from the past year
The new year brings a fresh start, and with it, a chance to reflect on the past. What a year it was, 2013! Here's a look at some of the highlights.
The Meraki team got a running start to the year, with Cisco's acquisition of Meraki closing in late December 2012. In January, we joined one of Cisco's largest events – Cisco Live! In London, and later in the year in Orlando, we were fortunate to meet hundreds of partners and customers, and give live Meraki demonstrations to those who'd previously only seen the solution from afar.
Partner training accelerated with the expansion of the ever popular CMNA program. Over the course of the year, we trained thousands of partners in over 100 sessions, dotting North America, Europe, and new CMNA locations like Singapore and Australia.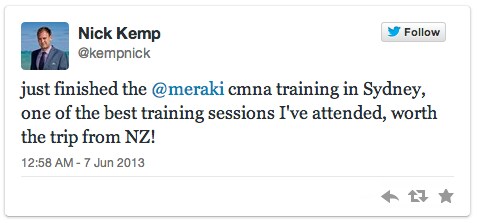 The CMNA program continues to get rave reviews
The spring brought the introduction of new MX Security Appliance features for K-12, the first of several major Cisco Meraki releases throughout the year. The addition of YouTube for Schools, enhanced content filtering, and web caching strengthened online safety for kids and improved network performance.
A few weeks later we introduced one of the most popular features of the year, WiFi with Facebook Login, through which organizations can provide seamless guest WiFi, using their Facebook Page as the splash login page. Along with our new Presence Analytics, this significantly enhanced the solution for retail and guest WiFi environments.
Update: Cisco Meraki Presence is now known as CMX (Connected Mobile Experiences), a comprehensive location analytics and engagement platform ideal for both cloud-managed or on-premise solutions. Click here to learn more.
WiFi with Facebook Login on a mobile device
All along the way, we continued to hire and added many new faces to the Cisco Meraki team (if you're interested in joining us, check out our job opportunities), including in San Francisco and around the world. After several years of sustained growth, it was time to move from our main office into a place with a bit more room. The Meraki team settled into a brand new home in San Francisco – complete with wonderful views of the San Francisco Bay, some upgraded meeting spaces, and a few ways to take advantage of the sunny weather on this side of the city.
Upgraded work spaces in our San Francisco office
In August, we introduced the industry's first cloud-managed 802.11ac AP, the MR34, not only adding blazing fast WiFi speeds, but also including a third radio dedicated to security and RF optimization.
Gadget fans got some treats in the fall with the introduction of the Apple iPhone 5S, iOS 7, and the Google Nexus 5. We added to the excitement by extending dashboard management of Meraki wireless networks to mobile devices through the new iOS and Android app. We've already received some great feedback about the app and are looking forward to releasing some new features that are in the works, such as support for switching and security appliance networks.
New Meraki dashboard mobile app available on Android and iOS
In early November, we launched our biggest product release ever – 10 new switch models, including access switches, aggregation switches, and features for mission-critical applications, like hot-swappable, redundant power supplies. We also strengthened switching layer security and management, with layer 3 essentials and a new field IT admin role.
To round out the year, just a few weeks ago we added new wireless features that enhance management of large-scale, distributed networks, like reporting by tag, RF channel planning via maps, and time-scheduled group policies.
We're grateful for your continued support, and proud of what we accomplished in 2013. We look forward to making 2014 even better, and can't wait to share the exciting projects we're working on with you.