Cisco Meraki network admins, rejoice! In addition to wireless networks, the mobile app now supports MS Switch and MX Security Appliance networks. Yes, now you can monitor your entire Meraki infrastructure right from the mobile app.
Support for switch and security appliance networks
Switch support brings centralized management of switch networks right to your mobile device. Monitor switch up/down status, load, and traffic, and click on a switch to see its configuration and status details. Drill down on any port to view details such as port status, PoE draw, and device information reported via LLDP/CDP. Need to rack a new switch in the network closet? Leave laptops behind and add the new switch to the network right from the mobile app. Blinking LEDs is especially helpful when trying to identify one device among a large stack – now you can do it right from a mobile device.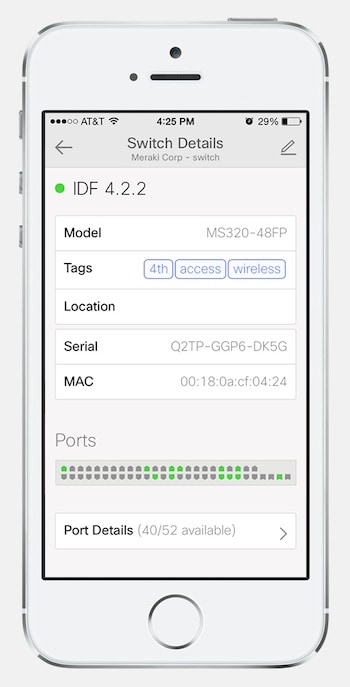 Similarly, view the status of MX Security Appliances and crucial information such as WAN / LAN connectivity, connected clients, and bandwidth utilization. Since the need to investigate issues can strike anytime, and a laptop may not be readily available, on-the-go troubleshooting is simplified through built-in traceroute, DNS, and throughput measurement tools. Organizations that use the MX's Auto VPN to connect sites can monitor the status in the new VPN tab, which keeps an eye on each site's connectivity and roundtrip latency.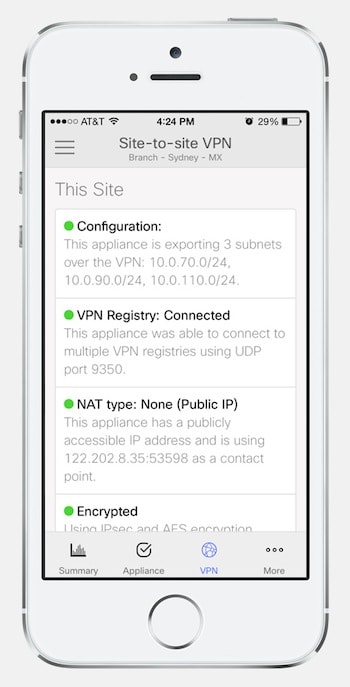 Summary reports for switches and security appliances show the most important information about activity on the network. Bandwidth utilization, top applications, top clients, and throughput graphs help you stay on top of your network's usage.
Download for your device
The Meraki mobile app is available now.
More to come
We're excited to release this update, and our engineering team is working on more exciting features to come. We've already received hundreds of wishes – if there's something you'd like to see added to the app, just shake to make a wish.