Never again choose between performance and wireless security, the MR34 gives you both.
With great new products (like our new 802.11ac access point) comes great opportunity. It's now even easier for customers to secure their wireless networks thanks to dedicated scanning with the MR34's built-in third radio.
The MR34 has three radios, one for serving clients on 2.4 GHz, one for serving clients on 5GHz, and a dual band third radio that is used to keep the airwaves and your network safe. All Cisco Meraki wireless products come with Air Marshal out of the box, our wireless intrusion detection system (WIDS) and wireless intrusion prevention system (WIPS). This feature allows for detection of packet floods, malicious broadcasts, and even containment of rogue or spoofed SSIDs. You can put any Cisco Meraki access point in dedicated Air Marshal mode, and now with the MR34, you can serve clients 24/7 and keep a 24/7 focus on security, all with a single AP.
Scanning channels at 2.4 GHz and 5 GHz, the MR34 can identify rogue SSIDs and list all nearby SSIDs, giving comprehensive visibility of the wireless environment. Once rogue access points are identified, administrators have the ability to contain or whitelist SSIDs. When containing rogue SSIDs, the MR34 protects unsuspecting clients by disassociating them from malicious APs, effectively rendering the rogue AP useless.

Contain or whitelist rogue APs and view a historical log of malicious wireless activity to identify threats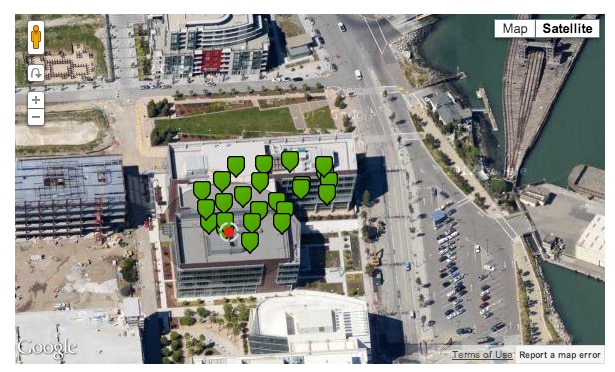 Cisco Meraki APs estimate the position of rogue access points and pinpoint them on a map
New additions to the dashboard show the MR34s that have separate scanning radios; see the 7 APs in the screenshot below. These are the MR34s which have the luxury of scanning full-time and serving clients. Additionally, when containing rogue APs, MR34s and dedicated Air Marshal APs can shut down malicious activity without disrupting client traffic.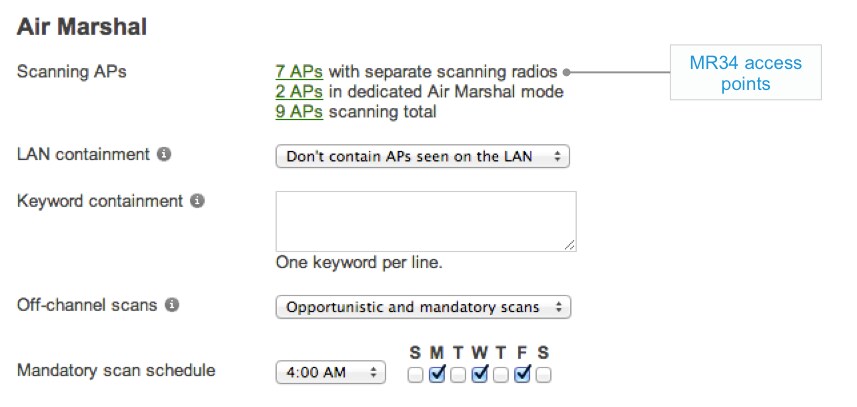 We are excited to bring you these new additions to Air Marshal, and if you would like to dig even deeper into the technology, stay tuned for our Air Marshal whitepaper detailing common security threats and how Air Marshal addresses them. Check out our new MR34 to get more info on the dedicated third radio.