Our newest webinar, should you choose to watch, proves that it's possible to configure a fully-featured wireless network with Cisco Meraki in under 60 minutes.
We often get get asked if it's really so simple to setup a Cisco Meraki WiFi network, so we decided to design a webinar to put this question to bed once and for all. In typical fashion, we did this our way—with a healthy dusting of fun—so we decided to design a webinar which would push our presenters to the limit. Could we configure an enterprise-grade wireless network in under an hour? We picked a date in the diary, and we began spreading the word through our usual social media channels. To our delight we received an tremendous number of registrations—perhaps they were all expecting Tom Cruise to make an appearance?
In order to put on a show worthy of the title, we developed a comprehensive demo designed to cover all the steps required to get a typical business-grade WiFi configuration in place, starting with a completely factory-fresh Access Point. Take a look at the demo rundown and ask yourself how long you'd expect this to take with the equipment you're used to:
– Add the AP to a newly created network
– Place the AP on a map and an uploaded floorplan
– Create a staff SSID to include:
WPA2-Enterprise login with RADIUS authentication
Restrict all devices to a maximum bandwidth of 2Mbps
Block access to Facebook
– Create a guest SSID to include :
Login via Facebook Check-In/Code
Enable Network Access Control to check for the presence of antivirus software
Block adult content
Device-based group policy restricting iOS and Android devices to 1Mbps
Restrict total SSID bandwidth to 5Mbps
Apply traffic shaping to all video and music traffic, restricting it to 500Kbps
Configure the SSID to only be available during working hours
Just setting this up alone would seem enough of a challenge even without the strict deadline, but not for our presenters! After building this configuration, we asked them to bring the AP online so that it could collect its config from the cloud and we could test everything in front of the live audience using a real WiFi client device. Once again our team rose to the challenge, connecting an Android phone to each SSID and running through the configured features in real-time with many hundreds of people watching.  Pippa the cat played a starring role and really stole the show.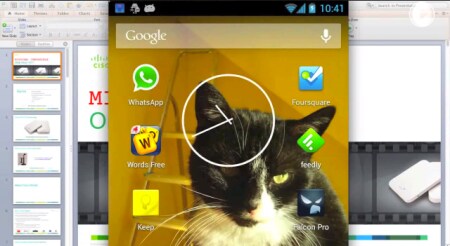 Even with all this work to do, the demo finished in just over 30 minutes, leaving plenty of time for the presentation and Q&A. Immediately following the webinar our  phones started ringing and feedback started to come in. It's no exaggeration to say we were absolutely delighted by the response. Here are just a few of the critics' reviews:
"To be honest we're sold on [Cisco Meraki] now…It was was a very well structured seminar: clear and concise, easy to pick up for someone who has never seen the product before. Thanks!"
"Very well presented with a bit of cheese in it to keep you interested."
"It was very good. I'm sure I will use Meraki for all my future WiFi projects."
So there you have it. Clearly we have a blockbuster on our hands. If you missed the premiere, be sure to keep the popcorn handy and look out for screenings in your region. Alternatively, if you can't wait for a live session there's an archived recording of this webinar and many others at our webinar home page.
For now, we think it's safe to say Mission Accomplished.