The MS220-8/P: a quiet, energy-efficient 8-port switch for branch offices; the MS420: our first Layer 3 aggregation switch — both with centralized, cloud-managed visibility and control
We're thrilled to announce our latest cloud-managed products shipping this summer: the Cisco Meraki MS220 8-port and the MS420 24/48-port aggregation switches. With these newest additions to our switch portfolio, we're making it easier to bring the power of Meraki switching to two very different segments:
Edge switching in small branch offices, retail locations, and hospitality deployments
Aggregation switching for large campus deployments
The same mission-critical features found in all other Meraki switches — like deep, Layer 7 application visibility, virtual stacking, QoS for business critical applications, 802.1X access control, and more — are present in both the MS220-8/P and MS420 line.
MS220-8/P
Like its larger siblings, the MS220-8/P is 100% cloud-managed, allowing for seamless cloud updates that future-proof your investment, zero-touch deployments that make scaling your network simple, and the ability to manage your switch from anywhere in the world — giving you the utmost flexibility and control. Meraki's industry-first virtual stacking technology also leverages the cloud, allowing you to view thousands of switch ports across hundreds of physical switches and centrally manage all of them, regardless of location or switch model.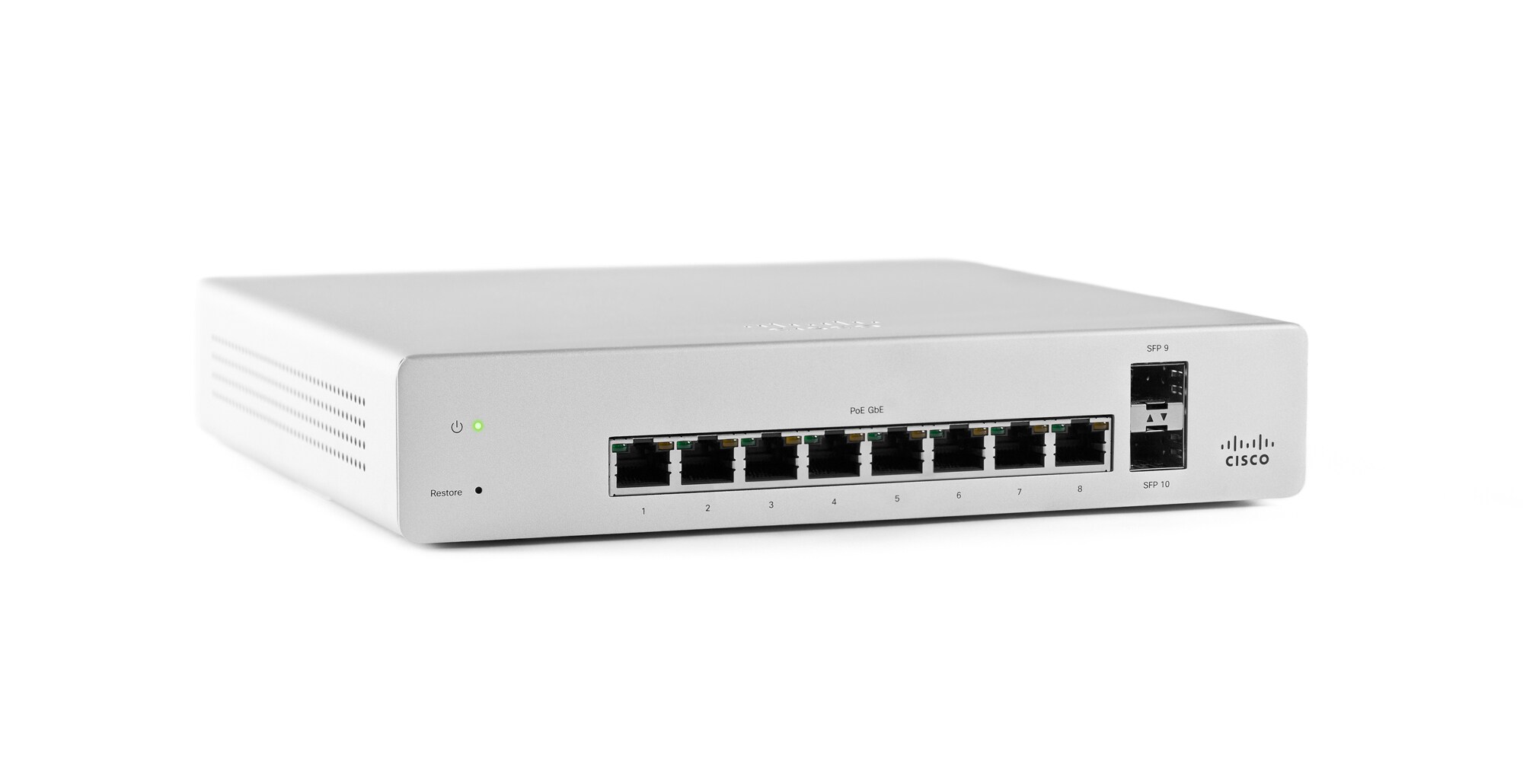 The MS220-8/P access switch.
Additional features of the new MS220-8/P include:
Fanless chassis for noiseless operation

8 x 1 Gbps RJ45 Ethernet ports, 2 x 1 Gbps SFP ports

PoE/PoE+ available on all ports (on PoE models)

Total power budget of 124W, enough to power devices on all ports

Intelligent energy efficiency via port scheduling and smart PoE/PoE+ budgeting

CDP support for Cisco VoIP phones
We are also introducing a new, lower priced license for the MS220-8. The list price for the switch hardware plus a 3-year cloud license will total $1,095 (please see our cost calculator for all list pricing).
The MS220-8/P will begin shipping at the end of June, 2013.
MS420-24 and MS420-48
The MS420 line, which includes 24- and 48-port models, are aggregation switches with speedy 10Gbps SFP+ across all ports. The same centralized visibility and control found in all other Meraki switches exists for the MS420 line, also 100% cloud-managed.
The MS420-48 aggregation switch.
 Additional features of the new MS420-24 and MS420-48 include:
Layer 3 functionality

Field replaceable, hot-swappable fans

24 x 10 Gbps SFP+ or 48 x 10 Gbps SFP+ ports

1U height, for easy rack mounting in space-constrained environments

Hot-swappable, redundant power supply units
The MS420-24 and MS420-48 will begin shipping in late summer, 2013.
For more details…
With the MS220-8/P and MS420 line, you now have a fully cloud-managed stack, from access switches to aggregation switches for large campus deployments.  For more details about these new models or our MS line in general, check out our MS family datasheet and our preliminary MS420 datasheet, or sign up for our MS webinar introducing these new models to be hosted live on Wednesday, June 19th, 2013 at 10:00am PDT.
As you can see, we're expanding our switch portfolio to address different market segments — so stay tuned for more announcements soon!