Location analytics dashboard, WiFi with Facebook login, open APIs and more.
Update: Cisco Meraki Presence is now known as CMX (Connected Mobile Experiences), a comprehensive location analytics and engagement platform ideal for both cloud-managed or on-premise solutions. Click here to learn more.
Working with our customers over the past couple of years, we've come to believe that the next leap in networking will be moving beyond speeds and feeds, and building features into the network that enable IT to solve new business problems and engage more deeply with users. We're excited to announce Presence, a new suite of features that fundamentally expands the role a network can play.
Presence provides insight into mobile behavior across locations, and enables you to enhance your onsite customer experience. Presence includes:
Real-time location metrics displayed in the Meraki Dashboard

Cisco Meraki WiFi with Facebook login

Presence API, allowing you to integrate real-time location data into your CRM and business systems

3rd party analytics integration
In traditional Meraki style, Presence is included with the Cisco Meraki Wireless LAN at no additional cost. It's 100% cloud-managed, and requires no additional hardware, software, or configuration complexity. You can try it out on your network today, or read more below:
Location analytics dashboard
The first exciting feature to highlight is our location analytics dashboard. Unlike traditional systems that require dedicated sensors and software, Presence analytics are available out-of-the-box, with no additional cost (batteries included, no assembly required). The Location analytics dashboard displays real-time metrics such as capture rate, median visit length, and visitor repeat rate for mobile devices in proximity to your Meraki access points. The access points collect this information and sync it with Meraki's cloud, where it's visually synthesized for you: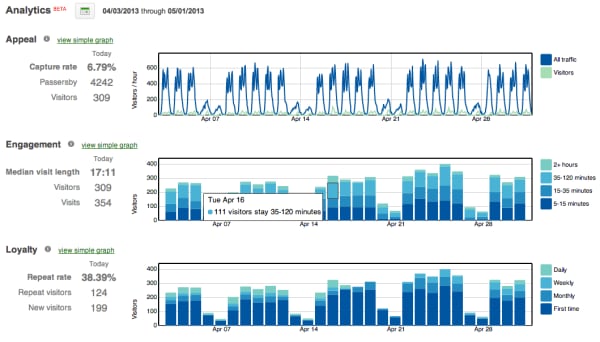 The new location analytics dashboard displays key metrics that measure the appeal, engagement, and loyalty of visitors.
This information can immediately help you make better decisions about how to engage your onsite visitors. For example, a retailer can use this information to gauge how traffic drivers such as in-store promotions, window display changes, or new advertising impact foot traffic to your retail locations, and whether customers are spending more time in your store. If you correlate these data with revenue data, you can notice if any upticks in sales coincide with actions you've taken to enhance customer experience.
And it's not just retailers who benefit. Hotels can easily discover when peak hours are for lobby staff or whether guests spend enough time in the lobby to warrant opening a coffee shop. Other organizations can use the real-time location data to learn, say, whether a new building renovation has increased its utilization. Decisions about WiFi availability, physical security, energy savings, and more will all be better informed.
Cisco Meraki WiFi with Facebook login
Cisco and Facebook have partnered to let guests log in to WiFi networks with their Facebook account, creating a seamless experience for users, and helping businesses expand their social marketing and engagement. We're excited that the flexibility and extensibility of Meraki's cloud architecture enables this technology to reach thousands of network operators for the first time.
Connecting to Philz Coffee's guest network using WiFi with Facebook login.
With this integration you will have access to Facebook Page insights, which includes aggregate demographic information of the customers checking in (furthering your understanding of who your target customers or visitors are). You'll also get increased exposure on Facebook with each new check-in. When guests check-in they will land on your Facebook Page, where they can like your Page, and interact with your business. With these new connections you will be able share announcements, content and offers with customers who like your Page.
Configuring and deploying WiFi with Facebook login takes 2 clicks in Meraki's dashboard: first elect to use a splash page for guest SSID sign-on, and then select "Facebook Wi-Fi" as the method for sign-on. It's that simple.
Enabling WiFi with Facebook login in the Meraki dashboard.
Presence API
Another exciting feature of the Meraki Presence release is the Presence API, which delivers all the real-time location statistics captured by Meraki APs to your custom-built application — providing unlimited flexibility for you if you have special requirements or would like to parse the data in a custom way. For example, you might combine our Presence and EXCAP APIs to prompt guest WiFi users to enter phone numbers or email addresses to gain access, enabling push notifications to staff when a top customer visits, or the delivery of targeted customer offers.
3rd-party analytics integration
Cisco Meraki now collaborates with best-in-class analytics vendors via our Presence API, allowing raw data collected from our intelligent access points to be parsed by these applications. Our list of integrations is growing, and currently includes:
Euclid Analytics

Nearbuy Systems

WalkBase

Nomi

Swarm

Boldstreet Wireless

Purple WiFi
These integrations grant you the utmost flexibility, letting you view our real-time location data in the interface you prefer.
Privacy
We take privacy seriously, and have invested in technologies and policies that provide network operators with new tools while maintaining industry-leading safeguards on privacy. In the spirit of transparency, we have described our Presence technology and the inner workings of the Presence API in great detail in our Presence Analytics white paper. In summary, Meraki collects no personally identifiable information (e.g., we don't see or store a user's Facebook credentials). Clients' MAC addresses, used to construct location analytics dashboards, are hashed and truncated before being stored in Meraki's cloud so they cannot be associated with an individual device (i.e. there's no data stored that can show that a given device was at a specific location.) Users can also opt-out of Meraki's Presence data collection across all Meraki networks; we won't store MAC addresses — hashed or otherwise — and Presence events will not be passed through the API.
Available now
Current wireless customers can call Meraki tech support now to request Presence functionality immediately, but a full-scale rollout of Presence is currently underway — so keep your eyes open for update notifications. If you would like to test drive Meraki APs in your organization, it's easy to get your hands on some. 
Join us to learn more about these new features at a special webinar on Thursday, May 23rd. Sign up for free — qualified attendees receive a free Cisco Meraki access point! We'll also be diving into each of these exciting features in future posts, so stay tuned!