Cisco released an update to their Visual Networking Index highlighting the rapid increase in data consumed by mobile devices worldwide.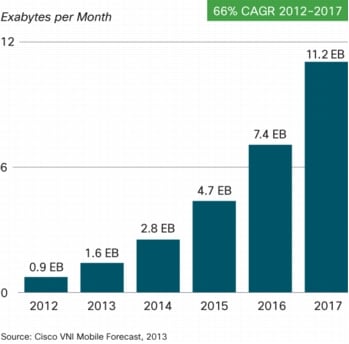 Our friends at Cisco have announced an update to the Global Mobile Data Traffic Forecast, part of the Visual Networking Index. The VNI pulls from a range of independent global analyses as well as data gathered directly from user devices to offer an up-t0-date look at current trends in Internet usage and predict the trends of the future.
Today's update focuses specifically on mobile, highlighting the explosion of traffic being used by smartphones, tablets, and other 3G and 4G capable devices. According to the report, mobile data traffic in 2012 was nearly twelve times the size of the entire global Internet in 2000, and, for the first time ever, mobile video was responsible for over half of that traffic.
In addition to a look back at the data from the past year, this update to the VNI also predicts usage patterns through 2017. In 2012, monthly mobile traffic worldwide topped out around 0.9 exabytes (a billion gigabytes!), and in 2017, Cisco predicts we'll be consuming over 11 exabytes of data per month on mobile devices. By then, the mobile traffic of tablets alone will surpass the total mobile traffic we saw in 2012. And just one year from now, the number of mobile devices with Internet connections will be larger than the global population.
We've picked out just a few of the statistics that grabbed our attention, but if you're already having trouble supporting mobile devices on your network you'll definitely want to head over to the VNI site and take a look at the numbers for yourself. Even if you're not a network administrator, the report is an interesting read and oftentimes a downright awe-inspiring look at the sheer volume of traffic we're generating on mobile devices.