A spotlight on Entrepreneur First, a UK accelerator that Meraki is working with.
(Guest post by George Bentinck)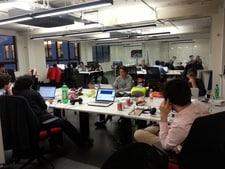 2012 was the inaugural year of Entrepreneur First, a UK based early stage accelerator  that helps top graduates enter the world of entrepreneurship. The Entrepreneur First program differs from most other start-up programs by helping create teams of like-minded, talented individuals with participants selected on the basis of their potential rather than a specific start-up idea. Intensive team building, mentoring and administrative support is provided as well as a collaborative working space in central London so that they can create start-ups from scratch.
Entrepreneurship is a subject close to Meraki's heart and with Entrepreneur First supporters including The UK Prime Minister, Microsoft, McKinsey, Silicon Valley Bank, Google and Facebook, it made perfect sense for us to be involved.
We provided the network infrastructure for the programme's office in central London using the MX Security Appliance and MR Wireless Access points.  The flexibility of the Meraki equipment and ease of use suited the temporary nature of the sponsored space, while it was also able to cope with the demands of numerous growing businesses whose world revolves around being connected.
Along with material support Meraki has also provided expertise, with AJ Goldman, Chief Evangelist at Meraki giving a talk on growing your start-up and taking investment wisely, while I have spoken on the skills needed for technical selling.
In December 'Demo Day' was the culmination of months of hard work with the program's start-ups pitching their company, concept and team to an audience of over 120 investors, entrepreneurs and partners. I was there to shoot some video and to catch-up with some of the participants.
There were 7 companies pitching on the night, here's a flavour of what they pitched:
Prizeo provides an online platform for charity raffles, in which a celebrity offers fans a chance to win a once-in-a-lifetime prize at just £1 (or $1) per ticket. Celebrities and their charities use their social networks and press to promote their campaign, and use Prizeo's viral features to spread the word.
Verse is a PowerPoint plugin that lets teams work on a presentation painlessly – instead of emailing around slides, or worrying about version control, it provides instant updates.
BLAZE tackles one of the biggest causes of cyclist fatality – being caught in a vehicle's blind spot. It is a beautifully designed, high-quality bike light that projects a laser image of a cyclist onto the road which significantly improves a cyclist's visibility and safety.
ClickMechanic is an online marketplace that allows drivers to find and book trustworthy mobile mechanics to come to their home and repair their car.
Adbrain is software that allows advertisers to target users across mobile devices, segment these users into addressable groups, tie them to their desktop activity, and then buy and serve the most relevant ads for maximum impact.
Flavrbox offers you the joy of discovering high quality artisan foods while sparing you the pain of sourcing these items individually from independent shops and markets. Each month, they send customers a beautifully designed box of handpicked food and drink products.
Mavrx make affordable, intelligent aerial robots. Their first product is a quadcopter which hobbyists and extreme sports enthusiasts love for its rugged sport camera integration. The first version, the R10, recently sold $220k of products on Kickstarter.
If you would like to view the pitches from the night then you can watch them on the Entrepreneur First YouTube channel here.
Meraki will continue to work with the Entrepreneur First program and its participants as a service partner in 2013, and we wish all those involved the best success for the coming year. As a company we liked to be involved with the startup community both in the US and the UK. If you work for a start-up and would like some sweet Meraki networking gear to run your business on then make sure to check out our free Startup Kits here.