In the wake of Sandy, Edison Township Public Schools used Meraki APs to provide WiFi to families left without power.
After Hurricane Sandy passed through the township of Edison, NJ, many people were left without power as electric companies scrambled to restore service disrupted by falling trees and high winds. With snow threatening in the hurricane's wake, Edison Township Public Schools assisted by turning John P. Stevens High School into a community warming center where residents could warm up, recharge their devices, and use the libraries and internet.
Bill McSorley, Chief Technology Officer of Edison Public Schools, had installed Meraki MR24 access points in several of his schools over the summer, including John P. Stevens. Unsurprisingly, internet access proved to be very popular at the center, with residents communicating with family and friends and reading the news.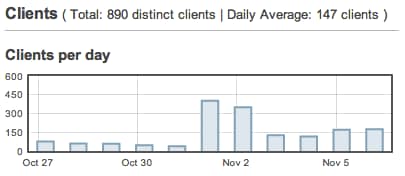 With rolling blackouts and roads that were often blocked with debris, Bill couldn't count on being able to go into his office to maintain his network. "Meraki's cloud architecture was very helpful since it was so difficult to get into the office," Bill said. "I would log in wherever I could find internet access — whether it was at home, a coffee shop with power, or somewhere else — and change configurations in response to usage patterns."  With nearly 1000 people transferring hundreds of gigabytes, Bill worked to enhance residents' internet experience – whether it was changing bandwidth limits or enabling services like Facebook that are normally blocked at schools.
We'd like to extend our thanks to Bill, who worked tirelessly to provide some comfort to everyone in his hometown that was affected by Sandy.