System admins aren't the only ones getting value from Meraki's data-rich dashboard—device targeting on the Internet's two biggest ad platforms makes Meraki wireless an powerful tool for marketers as well.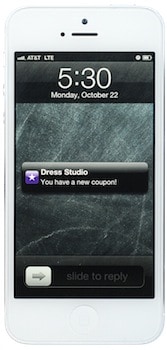 System administrators using Meraki's products are used to getting an incredible amount of data about the users and traffic on their networks. Typically, that data is used to manage resources and troubleshoot issues directly related to the network, but there are quite a few other ways businesses can make use of that data to make smarter decisions.
In particular we've seen our customers in the retail industry start to take advantage of smartphone and mobile device trends to engage with the always-connected shopper. Now that visitors are  carrying and using internet-connected devices while shopping, savvy businesses have started creating advertising and coupon campaigns that target users while they are in the store. For a brick-and-mortar advertiser, smartphones provide a new opportunity to influence a potential customer in those important final moments in the decision-making process. The Apple Store and Square are some of the more visible examples of mobile devices enhancing the shopping experience, but there are plenty of ways to incorporate smartphones into an in-store strategy without a a huge investment of resources.
All good online marketers will take advantage of every piece of data available to them. The more information you can gather about your audience, the better you're able to craft a relevant message and target your potential customers. Let's take a look at how a retail customer using Meraki to provide guest WiFi access to shoppers can use the data from their network to supercharge an in-store advertising campaign.
Facebook has just started letting advertisers target mobile ads by OS (iOS or Android) and device (iPhone, iPad, or Android), a feature that Google AdWords has had for some time. Two of the most powerful online advertising platforms offering granular control like this is good news for an advertiser with a decent idea of which mobile devices are most important to his business. It's great news for an advertiser who can see real statistics about the devices logging on to her network.
Meraki networks are capable of gathering a host of aggregate information about connected client devices, including device type and OS, so one can draw conclusions about the makeup of users as a whole. If a store uses Meraki to provide WiFi for its customers, a quick visit to the Summary Report in the dashboard can give you an aggregated view of what kinds of devices are being used by visitors to your store.
Armed with that data, a clever marketer can easily run intelligent in-store advertising. Distribute a budget between iOS and Android based on what's actually in customers' hands. Prioritize resources to develop a mobile app for the most popular mobile platform on your network, and then use the Meraki API to add in functionality to trigger special offers as soon as anyone logs on to the WiFi.
In the world of online marketing, the possibilities aren't endless, but by learning more about your audience, you can get pretty close. Meraki makes it easy to spot trends in your network traffic, and you can do a lot more with that data than just making the internet faster—although your customers will certainly appreciate that as well.