Replicating switch configs just got easier
One of the greatest attributes of the Meraki approach to network management is its seamless scalability. Thanks to the power of cloud-based management, configuring, deploying and administering many thousands of devices becomes a breeze.
Besides the Virtual Stacking feature we discussed in a previous blog post, what else could make widescale deployments quick and easy? Our network cloning feature has already proved a big hit, so we decided to look at extending the feature to our switch product line.

Oftentimes, the network engineering team will establish a standard configuration for deployment to all its managed switches. This approach aids troubleshooting and support, since the most important elements of a config are cloned across all switches on all sites. Cloning so many switches the old way, typically configuring stack-by-stack, or even switch-by-switch, can be a daunting and labor-intensive task, since there can be literally thousands of switches to replicate the standard config across.
Let's take a look at how we've implemented a simple yet powerful new cloning feature to take the hard work out of the process. Under the Monitor section of the switching dashboard view we now find a new button, labelled 'Clone'…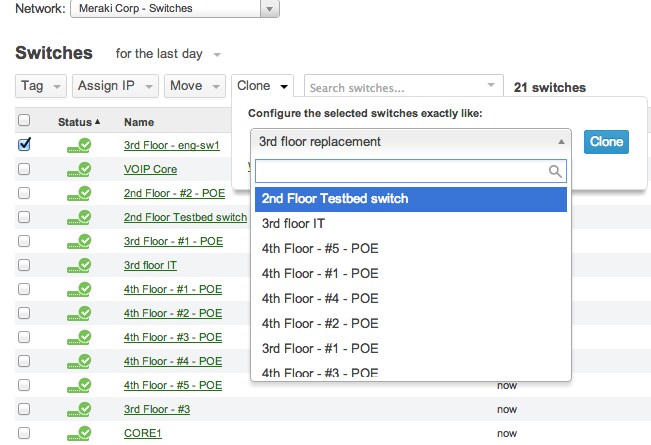 Simply select your target switch (or switches), click the 'Clone' dropdown and select the switch you want your targets to look like. That's all there is to it.
Cloning a switch will replicate the following configuration elements:
switch port configuration
link aggregates
access policies
mirrored ports
RSTP bridge priority
So there you have it. An elegant way to apply standard configs across all your switches. We're certainly confident it'll help smooth your workflow, so you can complete your deployments quickly and focus your energy on the more interesting aspects of network engineering.