Some information in this post has changed.
More about Systems Manager licensing is available here.

Meraki Systems Manager is a feature of our cloud management platform that allows you to control the devices on your network.  The recent explosion in mobile device adoption has put the spotlight on Systems Manager, we are excited to announce 2 important changes to it.  First, Systems Manager now supports Apple iOS devices.   Second, we are making Systems Manager available to any organization – even those not yet running Meraki – 100% free!
Meraki Systems Manager allows you to configure, monitor and update your mobile clients, from iPods to iPads, Macs to PCs, in real time from the cloud. Meraki Systems Manager lets you manage clients running Microsoft Windows, including XP, Vista, Windows 7 and Windows Server 2008, as well as Mac OS X versions 10.5 through 10.7.  With Systems Manager, you can:
instantly search and find your clients, with useful live-diagnostic tools to monitor performance
install applications simultaneously across all your clients, or specific groups of clients, with just a single click
receive email alerts for important events, such as when software is installed on a client or if it goes offline
identify clients running outdated software, track down compliance or licensing issues, and identify unauthorized third-party software installed on your clients
How to get started:
Step 1: Create a Systems Manager account here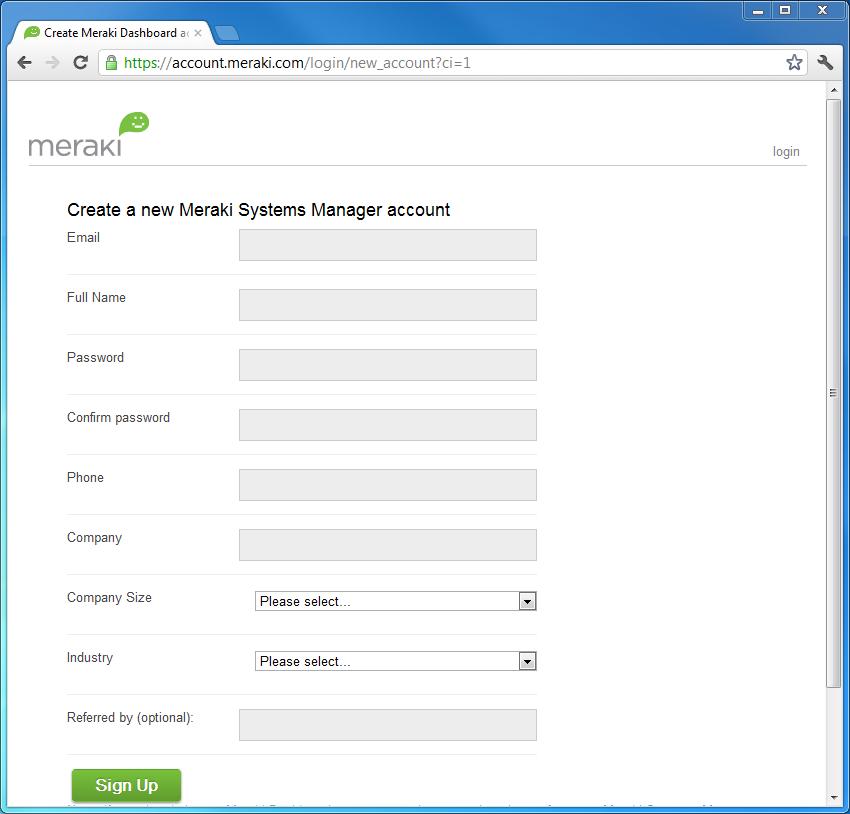 Step 2: The next step is to configure the Systems Manager in each client device. You can find instructions for various operating systems on the Systems Manager Overview page in the dashboard. If you want to configure the Systems Manager agent via Active Directory GPO (Group Policy Object), we have a video and article to show you how to do this. Once Systems Manager is configured, the client will automatically connect to Meraki's datacenters within a couple of minutes. You'll be able to see the client on the map and listed in the clients page in the dashboard.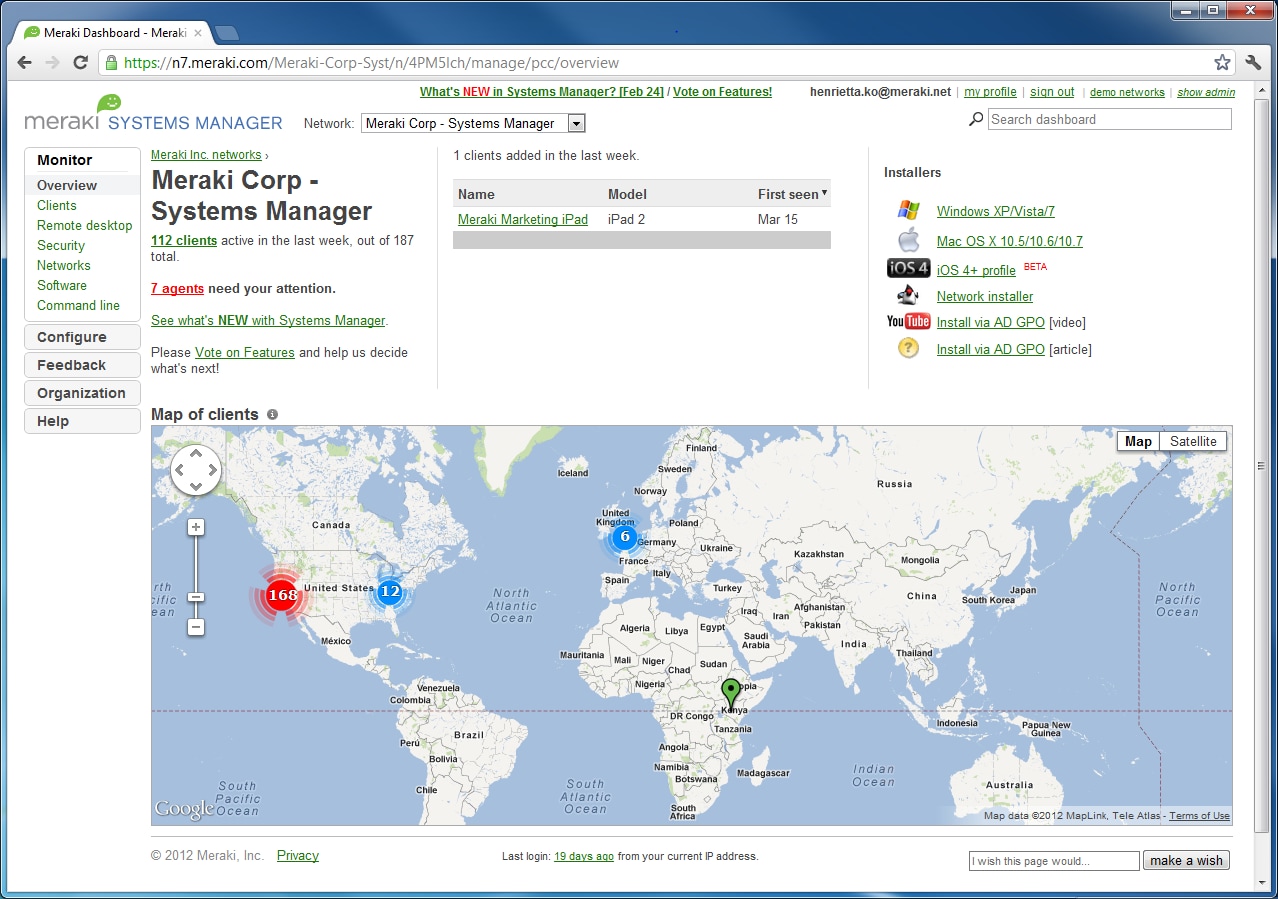 Bonus tips for iOS clients
For iOS devices, here are a couple more quick tips. On the Configure > iOS profiles page, you can create various profile groups. The profile settings for each group apply only to the clients which are members of that group. Don't forget to save your changes.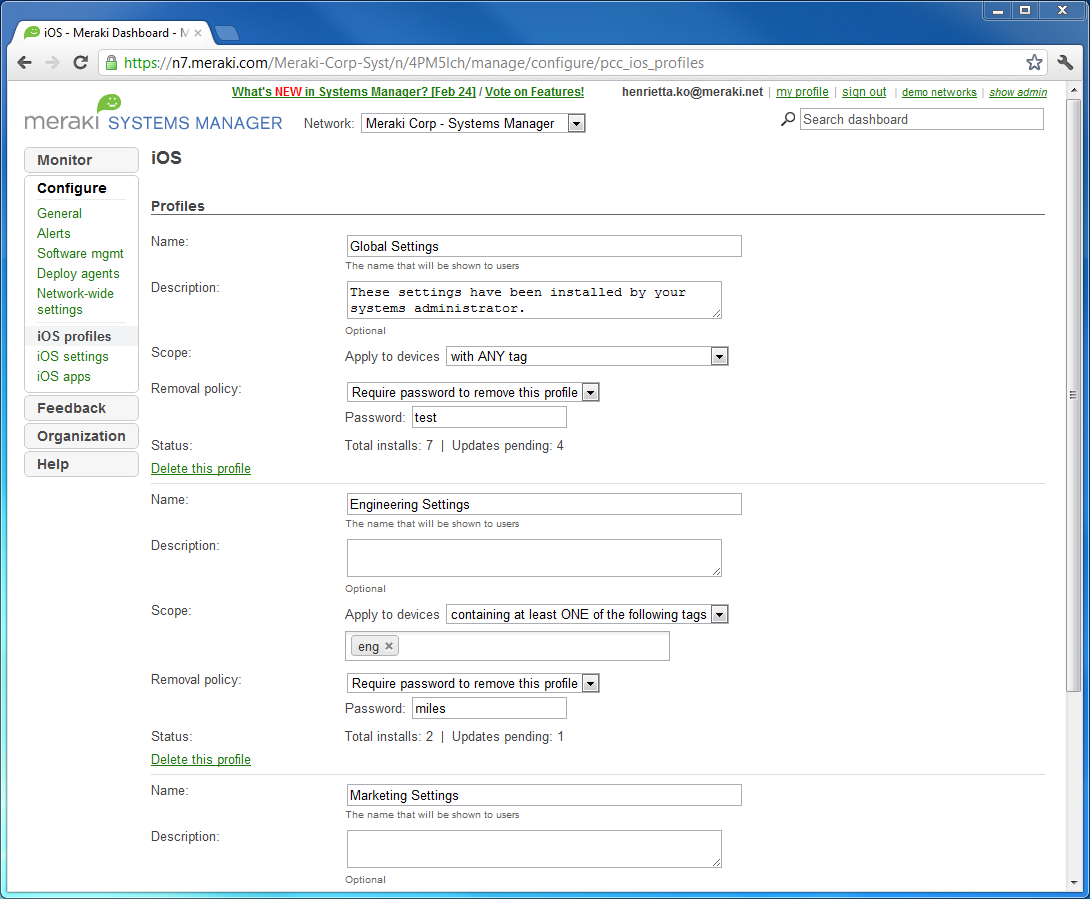 On the Configure > iOS settings page, you can set security restrictions on device functionalities, applications and content. You can apply these restrictions across all your iOS clients, or only for those clients with a specific profile (use the drop down box as seen below), simply by checking or un-checking the restriction policy. For example, you can disallow the user to install apps, use the device's camera, play multiplayer games, watch YouTube, or play explicit music and podcasts. Another popular security feature you can enforce from this page is the use of a passcode: you can set a minimum passcode length, minimum number of complex characters and maximum number of failed attempts before all data on device will be erased.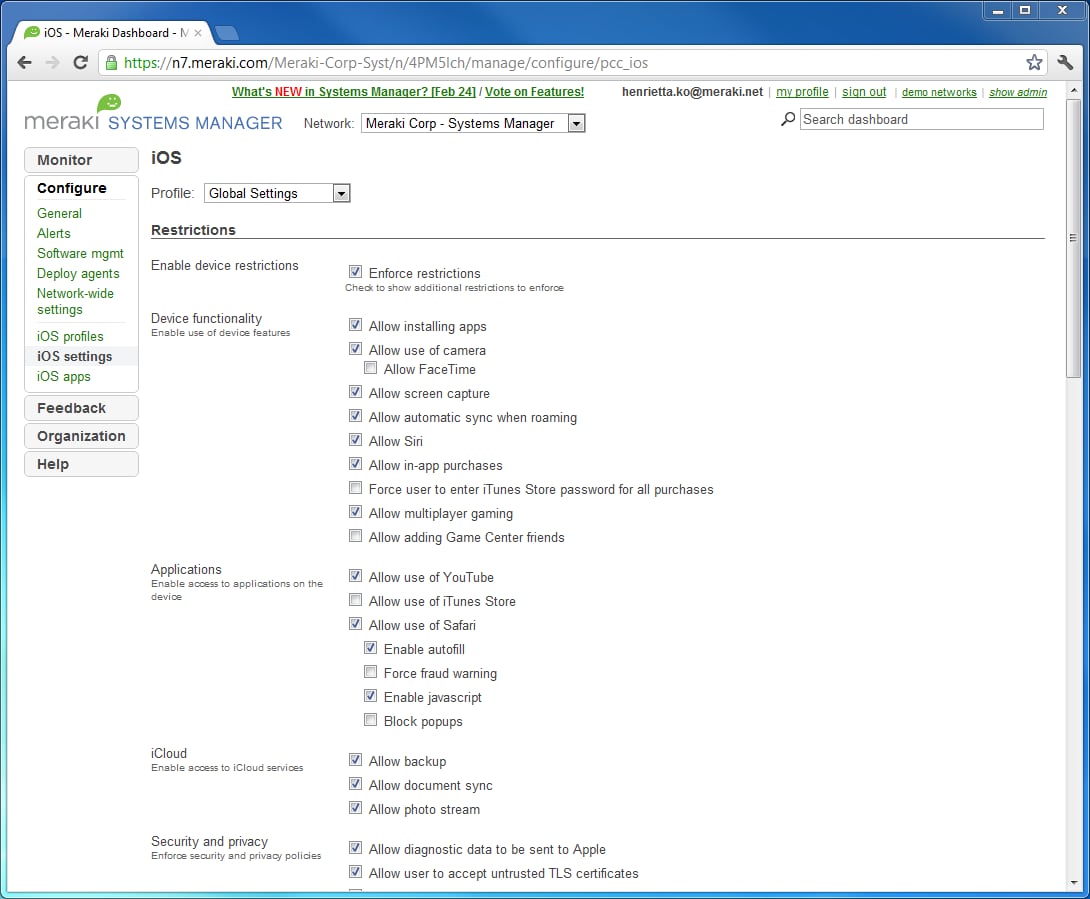 Lastly, on the Configure > iOS apps page, you can install applications across all your iOS clients or a selected group of clients. To install a new application, click on the "Add a new iOS App" link on the top right hand corner.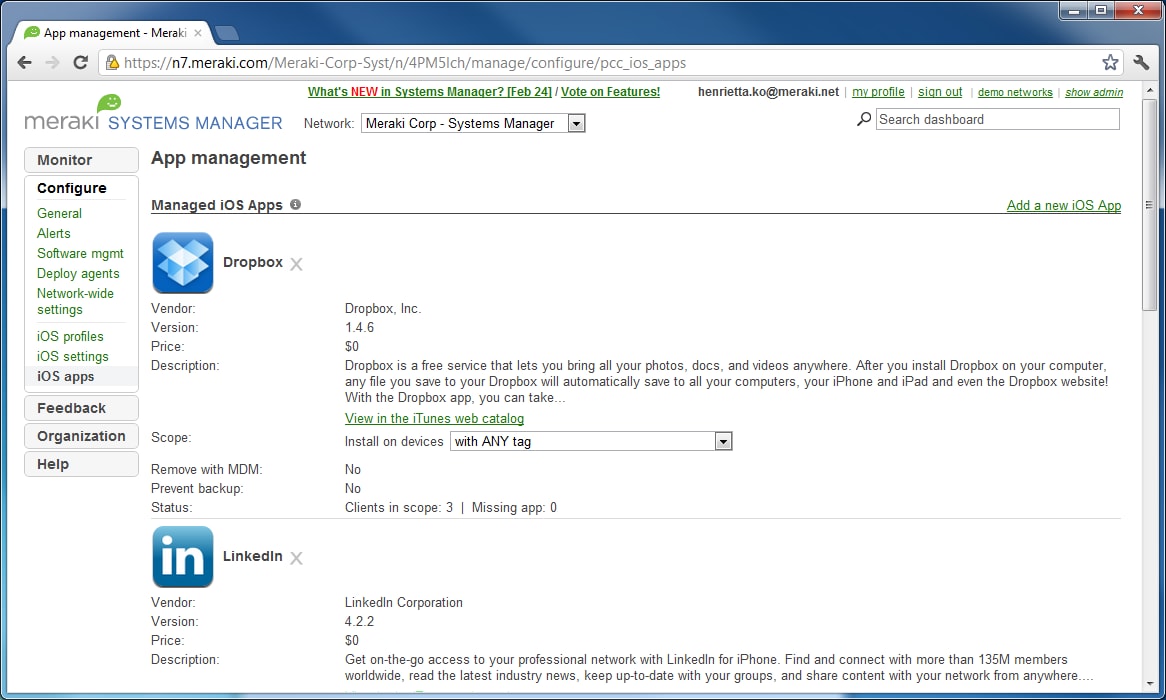 This will take you to a search bar that is linked to the Apple app store. Simply enter the topic of the app you're looking for in the search bar and click "Search". Here I am looking for an app for transportation maps of San Francisco and I've found one that I like. Click "Add" to add the app to your client devices.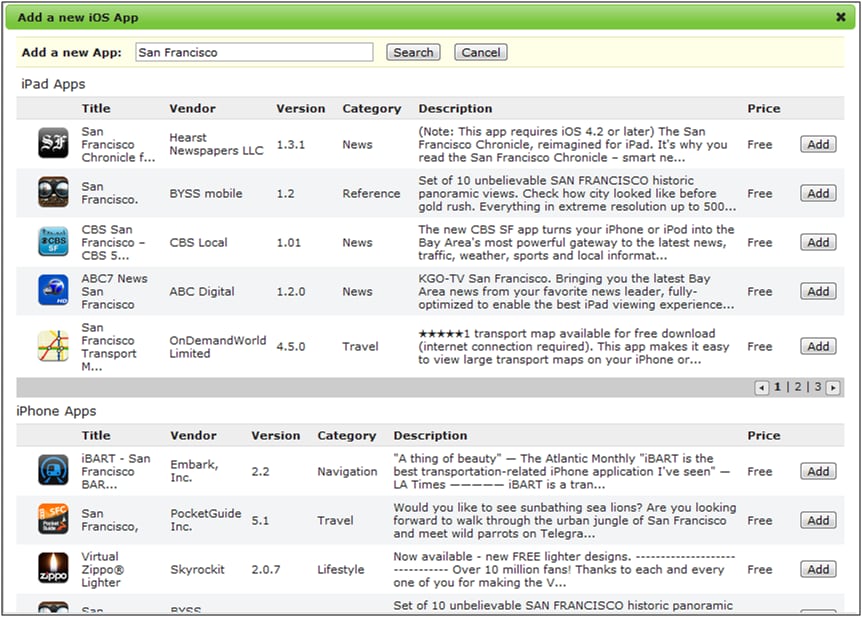 After adding the app from the Apple app store, you will see it at the bottom of the iOS app page. You can also specify which client devices will have this app installed by defining the scope of the installation.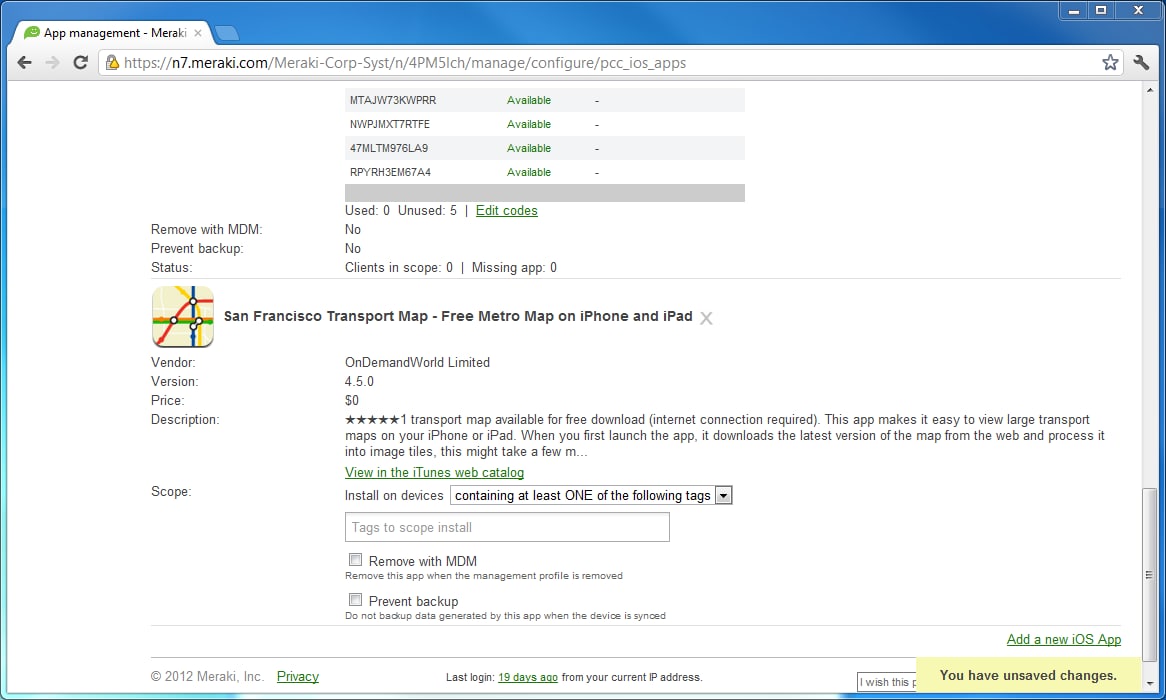 Don't forget to check out the new features in the Feedback > What's new page. We are constantly adding more exciting features and we're expanding and improving existing features.