What did you wish for this holiday season? Perhaps some shiny new Meraki Wireless LAN features such as PCI reports, WIPS enhancements, group policies by device type, or Teleworker VPN split tunnels? If so, you're in luck because our engineering elves have been hard at work. There's something for everyone including retail, enterprise, education, and remote workers. Even better, these enhancements don't cost you a thing. Thanks to our cloud-based architecture, there's nothing you need to do to install or enable them. Just wait for them to show up intime for the holidays! For now, here's a quick preview.
(Oh, if your wish is to build awesome features like these, then apply to join our Engineering Elves!)
PCI Compliance Reports for Retail
Meraki's dashboard makes it simple to deploy a PCI compliant wireless network, and now we've taken it one step further. Our new PCI compliance reports check your network settings such as firewall rules and password policies against PCI requirements and present a summary report which you can print out. If something's out of compliance, the report provides guidance on what changes need to be done. Bonus points: we're also the only cloud networking wireless vendor to pass a level 1 PCI DSS v2 audit.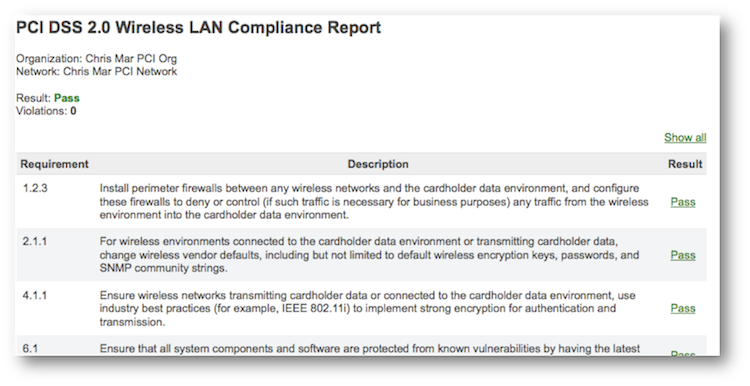 WIPS Enhancements for Enterprise
Earlier this year Gartner rated Meraki as "Promising" in the 2011 MarketScope for Wireless LAN Intrusion Prevention Systems. Never one to disappoint, we're delivering on that promise with the new ability to detect and visually map wireless intrusions including rogue APs and DoS attacks. Wondering who's attacking your wireless network and where they are? Now you can quickly locate and physically remove the intrusions, or use the Meraki access points to wirelessly contain the rogue APs.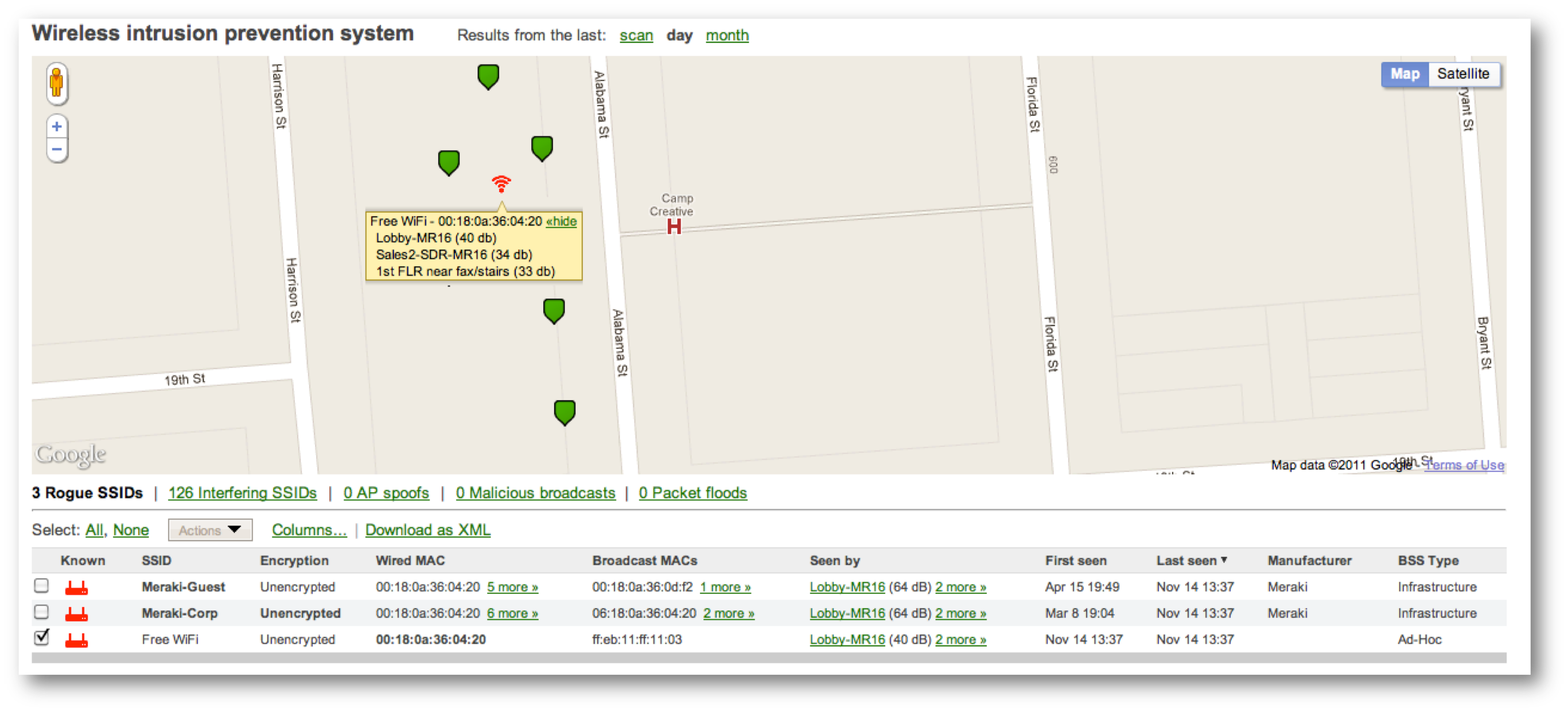 Group Policies by Device Type for Everyone
Last year we rolled out group policies, an easy way to automatically assign VLAN tags and firewall rules to specific groups of users. Teachers and students can connect to the same SSID, but based on their RADIUS or active directory groups, be assigned different policies. Now you can also auto-assign group policies to specific device types, so iPads or mobile phones might be restricted to web-only access, no matter who the authenticated user might be.

Teleworker VPN Split Tunnel for Branch Offices and Remote Workers
Meraki's teleworker VPN solution can be configured in a few clicks. Remote locations just plugin an access point and they instantly have secure access to corporate office resources. With the split tunnel enhancement, you can direct specific traffic to use the VPN tunnel while non-corporate traffic (YouTube, Netflix) stays local.