Apple's iPad has continued to be in strong demand and this shows no sign of slowing down. Its popularity isn't limited to the consumer market, and enterprises continue to adopt the device as a business tool. During our recent iPad webinar, our audience confirmed the iPad is continuing to gain traction in the enterprise.
While discussing second quarter results, Apple's COO Tim Cook noted:
Employee demand for iPad in the corporate environment remains strong and CIOs continue to embrace iPad in an unprecedented rate. In just over a year since its debut, 75% of the Fortune 500 are testing or deploying iPad within their enterprises. Some recent examples of enterprises that are deploying iPad include FORTUNE 500 companies such as Xerox, AutoNation, Yum! Brands, ADP, Boston Scientific, Estée Lauder, Disney, Stryker, Prudential Financial, Rite Aid and USAA.

Transcript excerpt courtesy of Seeking Alpha.
We asked our May 26th webinar audience about their own adoption and deployment plans for the iPad, and this is how they responded: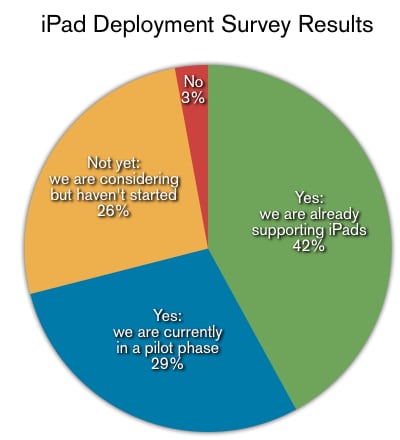 The results closely correlate with Tim Cook's remarks. In our survey, 71% of organizations have either already deployed the iPad or are testing it in their networks. Another 26% are still evaluating and have not solidified their plans.
Even if you haven't started officially deploying or supporting the iPad, perhaps you'd like to know how many users have brought their own iPads and access the wireless network. Using the Meraki dashboard, it's really simple to see the iPads that have logged on and what kind of impact they have. If you're looking for practical tips on integrating the iPad in your wireless network, check out our iPad whitepaper.