Meraki customers know the power of client visibility. We provide great granularity into your network to make identifying clients or devices simple – and we want to continue to WOW you! Starting today, Enterprise users will get live status information when viewing the list of connected clients. You will see information such as a real time signal strength bar, packets sent and received, channel information, and association state.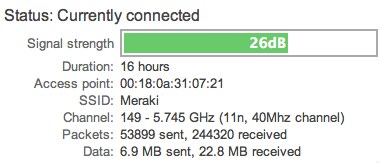 Networks today are full of information and getting visibility into it is key. Seeing real time signal strength for a device makes the job of the IT administrator that much easier. This will be one of many new "live" tools you will see us roll out over the coming months.
Meraki is committed to providing great products, and we welcome your suggestions and feedback. Our users requested this feature, and we take your input seriously.
Enjoy!