Certain Dashboard administrators will now notice a new tab in Dashboard, Organization, that has appeared between the Configure and Help tabs.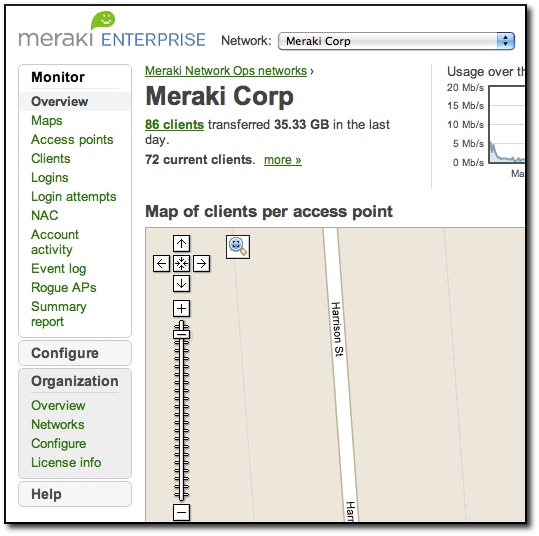 All networks in Dashboard actually reside in an "organization", or collection of networks.  Typically our customers create a network for each unique physical site or building, depending on how they have structured their wired network.  There is now a new level of administrative privilege: the organization administrator.  So what is important about organizations and organization administrators to Meraki customers?  There are a few important points:
1.  Licenses are applied across organizations.
When adding APs to a network, a license is purchased with each AP.  An organization must contain valid licenses covering all of the devices in the entire organization.  For example, if an organization contains a network with a license that is valid for ten devices but only five APs have been added, and a second network is created to which five additional APs are added, no other license would be required, since a license covering all ten APs already exists in the organization.
2.  Organization administrators have visibility into all networks within the organization.
Organization administrators can "see" all the networks in an organization.  There are two levels of organization admin: read/write, or full, and read-only.  Read/write admins can add other organization admins, and have read/write access to all networks in the organization.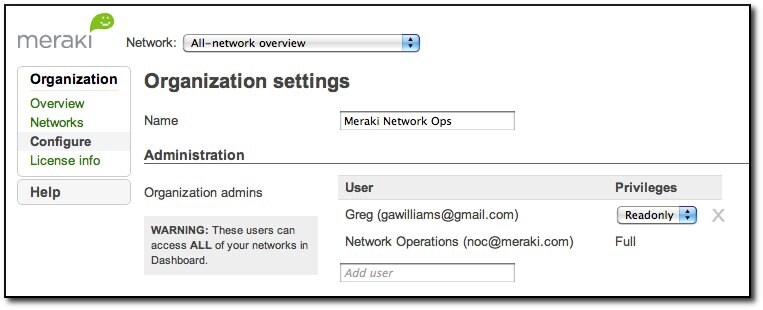 The administrator that creates the first network in an organization will automatically be designated as an organization admin, and can then add others if necessary.  For a typical distributed organization with a central IT group at HQ and local IT presence at each remote office, a typical configuration would be for the IT managers at HQ to have organization administrative privileges, and for the IT folks at the remote sites to be designated as network administrators for their individual site networks.  For administrators that only have network-level privileges, the Organization tab will not be visible.
Organization administrators provide the ability to customize the administrative accounts to match the organizational structure of the IT team, with just the right level of control and visibility for each administrator.  We will continue to add more functionality to the Organization tab in the future!