Introducing the Meraki MR24 ultra-high performance AP, Meraki NAC, and Meraki Teleworker VPN
Amidst all the excitement around the release of our  MX series cloud managed  routers, we've been hard at work building new wireless technologies. Today, we are very excited to announce three new additions to our wireless product portfolio that provide greater capacity, increased security and broader reach for enterprise wireless LANs:
The Meraki MR24 ultra-high performance wireless access point, the first enterprise class AP to feature 3-stream,
3×3 MIMO technology.
Meraki NAC, the  industry's first network access control solution built in to a wireless LAN
Meraki Teleworker VPN, which provides secure remote access to the corporate network for wired and wireless clients like VoIP phones and iPads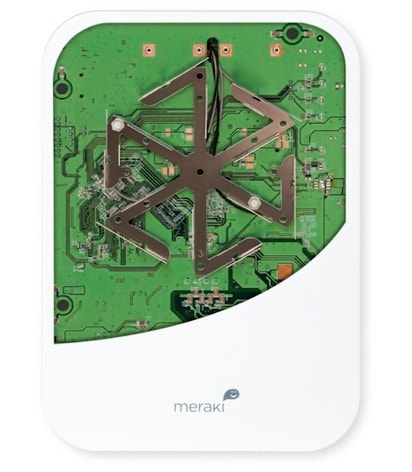 Meraki MR24
The Meraki MR24 is the first enterprise class AP to feature 3-stream, 3×3 MIMO. This technology allows both of the MR24's radios to use 3 data streams at once, for a total of 6 streams.
Independent testing of the MR24 by engineers at the Tolly Group saw speeds of over 240 Mbit/s – almost 2.5x the maximum speed of Fast Ethernet! Even at a range of 150 feet, testers recorded nearly 200 Mbit/s throughput.
We're extremely excited to add this ultra-high performance access point to our wireless LAN family. We hope that it will be a valuable tool to our customers as they meet growing wireless capacity requirements.
The MR24 is available for immediate order at a list price of $1199.
Meraki NAC
Meraki NAC prevents clients without antivirus protection from accessing your network, reducing the threat of viruses and worms in increasingly open enterprise environments. Like our Traffic Shaper, Meraki NAC is a solution that previously would require the integration of a 3rd party NAC – with hardware, client software, VLAN configuration, AD integration etc.

Our NAC is the first NAC solution to be built directly into a wireless LAN. Configuration is done with just two clicks. Meraki NAC adds additional protection on top of existing features like our stateful policy firewall and guest isolation. Meraki NAC is included with our Enterprise Cloud Controller license, and will be rolled out to existing customers at no cost starting today. Enjoy!
Meraki Teleworker VPN
Meraki Teleworker VPN allows users to securely access their corporate network, including file servers, VoIP phone systems, and internal applications, from any Internet-connected Meraki AP. This AP establishes a secure tunnel back to headquarters – using our Cloud Controller to handle complexities like NAT traversal, key negotiation, etc. Teleworker VPN lets you extend the full office experience to remote workers: plug in a VoIP phone and get a dial tone or wirelessly access your private cloud from an iPad. Our teleworker solution enforces security policies like 802.1x, traffic shaping, and our new NAC, right at the edge, so your corporate network is well protected. Teleworker VPN is available on all Meraki enterprise APs at no additional charge (no VPN license!). Rollout to existing customers begins today. Learn more about our VPN solution, including both our new Teleworker VPN and site to site VPN with our MX routers.
We're very excited about all of these new products. We'll be following up with detailed posts about each of them in the coming weeks. In the mean time if you have any feedback let us know!