One of the most challenging aspects of managing large distributed networks is troubleshooting issues when the client is across town (or maybe even across the country!).  Having on-site IT personnel 24/7 at even small satellite branch offices can require a very large IT staff and is too expensive for most organizations.  Meraki networks offer a variety of "remote hands" troubleshooting tools, helping network admins diagnose and resolve many wireless connectivity issues without dispatching IT staff to the site.  The ability to run diagnostic checks such as pinging an access point, running a throughput test from Dashboard, or reviewing detailed event logs have been integral to Meraki's value for distributed networks and organizations with small IT staffs and large footprints.
We are now announcing a set of Live Client Tools that expose even more up-to-the-second information about who is on a wireless network, and further help troubleshoot connectivity issues.  Administrators who log into their Enterprise network in Dashboard will notice several new and improved areas.  On the Monitor > Overview page, there is now a new addition under the network name showing the number of clients that are associated at that moment: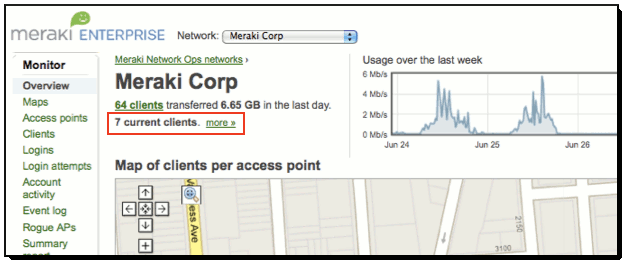 If you click on the "More" link, you will see an expanded list with more information, including which SSIDs and channels the clients are using.  This data is automatically refreshed as long as the "More" link is expanded.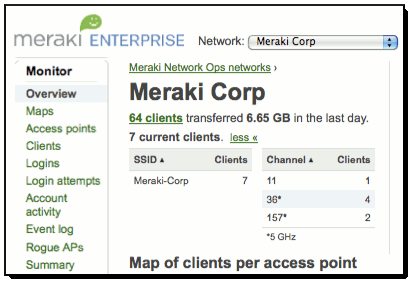 Even cooler, Enterprise customers can change the access points map to show where clients are associated: click the "Options" menu on the map and select "Current clients."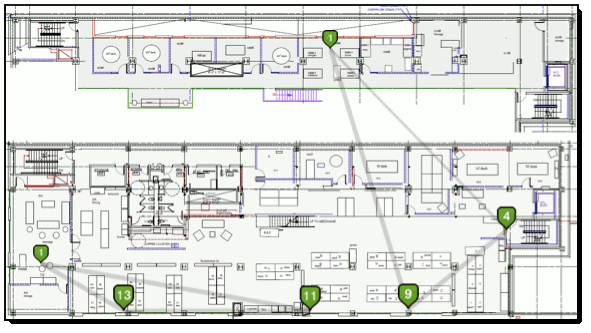 But the really interesting stuff is on the Access Point and Client detail pages.  The Access Point detail page used to look like this:

Now, all of the live tools have been consolidated into a new, cleaner layout.  Both Pro and Enterprise networks will benefit from the new layout.  Enterprise networks now have two additional features in this area: Current Clients and Ping Client MAC.  Clicking on the play icon next to Current Clients will pop up a list of all clients associated to that AP at that instant, including useful information about each client such as MAC, SSID, channel, signal strength, and how long they have been associated.  Click on the name of a client to go to its client details page.  You'll even see clients that have associated, but not authenticated (they're listed in grey).  If you click the Ping link next to the client, you can actually ping that client in real time using ARP, as well as get additional information, such as RSSI changes over time and 802.1X identity (if appropriate).

The other new addition, Ping Client MAC, allows you to enter a MAC address and try to ping it.  This can be very useful if you are trying to determine if a particular device is on your network at that moment.

There is also a new Live Tools section on the client detail page.  From this page you can also ping that individual client, but there are a few additional new tools: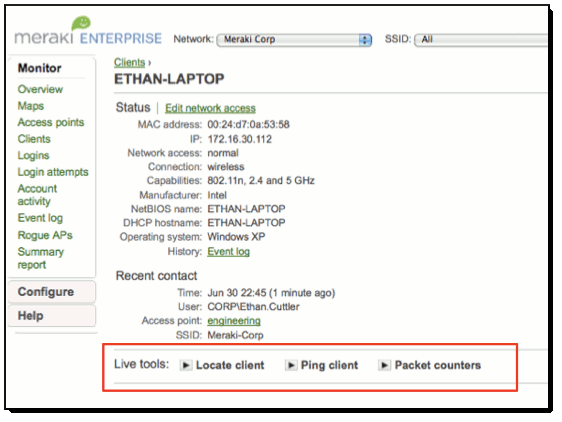 The Locate Client tool allows you to find out whether that client is associated on your network at that moment, and if so, where they're associated and for how long:

Finally, the Packet Counter tool shows a real-time count of received and sent packets to that client.  You can actually see the packet counters roll as you ping the client!

We think these new tools further improve Meraki's uniquely clear approach to distributed, multi-site network management, a normally challenging task.  Network administrators can more quickly resolve their wireless users' connectivity issues and access accurate real-time data about the exact state of their network.