The Meraki Identity Policy Manager (IPM) is now being rolled out to Meraki Enterprise customer network with the latest firmware release.  Look for a Dashboard notification of an upcoming firmware upgrade to your network, and after that upgrade you will see a new page under the Configure tab called Group Policies:

IPM can be used to create identity-based policy controls.  What this means is that you can define groups of users and set different policies for each group.  VLAN tagging, bandwidth limitations and customized access control lists (ACLs) can be applied on a per-device, per-user or per-group basis over a single SSID.  IPM integrates with an existing Active Directory or RADIUS environment, allowing you to seamlessly enforce existing policies over the wireless network.
Here is an example of how you might use IPM to configure a group policy for contractors in your office to give them limited access to LAN resources: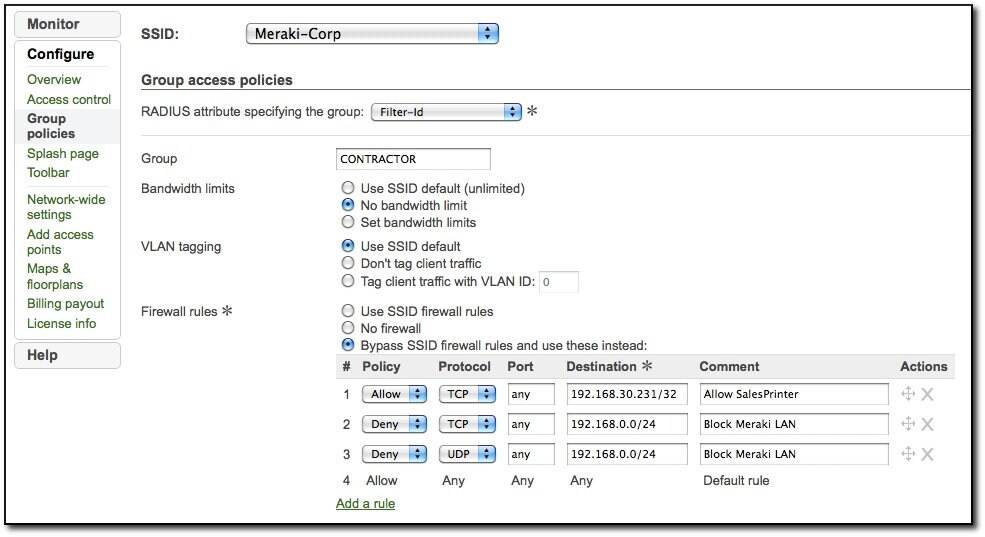 This new capability is now included with the Meraki Enterprise Cloud Controller, no additional licenses required.  Another example of the how Meraki's cloud-based architecture provides a constantly evolving feature-set and unmatched future-proofing of your network.
-Posted by Greg Williams