We're happy to share that we've launched the Meraki Network Simulator: a free demo version of the Meraki Enterprise Cloud Controller that allows you to try out all of our web-based tools without purchasing or setting up physical access points.  For a long time, we've wanted to enable potential customers to test out the Meraki Dashboard without physical hardware.  The Meraki Cloud Controller is the most unique piece of our wireless LAN offering, providing simple centralized management to network administrators any time and any place over the web.  You really have to experience it personally to understand why it's such a revolutionary way to manage your network.
The Meraki Network Simulator contains several sample networks that allow you to see how Meraki could work for you.  We've even populated the Cloud Controller with real-life data that we've captured and anonymized, so you can get a realistic picture of how the Meraki Dashboard looks on a live network.  Here's a taste of what you can do with the simulator:
Test-drive the Meraki Enterprise Cloud Controller for free, without purchasing hardware
Experience the complete Cloud Controller configuration UI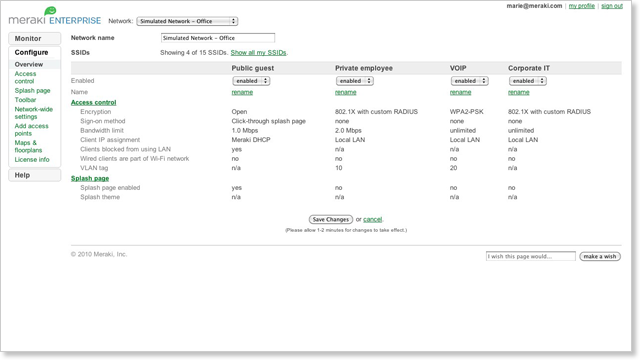 Test-drive Meraki's network monitoring features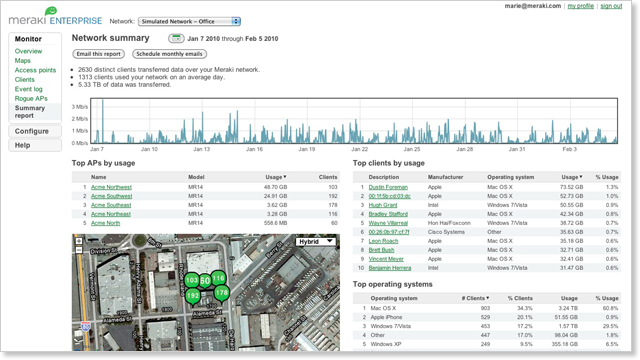 Try out sample networks for office, university, and conference use cases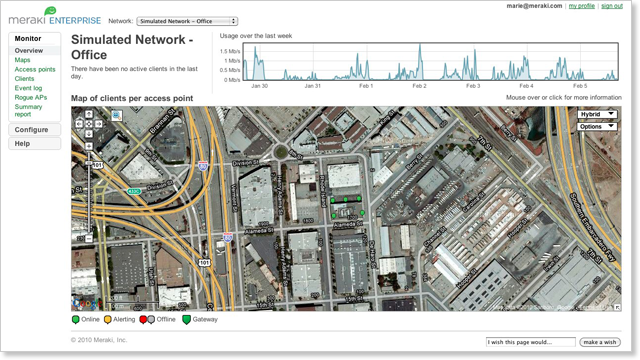 Create your own blank network simulation and set it up from scratch, configuring simulated access points
Try it out and let us know what you think!
– Marie Williams