If you've ever attended a big conference and had trouble connecting to the wireless or found it to be slow and unreliable, you are not alone.  Providing fast, reliable wireless for conferences where you have hundreds, even thousands of demanding users with multiple devices each Tweeting, downloading video and blogging can be very challenging.
Meraki, in conjunction with British Telecom, is currently providing wireless for the two-day LeWeb conference, which started today in Paris.  LeWeb is an annual tech conference that brings together tech luminaries, entrepreneurs, investors, technophiles and bloggers to discuss wide-ranging topics and to network.  There are over 2,000 attendees this year, all expecting reliable access to fast WiFi.  This photo (courtesy of Robert Scoble) perfectly illustrates why this event would put any wireless network to the test!  Check out all the iPhones and laptops (Interesting note: Over 23% of the clients on the network are Macs and 25% are iPhones, so almost half of all client devices are Apple products)!  As you can see every user has more than one wireless device….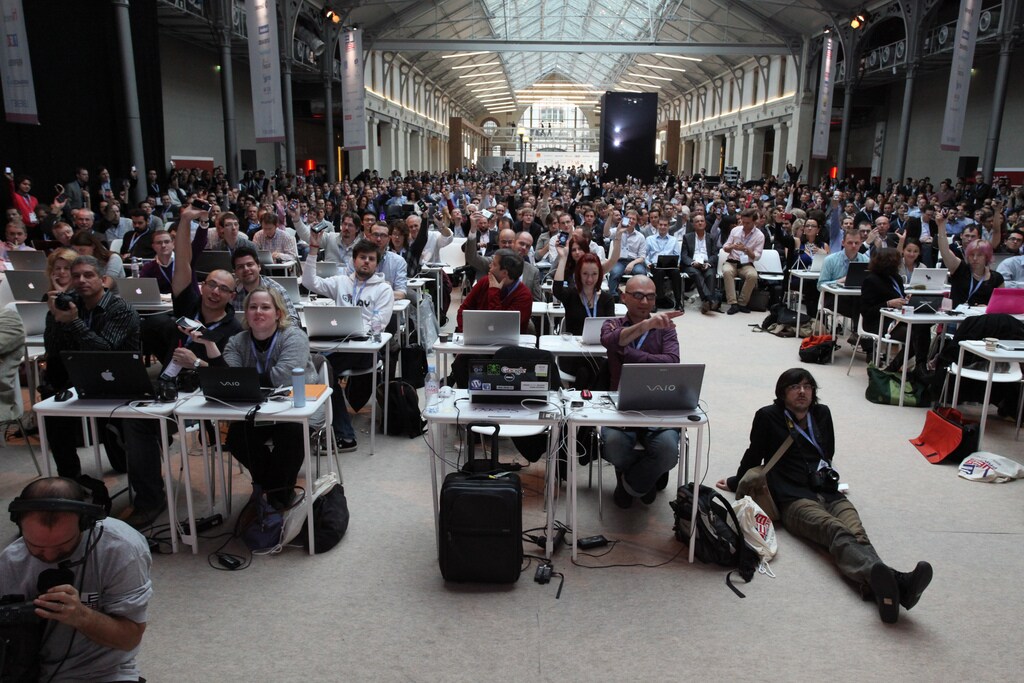 So far tweets from the conference are raving about the speed and reliability of the wireless.  Here is a shot of the usage graph in Dashboard, showing peak usage of almost 100 Mbps!

Here is a shot of the network on the main event floor in Dashboard, showing how most of the 28 APs are deployed: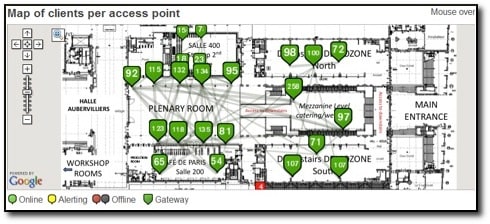 This is a great example of how scalable Meraki networks are, as well as how easy and fast they are to deploy and configure.  The entire network was deployed in about one workday!
Stay tuned for more updates from LeWeb….
-Posted by Greg Williams
Update, Kiren Sekar, December 15th 2009:
The conference has wrapped up but praise of the wireless keeps pouring in!  Tara Hunt's blog listed highlights from the conference.  Number four made us downright delighted:
That Wifi was Flawless! Thanks goes out to the team at BT (especially Gary Shainberg who worked with Meraki to make the mesh impeccable), whose mesh network was so solid that there wasn't a single blip the entire conference and we used only 10% of the bandwidth. As Loic points out: " there was a 1gb line financed and paid for by LeWeb that's why we never exceeded 10-20% of the bandwidth available". Impressive! In fact, I could have gotten on Bit Torrent and gone crazy without causing any ruckus. Fabulous job!
Again, nice work by Gary at BT, and Rob and Mukesh from Meraki, for making this a success.