We've got two big announcements today for our enterprise customers – significant new product features, and a lifetime warranty on all indoor enterprise access points!
Lifetime Warranty on Indoor Enterprise APs
We put a lot of care into building solid, high-quality products. We think our APs should last a lifetime, and now we're putting our money where our mouth is.
Effective immediately, all of our enterprise-class indoor access points – including our most popular model, the MR14 – are covered by a lifetime warranty. This upgraded coverage applies retroactively to existing units as well as to new purchases, and is free of charge.
We're also offering free advanced shipping – a first in our industry. This means that if your access points need replacement, we'll ship out new units immediately, rather than waiting to receive your APs before sending out replacements.
Since we've seen very few failures, these new policies won't affect the vast majority of you.  But we hope that these policies will make infrastructure budget planning easier for some, and add peace of mind for all.
New Enterprise Features
We've been working hard on new features for our enterprise products and we're excited to announce that they're available for you to use on your networks today.
Network Analytics
We now automatically generate periodic analytics reports of the activity on your wireless network. These reports show the usage and reliability of the wireless network, bandwidth trends, device popularity, mobility, and more. These are great for network operators, as well as their staff and management. We've even had beta users post parts of the reports to their blogs. Wondering which operating systems are most popular on the Stanford Computer Science department's wireless network? See here. (Hint – Apple is taking over the world.)
Check out a complete sample, from Stanford's Computer Science Department: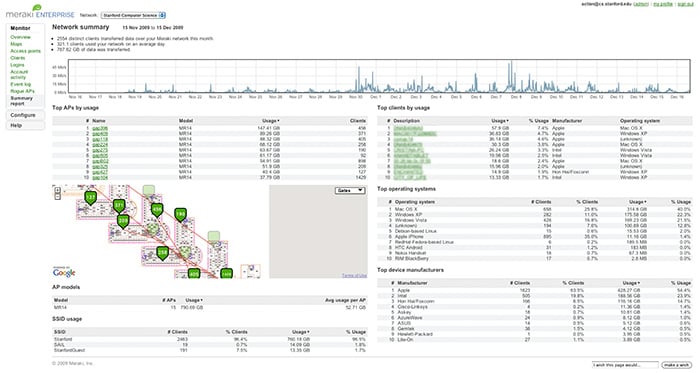 Rogue AP Detection
This feature protects against 2 kinds of security risks.  In one, a hacker can place an access point near your network that broadcasts the same SSID as your legitimate device.  If users inadvertently connect to it, they could enter sensitive information (like their network login) into the malicious device.  In the second case, one could plug a wireless access point into the wired LAN, without the appropriate encryption and access control – providing an opening into your network.  More often than not, this is done by an employee who does not know that he is putting the network at risk.
These two types of "rogue APs" can be detected with dedicated software tools – provided you physically walk around your coverage area with a laptop.  We've integrated rogue AP detection into our access points and monitoring software, so the Meraki network can continually monitor the airwaves for you and alert you upon signs of trouble.
Here at Meraki's San Francisco office, our engineers plug in test devices left and right, giving a fertile testing ground for this feature: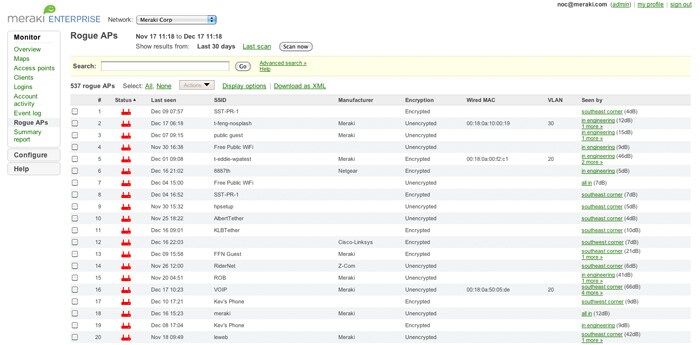 Event Logging
We now expose fine-grained event logs in the Meraki Cloud Controller, giving precise visibility into where, when, and how devices are connecting to the network, and aiding in troubleshooting and device tracking.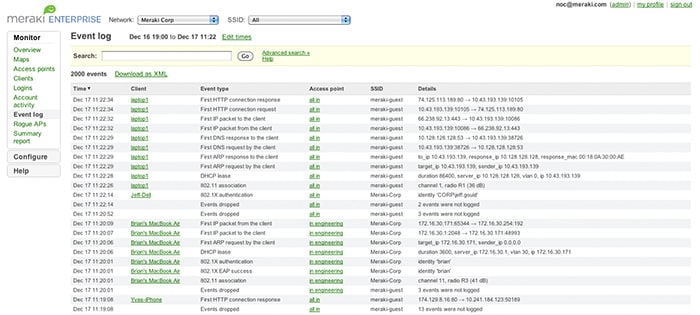 Support for 15 SSIDs
We've upped the maximum number of SSIDs from 4 to 15.  While most customers have one SSID for their secure corporate network, and another open network for guests, some of our users have dedicated virtual networks for specialized equipment and devices, SSIDs with different bandwidth limits, etc.  Westmont College, one of our customers whom we've mentioned on the blog before,  has an SSID for their WiFi-controlled HVAC system, and Stanford's Computer Science department has a dedicated SSID for their experimental robots!  Now that we support 15 SSIDs, you can have a dedicated SSID for your wireless toaster oven and not run out.
Availability (and the beauty of SaaS)
Since the Meraki Cloud Controller is a cloud-based software service, these features (and many other improvements) are available immediately – with no upgrades to purchase, and no software to download or install.
Within the next few days and weeks, we'll dive deeper into some of these features here on the blog – exploring use cases, tips, and tricks.  In the mean time, give them a spin on your networks!
-Posted by Kiren Sekar