MR62-HW Meraki Meraki https:/meraki.cisco.com/products/wireless/mr62
MR

62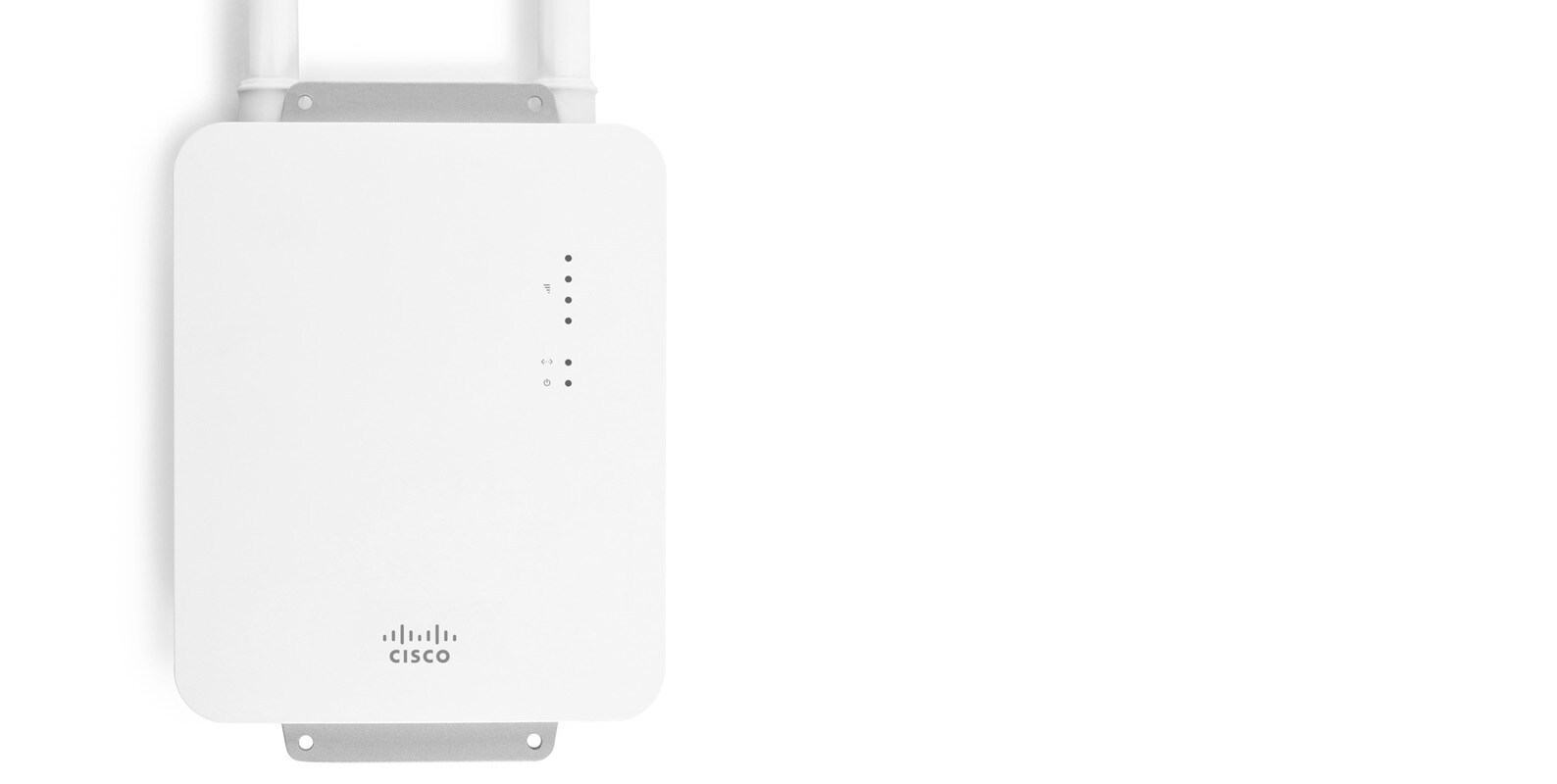 Weatherproof WiFi at an Incredible Price
Rugged, Outdoor Cloud Managed 802.11n
Highlights
Ideal use cases

Harsh, rugged, and outdoor environments

Hardware features

IP67 rated, tested for dust, shock, vibration, and moisture
Single-radio 802.11n, up to 300 Mbps
Gigabit Ethernet port, 802.3af PoE compatible

Cloud management

Network-wide visibility and control
Self-provisioning for rapid deployment
Automatic reporting
Seamless firmware updates

Enterprise security

802.1X and native Active Directory integration
Air Marshal: real-time WIPS with forensics
Stateful Layer 3-7 firewall
Identity-based group policies
Built-in antivirus scan (NAC)
Teleworker VPN tunneling

Guest access

1-click secure guest access
Guest isolation firewall
Customizable splash pages

RF optimization

Cloud based RF planning
Built in spectrum analysis

Layer 7 traffic shaping

Classifies hundreds of applications
Create per-application bandwidth limits
Prioritize productivity apps
Restrict recreational traffic

Mesh

Self-configuring mesh
Extends coverage to hard-to-wire areas
Self-heals after cable or switch failures

Device management

Create device-specific firewall rules
Deploy applications and updates
Troubleshoot issues with built-in RDP







Usage

Rugged/outdoor WLAN, outdoor campuses, industrial, point to point links
Rugged/outdoor general purpose WLAN, outdoor campuses, industrial, point-to-point links, outdoor location services
Highest performance 802.11ac Wave 2 with Multigigabit for tough RF and high-density environments

List price

$699
$1,399
$2,399

License

1 year: $150 / AP
3 years: $300 / AP
5 years: $450 / AP
1 year: $150 / AP
3 years: $300 / AP
5 years: $450 / AP
1 year: $150 / AP
3 years: $300 / AP
5 years: $450 / AP

Radio specification

1 x 802.11b/g/n radio
300 Mbit/sec max rate

1 × 802.11b/g/n
1 × 802.11a/n/ac
1 × WIDS/WIPS
1 × Bluetooth
1.3 Gbit/sec max rate
2×2:2 MU-MIMO with beamforming

1 × 802.11b/g/n/ac
1 × 802.11a/n/ac
1 × WIDS/WIPS
1 × Bluetooth
2.5 Gbit/sec max rate
4×4:4 MU-MIMO with beamforming

Interface

1 × Gigabit Ethernet port
Two external N-type connectors
(antennas sold separately)
1 × Gigabit Ethernet port
Four external N-type connectors
(antennas sold separately)
1 × 2.5 Gbps Multigigabit Ethernet port
1 × Gigabit Ethernet port
Four external N-type connectors
(antennas sold separately)

Power

802.3af Power over Ethernet
802.3af Power over Ethernet
802.3at Power over Ethernet

Physical design

Rugged industrial design
Water and dust sealed (IP67 rated)
Vibration and shock tested
Rugged industrial design
Water and dust sealed (IP67 rated)
Vibration and shock tested
Rugged industrial design
Water and dust sealed (IP67 rated)
Vibration and shock tested

Operating Temperature

-4°F to 122°F (-20°C to 50°C)
-40°F to 131°F (-40°C to 55°C)
-40°F to 131°F (-40°C to 55°C)

Performance features

Priority Voice (802.11e/WMM)
Enterprise-grade CPU
Hardware-accelerated encryption

2×2:2 MU-MIMO
Priority Voice (802.11e/WMM)
Enterprise-grade CPU
Hardware-accelerated encryption
Higher-density support
Band steering

4×4:4 MU-MIMO
160 MHz channels
Highest-density support
Priority Voice (802.11e/WMM)
Enterprise-grade CPU
Hardware-accelerated encryption
Band steering

Mesh networking

Single-radio mesh
Multi-radio mesh
Multi-radio mesh
* North American list price shown. International pricing, discounts and promotions available through Meraki authorized resellers.
Contact Cisco Meraki for a custom quote.
Radios

One 802.11b/g/n radio
Auto-selection of optimal 2.4 GHz channel
Max radio rate 300 Mbit/s
2.4 GHz +22 dBm peak transmission power

802.11n Capabilities

2 x 2 multiple input, multiple output (MIMO) with two spatial streams
Maximal ratio combining (MRC)
Beamforming
Packet aggregation
Cyclic shift diversity (CSD) support

Power

Power over Ethernet: 24 - 57 V (802.3af compatible)
Power consumption: 6.5 W max
Power over Ethernet injector sold separately

Mounting

Mounts to walls and horizontal, vertical, and angled poles
Mounting hardware included

Physical Security

Security screw included
Kensington lock hard point
Anti-tamper cable bay
Concealed mount plate

Environment

Operating temperature: -4°F to 122°F (-20°C to 50°C)
IP67 environmental rating (sealed against water and dust)

Physical Dimensions

10.5" x 7.6" x 2.2" (267 mm x 192 mm x 57 mm) not including mount
Weight: 1.5 lb (680 g)

Interfaces

One 100/1000 Mbps auto-crossover Ethernet port
Two external N-type connectors
Signal strength LEDs
Security

Integrated policy firewall (Identity Policy Manager)
Air Marshal: real-time WIPS with forensics
Guest Isolation
WEP, WPA
WPA2-PSK
WPA2-Enterprise with 802.1X
TKIP and AES encryption
VLAN tagging (802.1Q)

Quality of Service

Wireless Quality of Service (WMM/802.11e)
DSCP (802.1p)

Mobility

PMK and OKC credential support for fast Layer 2 roaming
L3 roaming

LED Indicators

4 signal strength
1 Ethernet connectivity
1 power/booting/firmware upgrade status

Regulatory

FCC (US)
IC (Canada)
CE (Europe) with DFS
C-Tick (Australia)

Certification
Warranty

1 year hardware warranty with advanced replacement included

Ordering Information

MR62-HW
Meraki MR62 Cloud-Managed Access Point
MA-INJ-4-US
Meraki 802.3at Power over Ethernet Injector (US Plug)
MA-INJ-4-EU
Meraki 802.3at Power over Ethernet Injector (EU Plug)
MA-INJ-4-UK
Meraki 802.3at Power over Ethernet Injector (UK Plug)
MA-INJ-4-AU
Meraki 802.3at Power over Ethernet Injector (AU Plug)
ANT-10
Meraki 5 - 7 dBi Omni Antenna, Dual Band, N-Type, Set of 2
ANT-13
Meraki 11 dBi Sector Antenna, 2.4 GHz MIMO, N-Type
Note: Meraki Enterprise license required.